In the exciting world of design, sometimes we need to take a step back from modern styles and dive into the rough and ready charm of the Wild West. Projects that use cowboy themes, full of adventure and a bit of longing for the past, have a special kind of appeal. They make us think of wide open spaces, cowboys on horseback, and the classic American West. Using the best Western fonts can help us capture this feeling in a real way, bringing the audience right into this tough and adventurous world. After all, words aren't just words on a page – they're a powerful way to set the mood and feeling of a project.
UNLIMITED DOWNLOADS: 50 Million+ Fonts & Design Assets
All the Fonts you need and many other design elements, are available for a monthly subscription by subscribing to Envato Elements. The subscription costs $16.50 per month and gives you unlimited access to a massive and growing library of over 50 million items that can be downloaded as often as you need (stock photos too)!

[ez-toc]
Choosing the best western font for your project can be challenging, as there are many options available, each offering its unique flair. Some fonts emulate the rustic, hand-carved signs from old frontier towns, while others are inspired by classic cowboy film typography or vintage wanted posters. The key is to find a font that resonates with your project's theme and the message you want to convey.
To help you select the perfect typeface for your cowboy-themed project, we've curated a list of the 25 best western fonts. These typefaces are chosen for their authenticity, versatility, and overall aesthetic appeal. They range from bold and brash, to elegantly distressed, and everything in between. So saddle up, and let's ride into the sunset of typography together!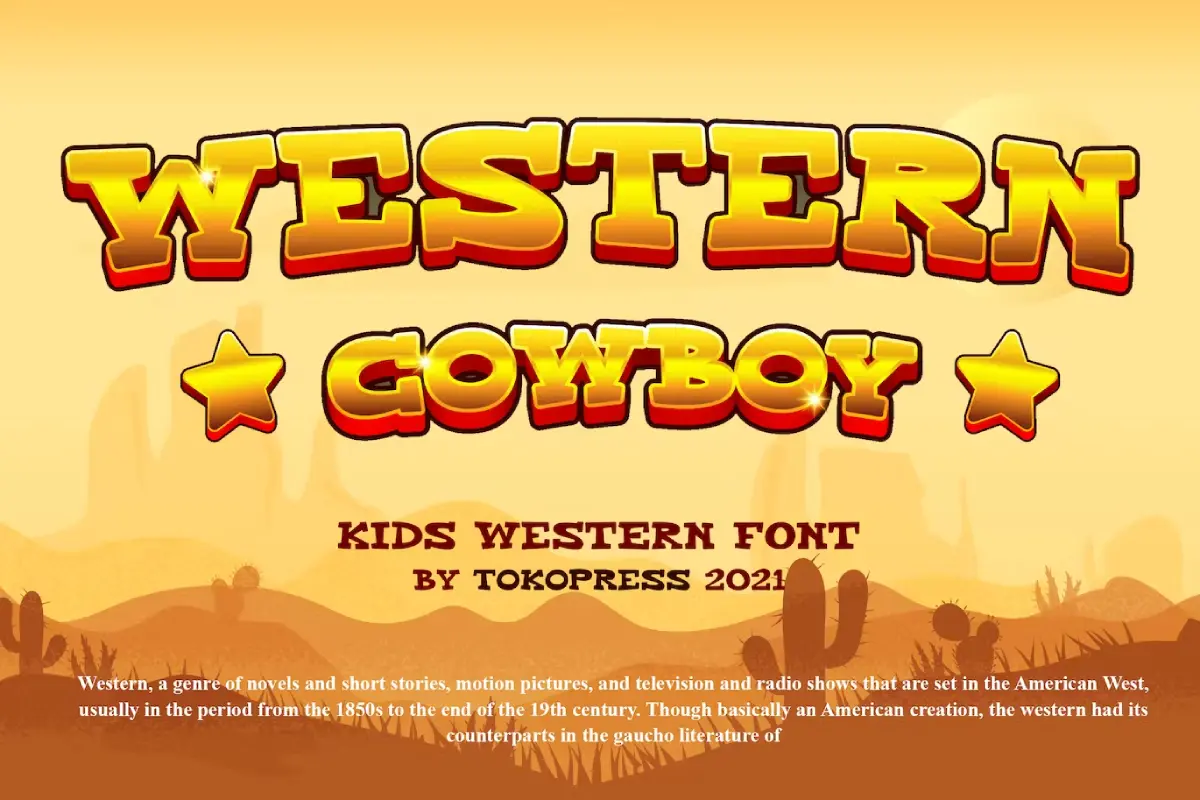 Introducing Western Cowboy, the delightful and energetic font that brings the spirit of the Wild West to your fingertips! With its bouncy baseline and Western charm, this font is designed especially for kids who love all things cowboy. It's the perfect addition to your collection and is bound to become your new favorite font in town. So saddle up and get ready to embrace the wild frontier with Western Cowboy!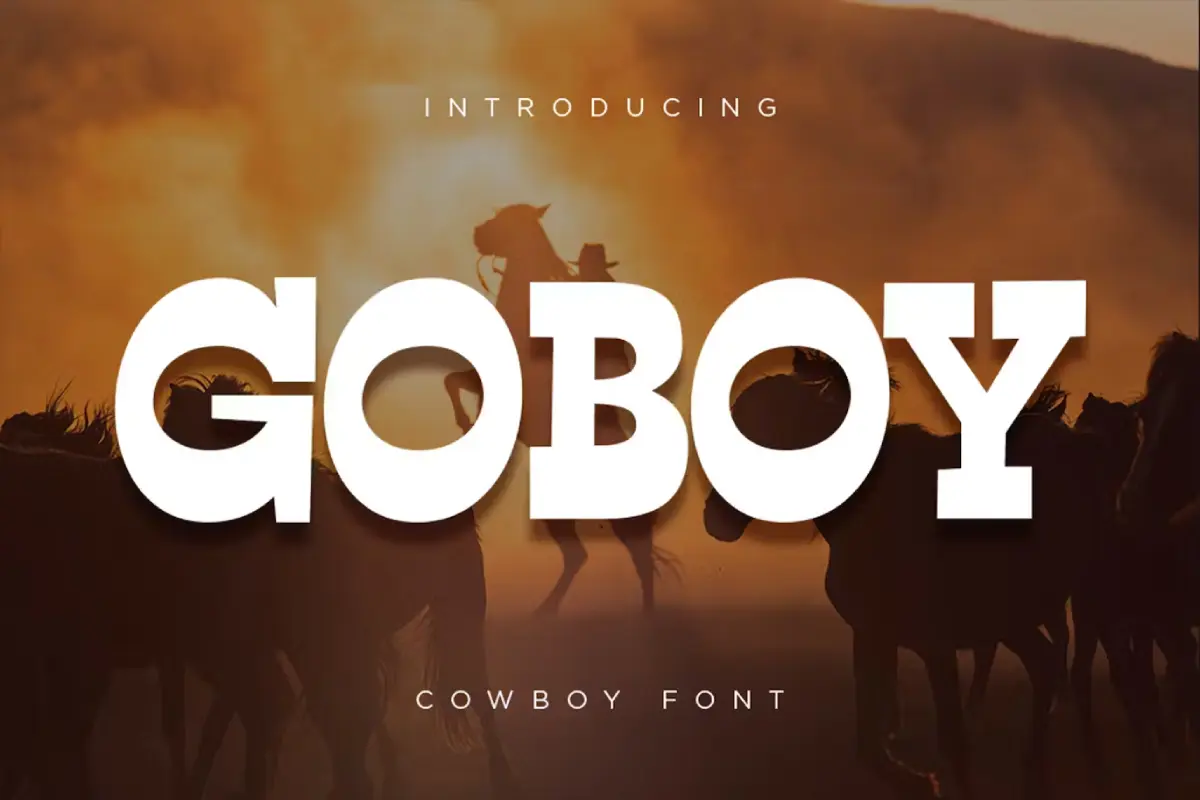 Go Boy is a slab serif font that brings to mind the cowboy and rodeo era. It has a playful, fun, and bouncy shape in each letter, making it a great choice for various design needs. Whether you're working on a logo, brand identity, packaging design, or even set decoration, Go Boy can easily fit the bill. Its unique style can also bring a fun visual concept to your project. Simply put, if you're looking for a font that captures the spirit of the Wild West while keeping things light-hearted, Go Boy is a fantastic option.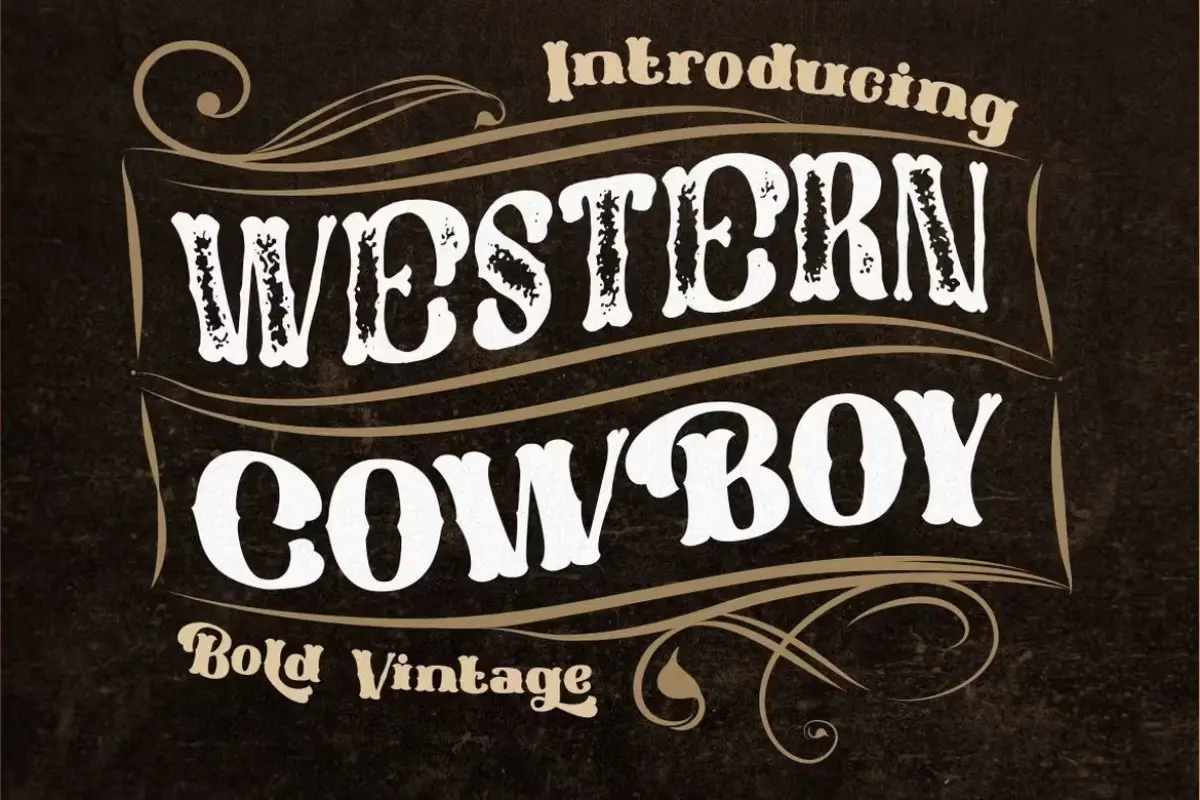 Western Cowboy is not your ordinary vintage font. Inspired by 1970s posters, it brings a bold and distinctive look to your designs. What sets Western Cowboy apart is its irregular baseline, adding an intriguing touch of irregularity. This font strikes the perfect balance between boldness and vintage charm, making it a standout choice for any project. Experience the unique appeal of Western Cowboy and give your designs a bold vintage touch.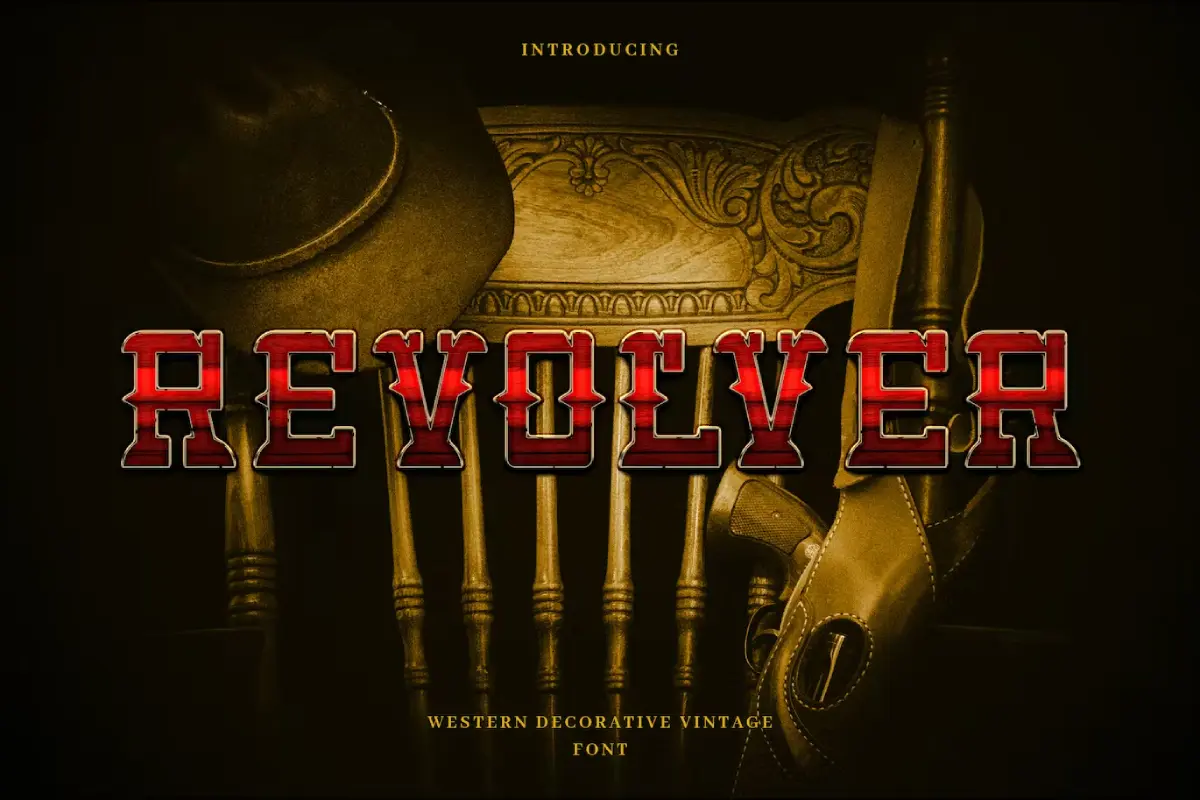 Say hello to Revolver, one of the best western fonts with a bold and sturdy style, oozing the classic cowboy vibe. If you're on the hunt for a western display font that feels like a step back in time, Revolver is your ideal pick. This versatile font is perfect for a wide range of uses, including invitations, banners, movie titles, branding, events, and much more. Don't miss out on the vintage charm of the Revolver font!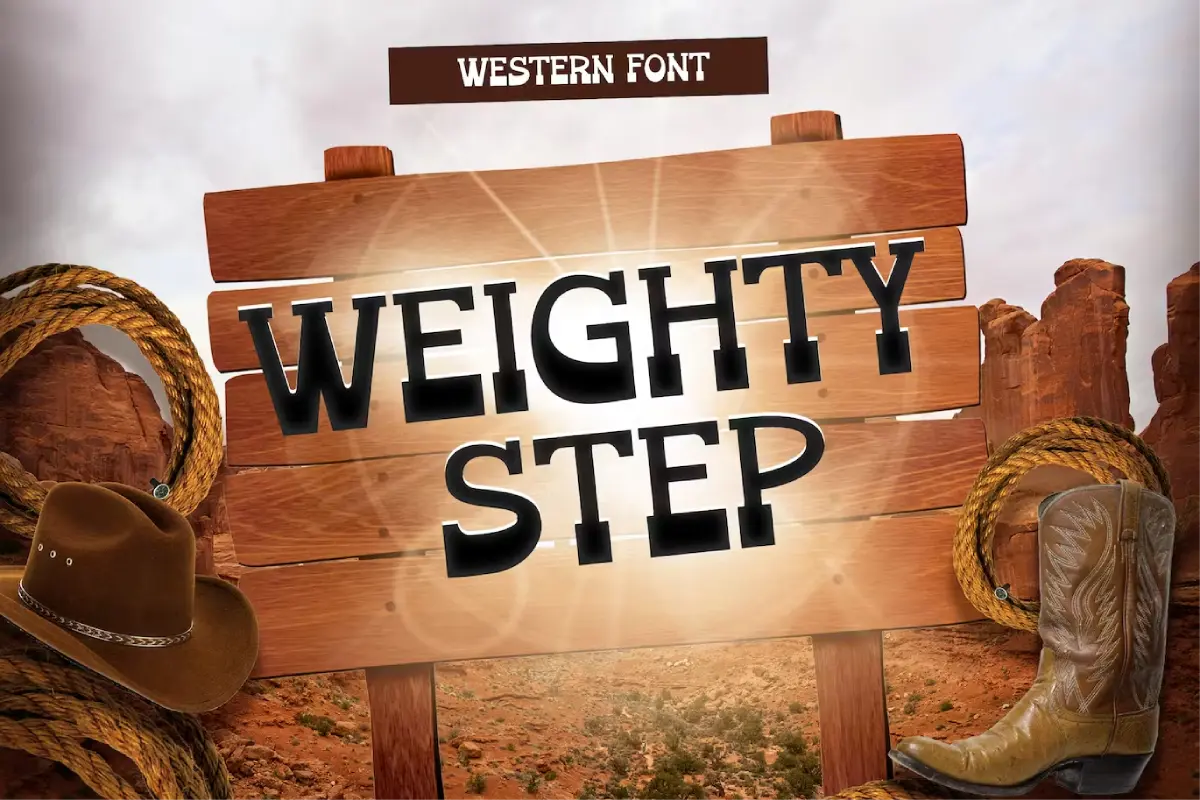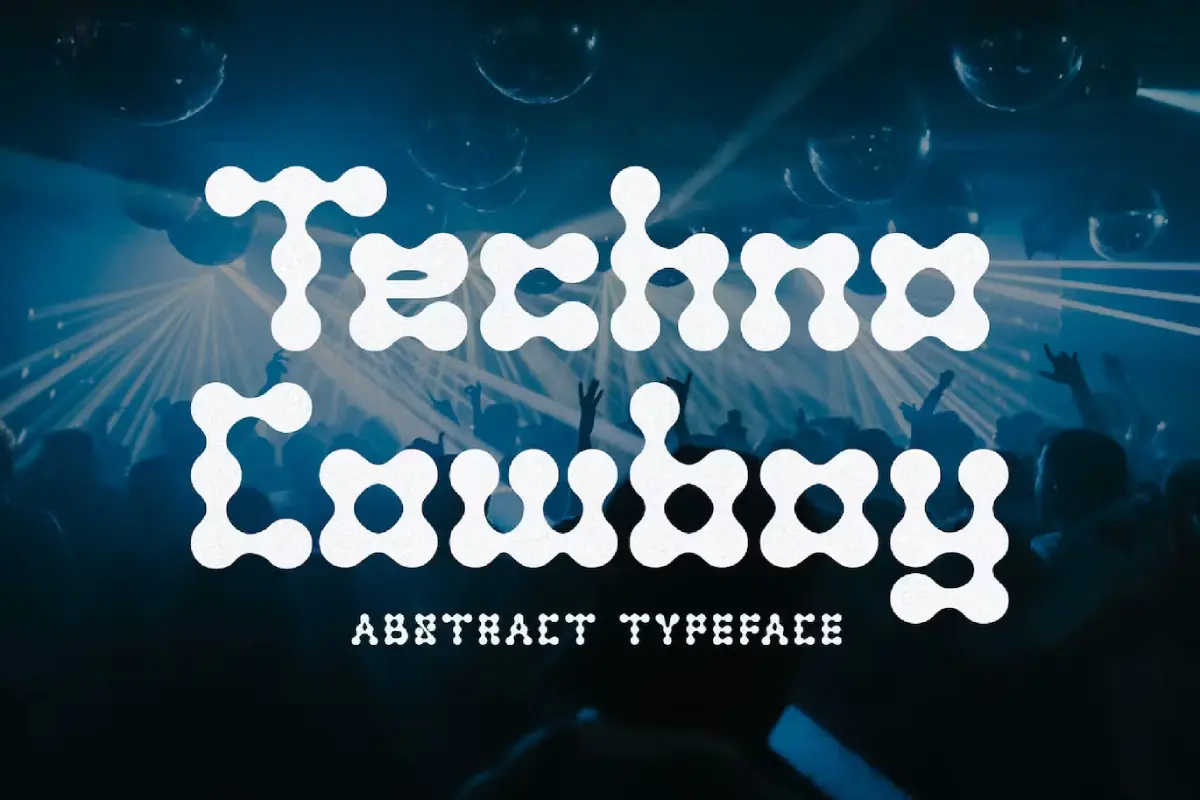 Meet Techno Cowboy, a futuristic techno display font that comes with support for multiple languages. It's perfect for crafting attention-grabbing logos, headlines, advertisements, and posters.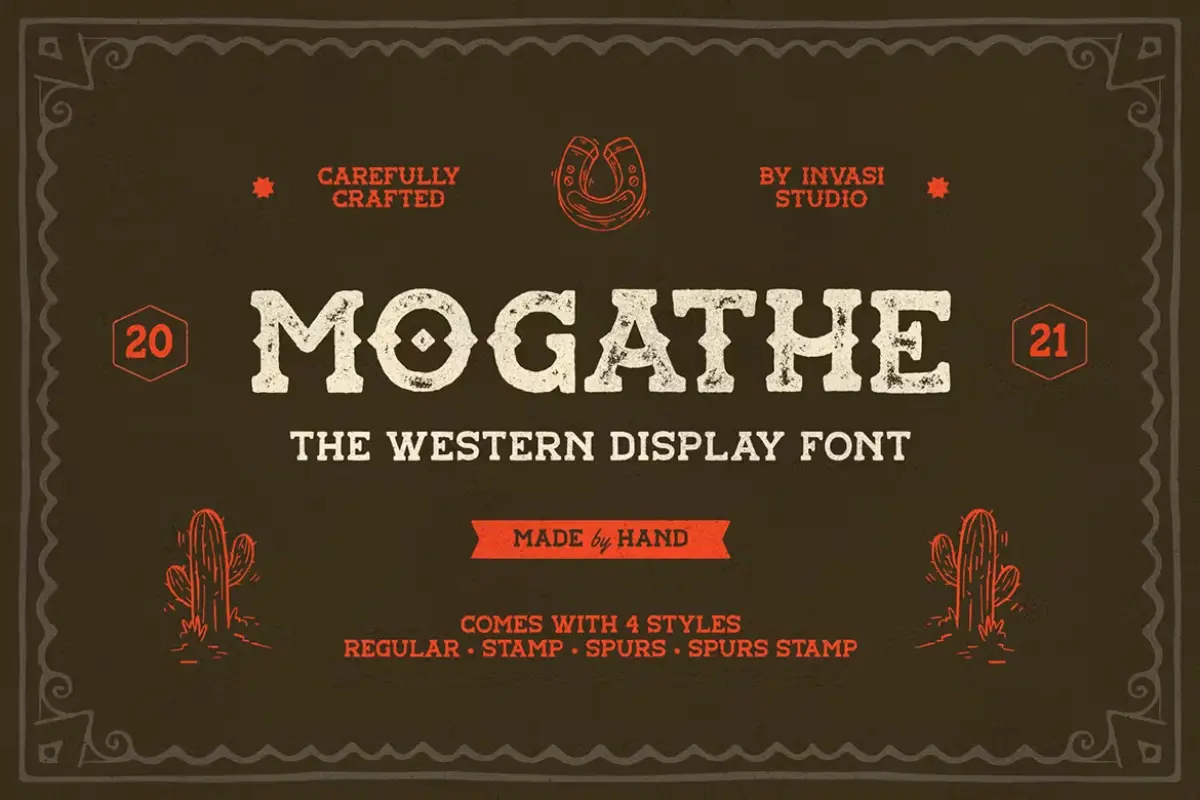 Introducing Mogathe, a font that takes inspiration from the West life era. With its vintage western appearance, Mogathe offers four styles: Regular, Stamp, Spurs, and Spurs Stamp. Use this font to create stylish designs that capture the nostalgic and authentic feel of the West life era.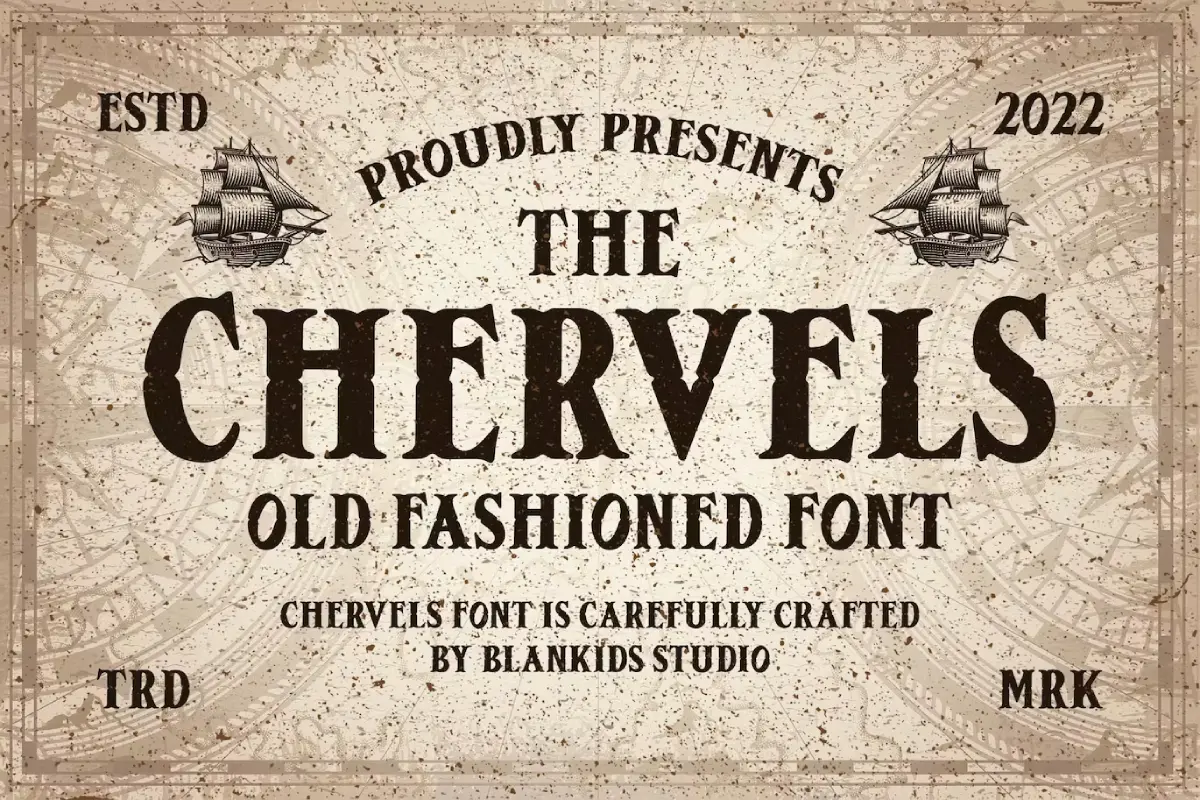 Masterson – A Western Fonts Pack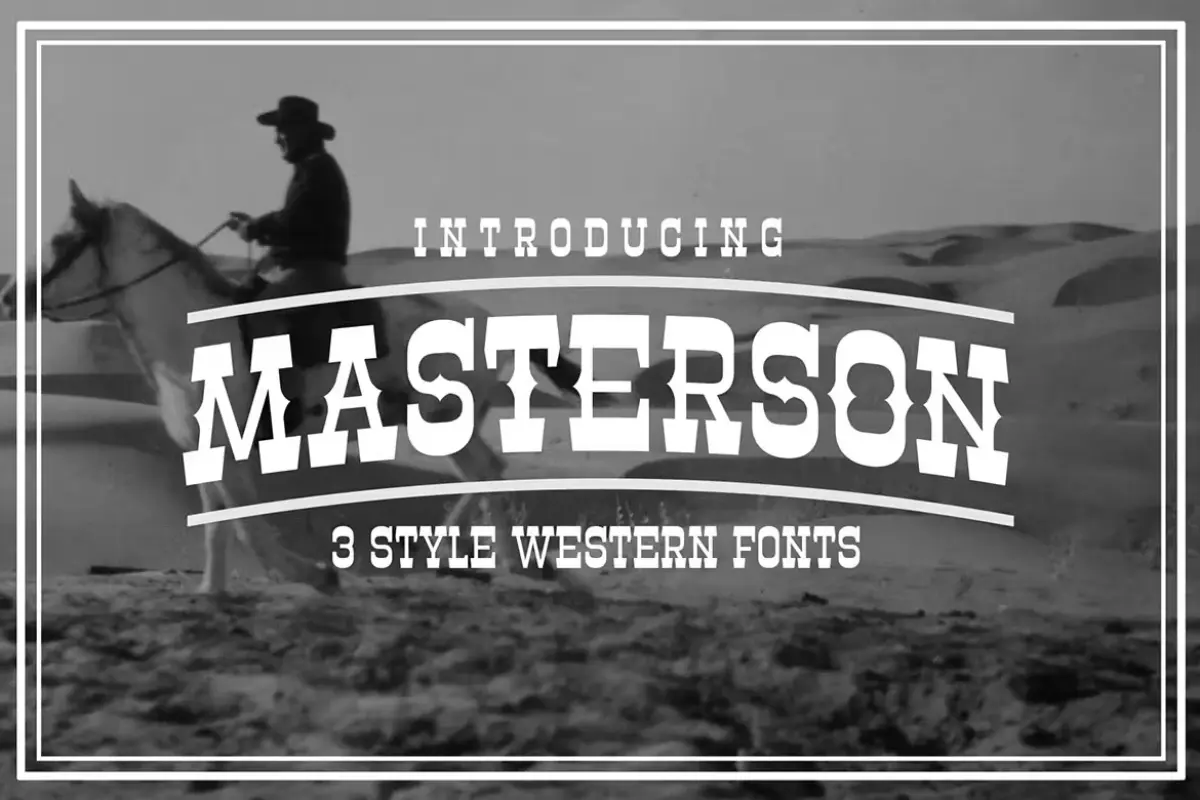 Masterson is a font that was inspired by the old western times. It's a special type of font called 'slab serif' and it has a cool, vintage western feel to it. There are three different versions you can use. This font helps you make styles that look very careful and detailed. It's one of the best western fonts.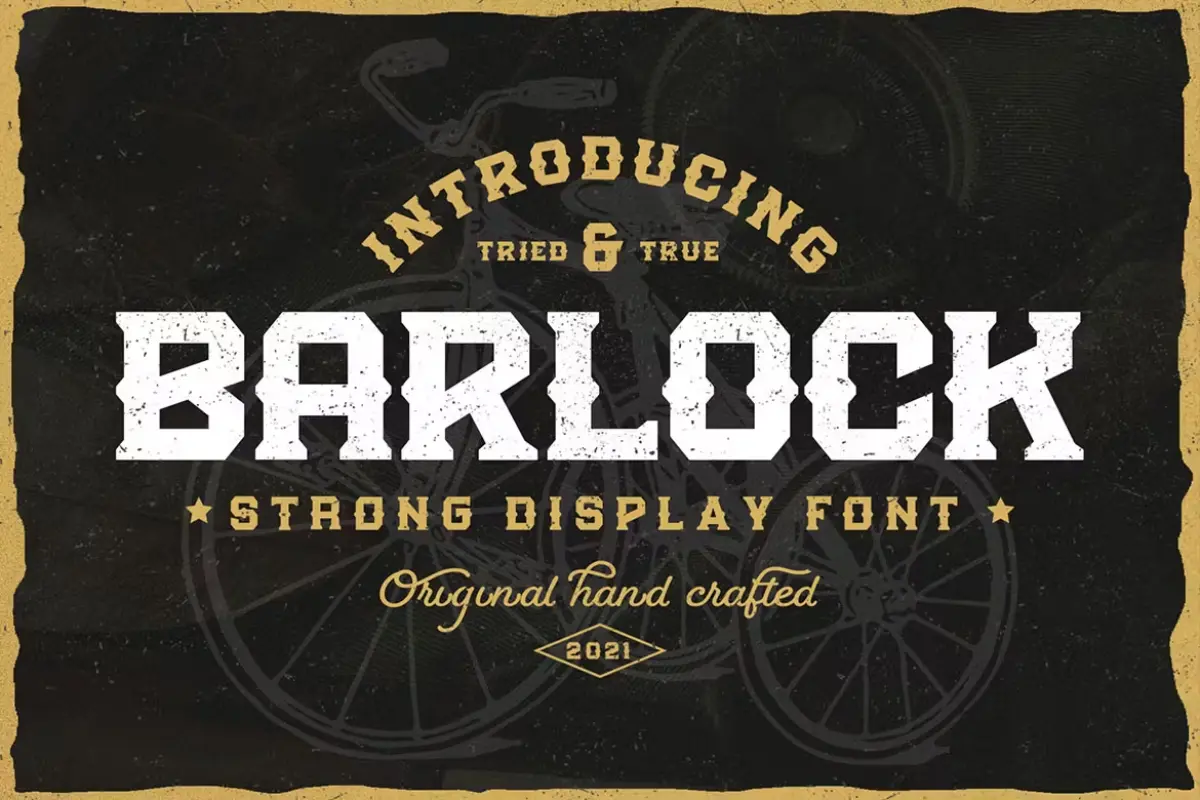 Introducing Barlock, a bold display font inspired by sports design and old-school typography. Its letterforms are carefully crafted with smooth curves and a strong, elegant weight, making it perfect for creating powerful and sophisticated designs.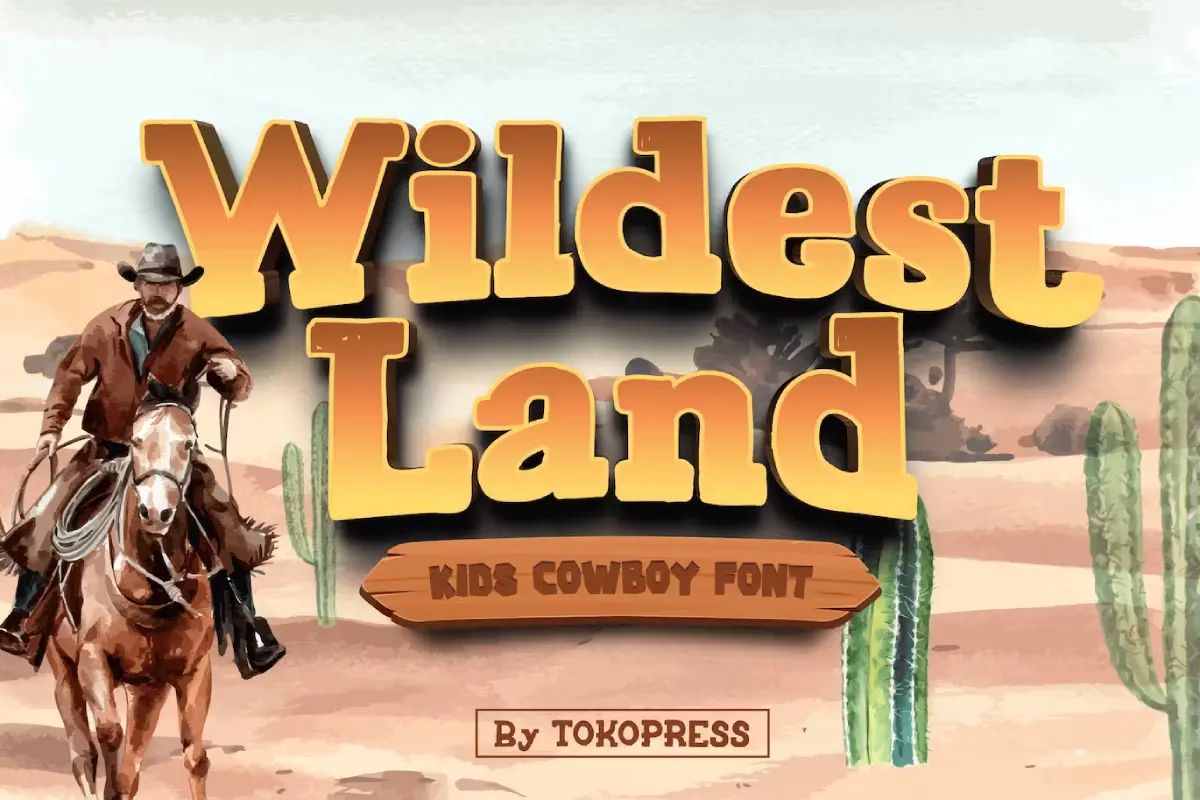 Introducing Wildest Land, the lively gaming font with a western twist. Perfect for kids market, online games, stationery, posters, movie titles, YouTube covers, social media page covers, and more. Wildest Land is sure to be your new favorite font in town!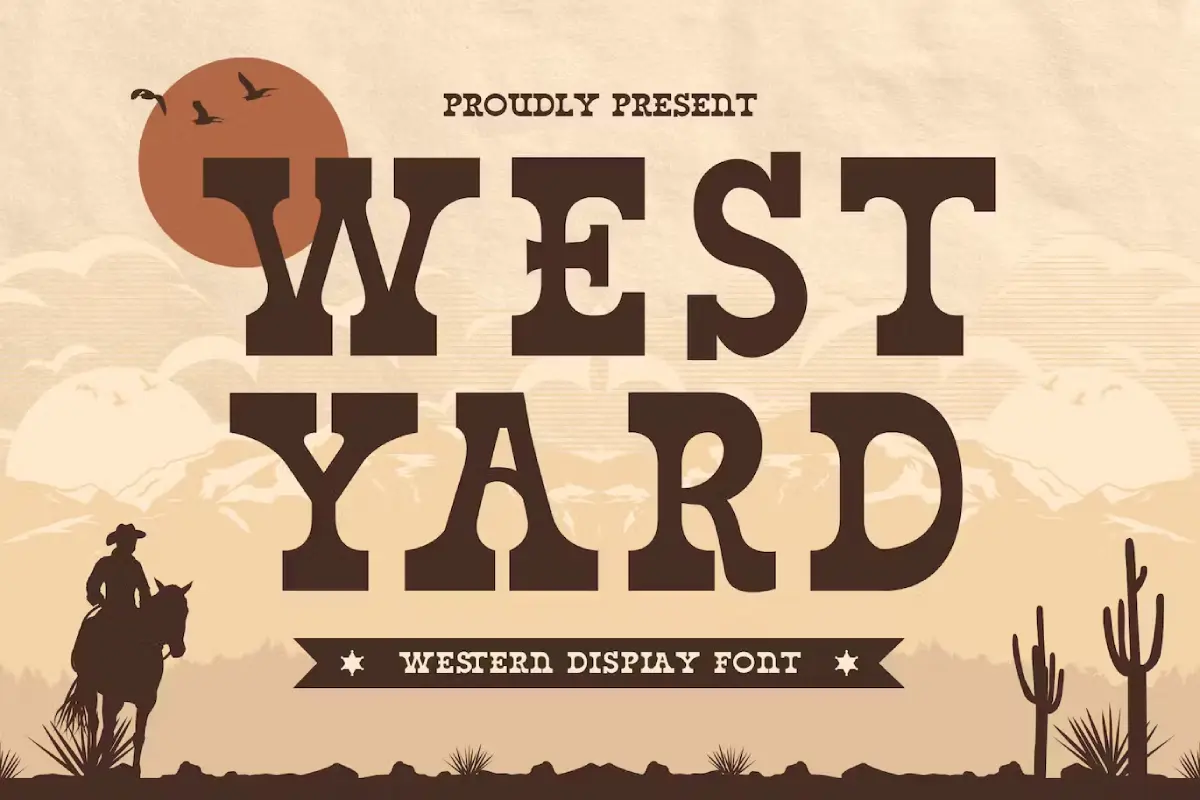 Introducing West Yard, a bold and western-inspired display font. It's perfect for a wide range of creative projects, from cartoons and children's games to quotes, titles, brand names, book covers, posters, and more. If you're looking to add a touch of beauty to your creations, West Yard is the ideal choice.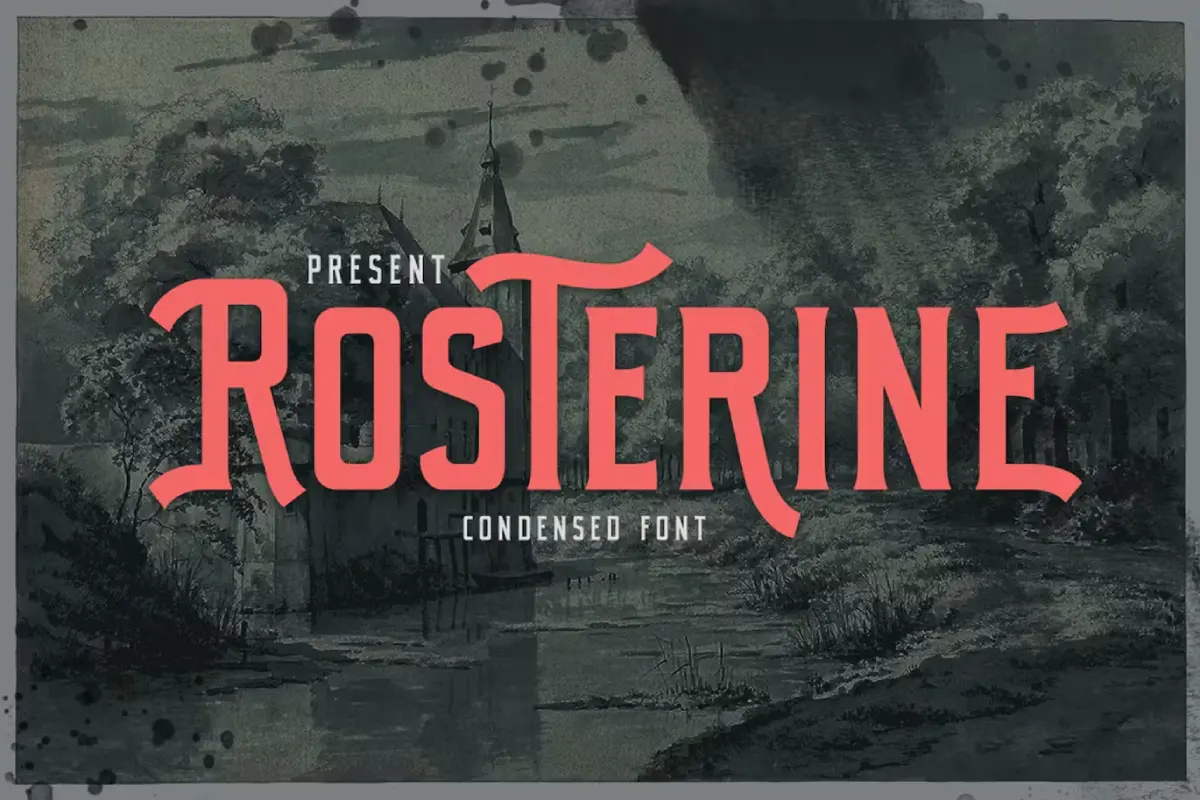 Introducing Rosterine, a condensed display font with a nostalgic and vintage touch. With its unique appearance and strong characters, it's ideal for logos and various formal applications like invitations, labels, magazines, books, cards, packaging, fashion, stationery, novels, and advertising.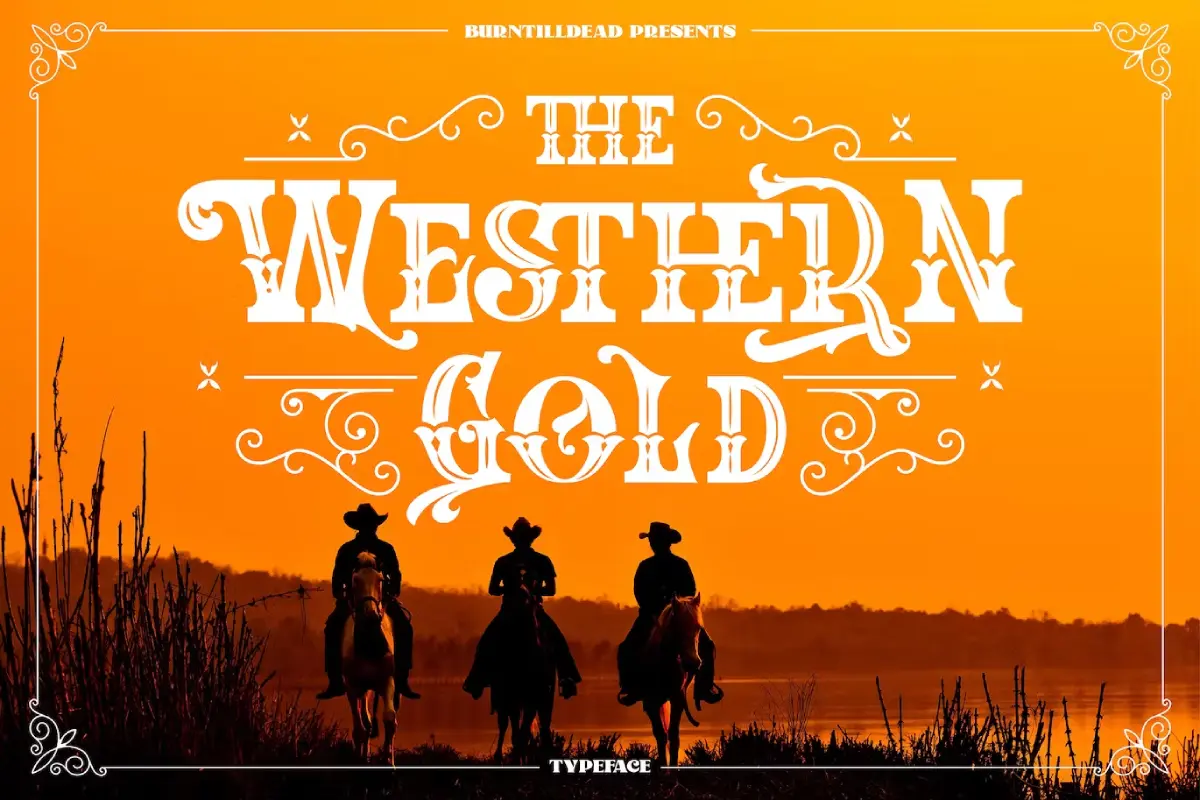 Get ready to be captivated by "The Western Gold," a font that exudes charm and authenticity, taking inspiration from the timeless American wood sign style. But that's not all – this font goes above and beyond by offering support for multiple languages, making it incredibly versatile for all your creative endeavors. So, saddle up and let your imagination run wild with "The Western Gold" as your trusty companion!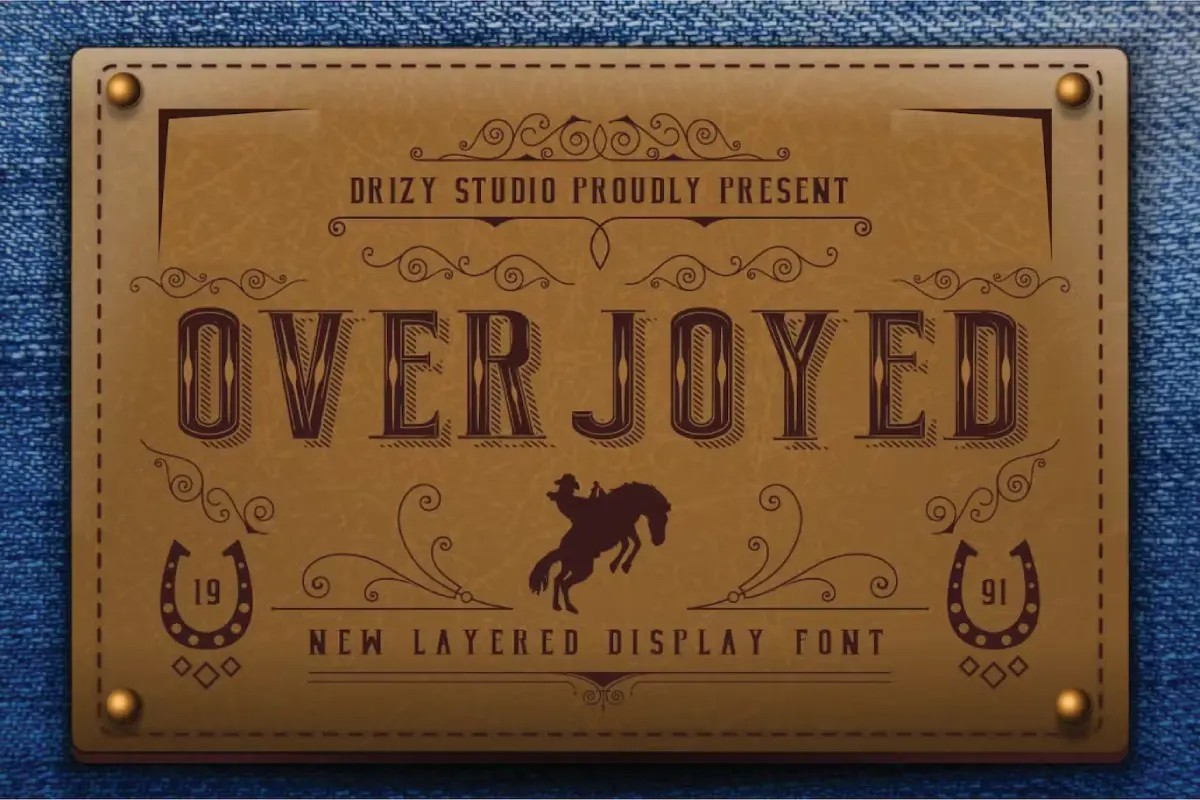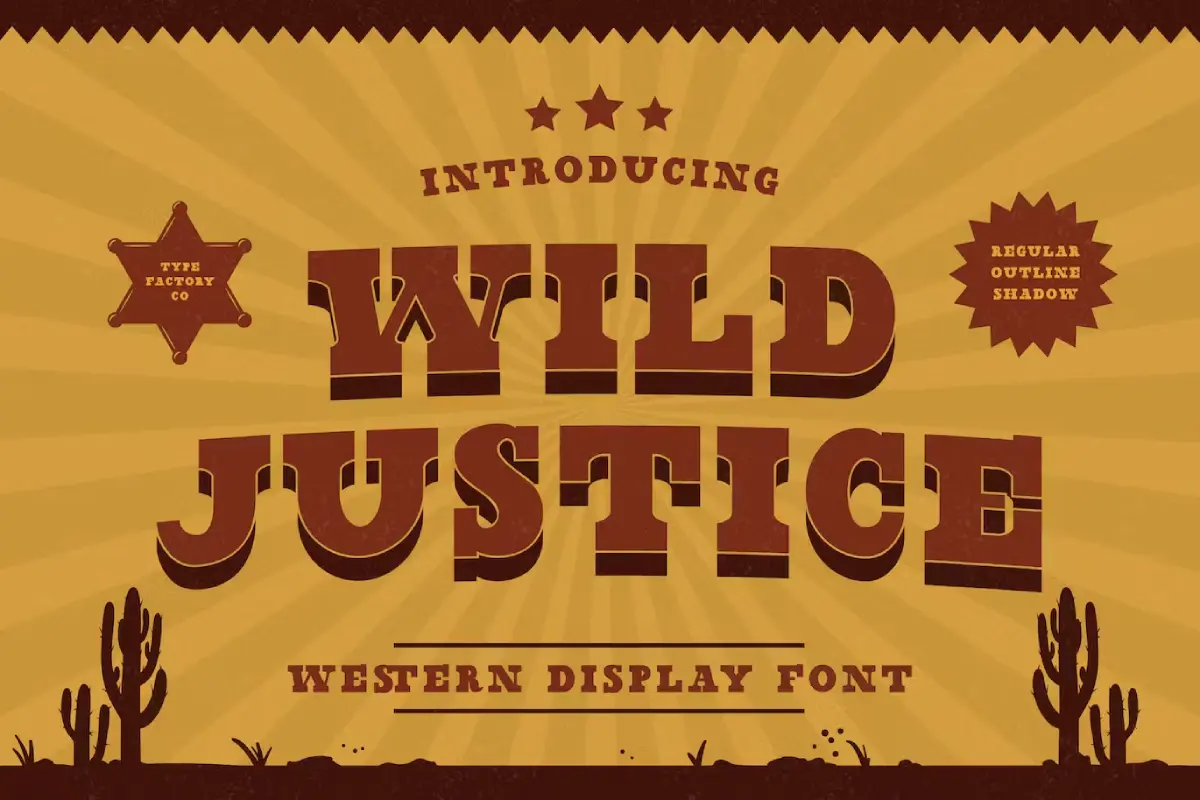 Meet Wild Justice, a font that brings the cowboy style to life. This western is one of the best western fonts that features elements straight from the Wild West and is known for its bold, strong, and inviting look. Wild Justice comes in three styles: Outline, Regular, and Shadow.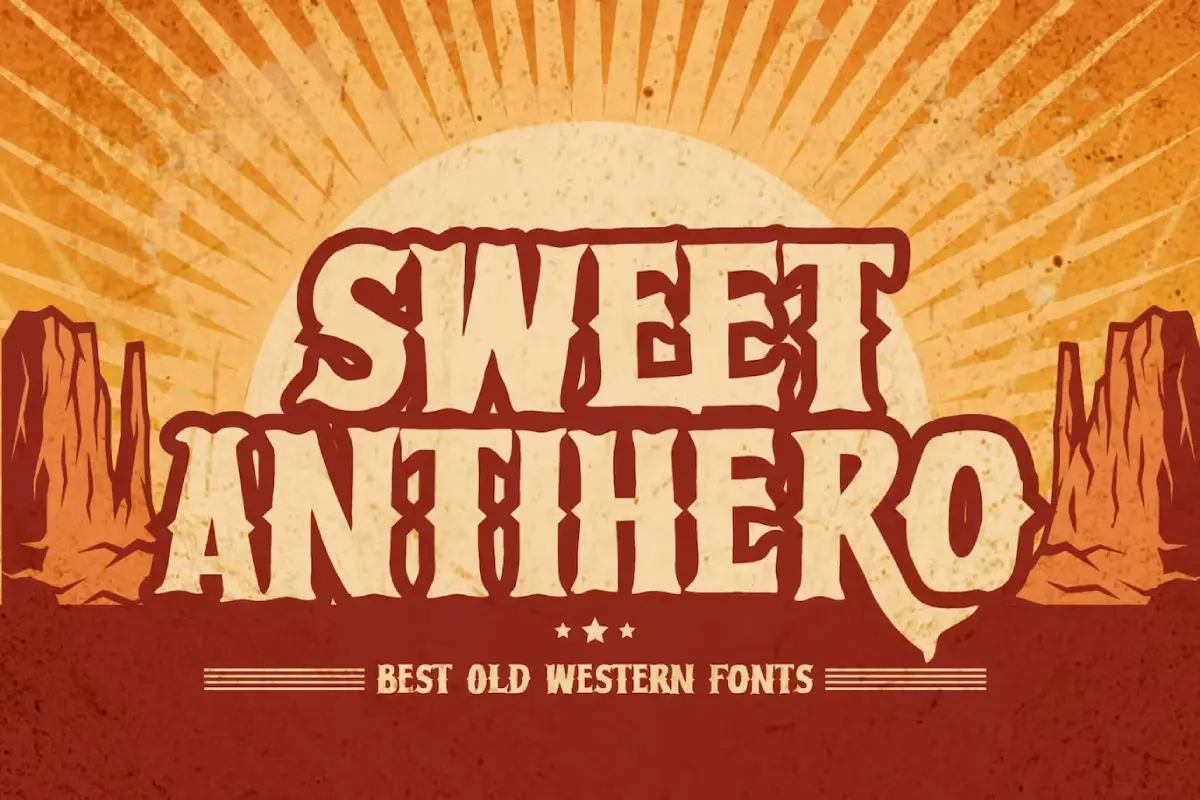 Introducing Sweet Antihero, a bold and strong vintage western font with a handwritten look. Perfect for various creative projects like logos, quotes, invitations, cards, packaging, headers, and more. Let Sweet Antihero add a touch of vintage charm to your designs effortlessly.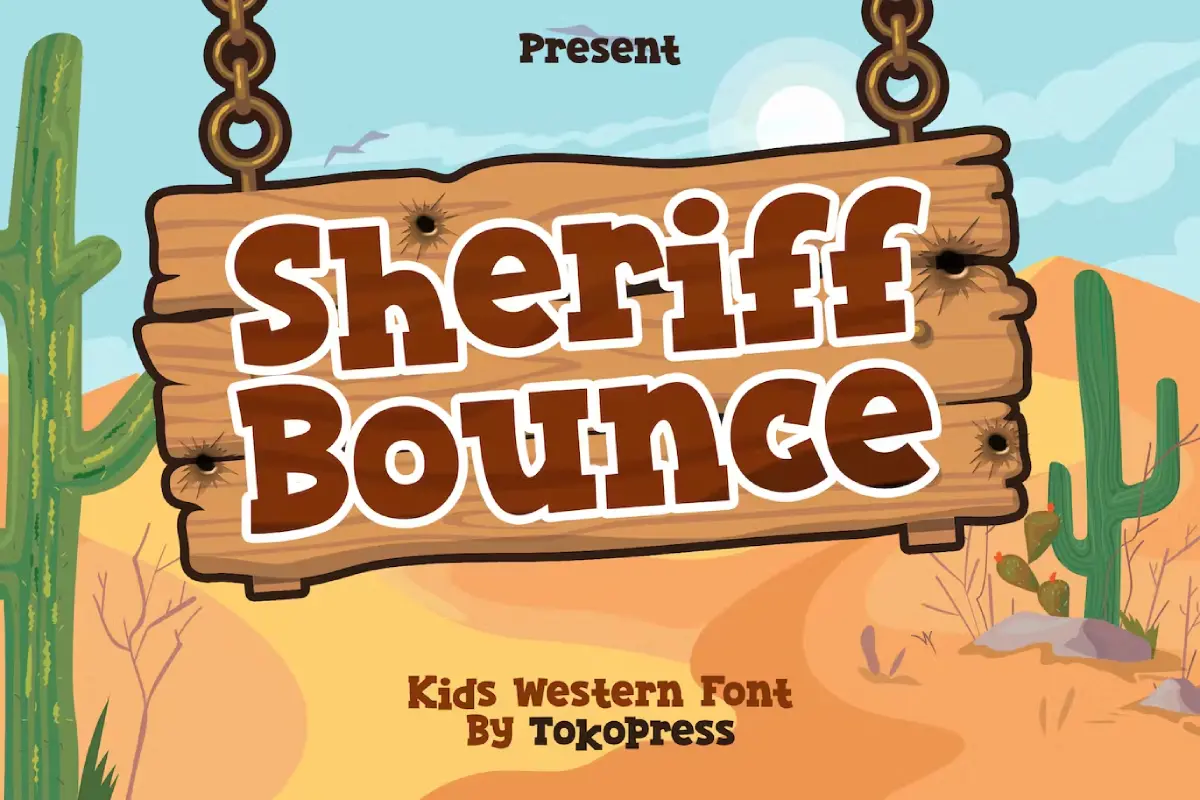 Introducing Sheriff Bounce, a playful kids western font that's just as fun as it sounds. With its bouncy baseline, it embodies the lively spirit of the Wild West and will quickly become a favorite in the realm of children's typography.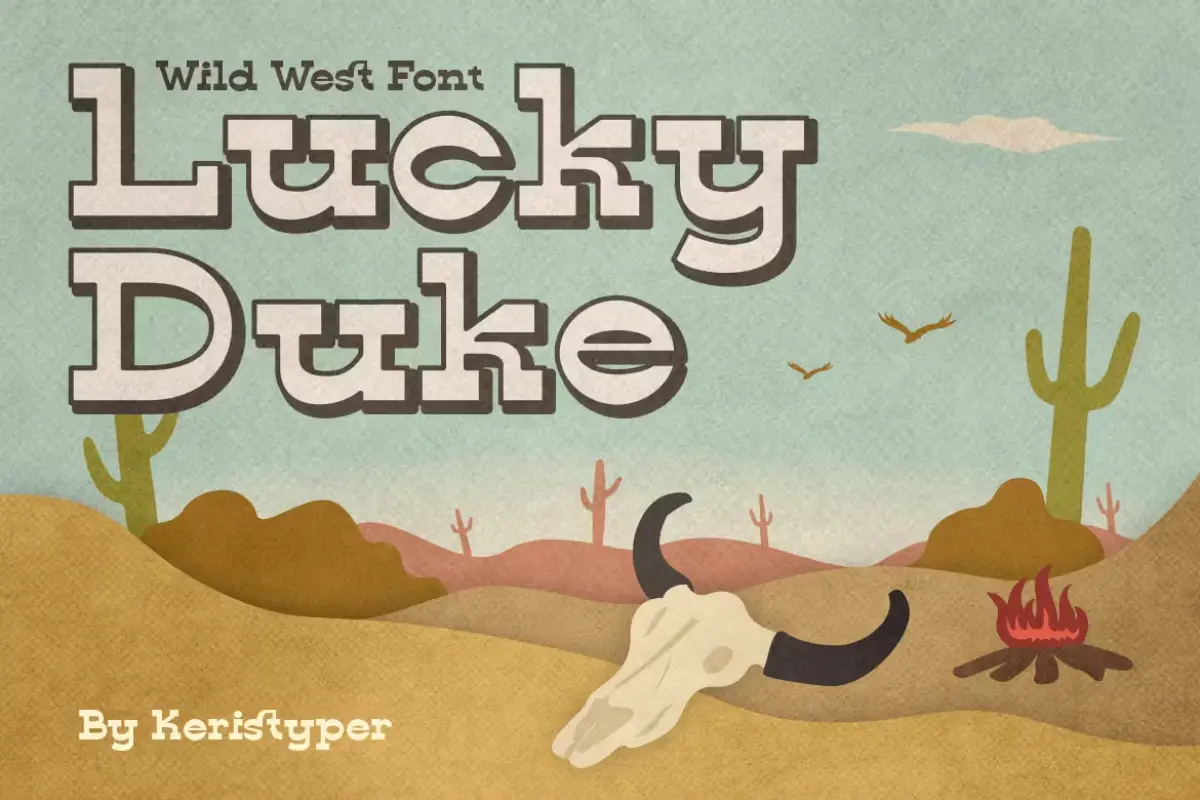 Say howdy to Lucky Duke, a standout western display font, drawing inspiration from the untamed styles of the cowboy-era Wild West. This font shines in a variety of uses, from logo design and social media to movie and book titles. Whether your text is short, long, or somewhere in between, Lucky Duke pairs well with both sans and serif fonts to enhance your project's typography.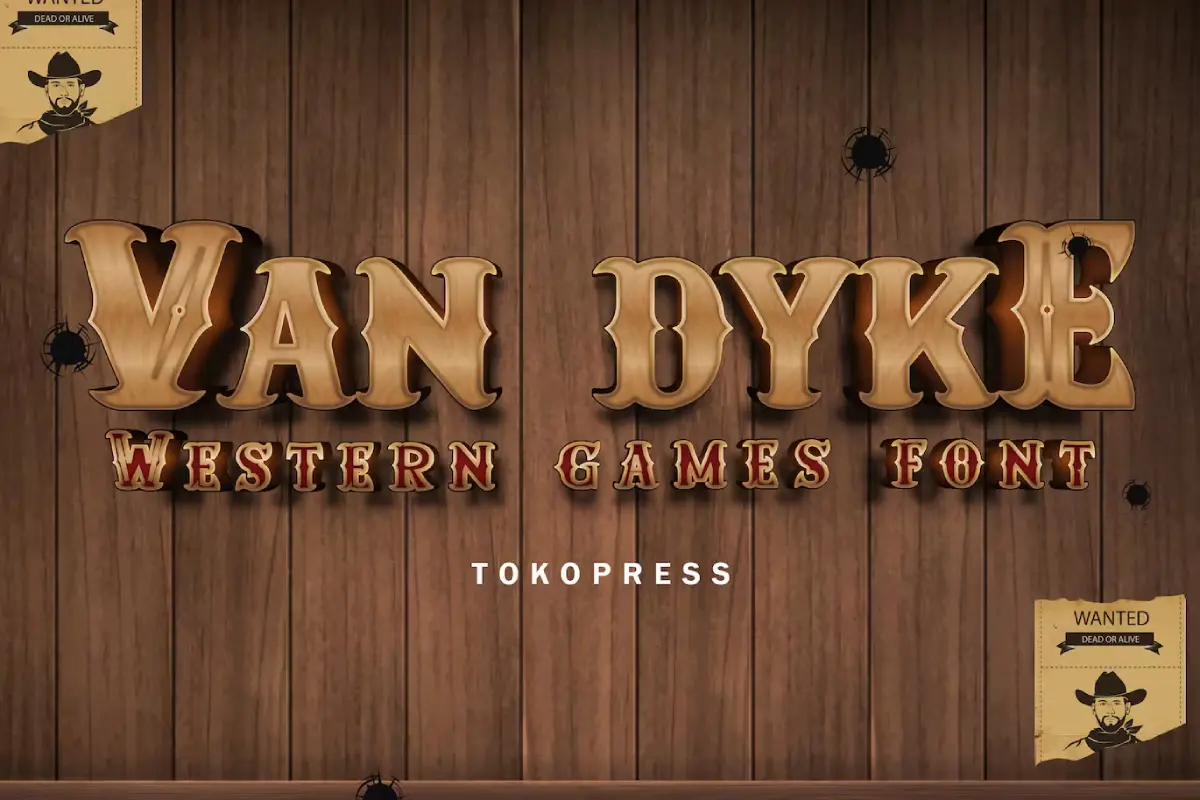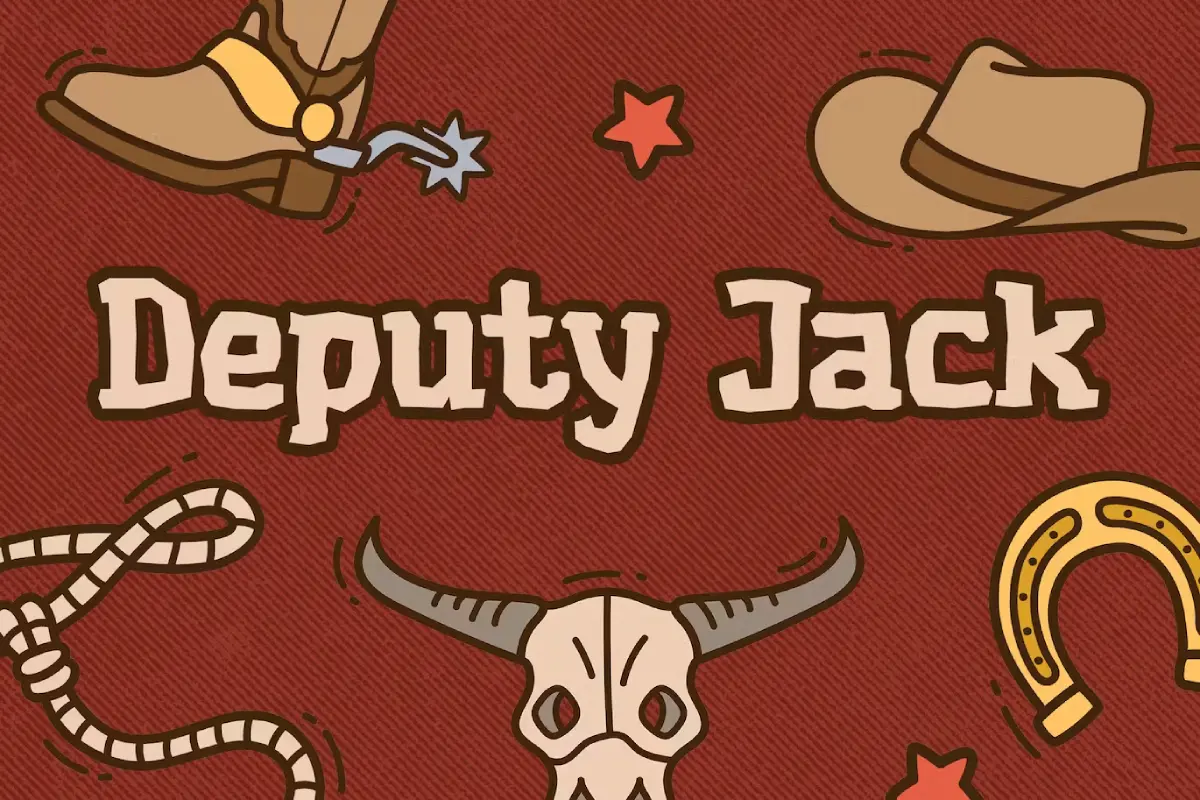 Presenting Deputy Jack, the extraordinary Western Kids Font that brings the spirit of the Wild West right to your doorstep. With its distinctive vest, stetson, badge, and toy plastic gun, this font offers a truly unparalleled experience for children, allowing them to embark on thrilling adventures and explore the wilderness with boundless joy and excitement.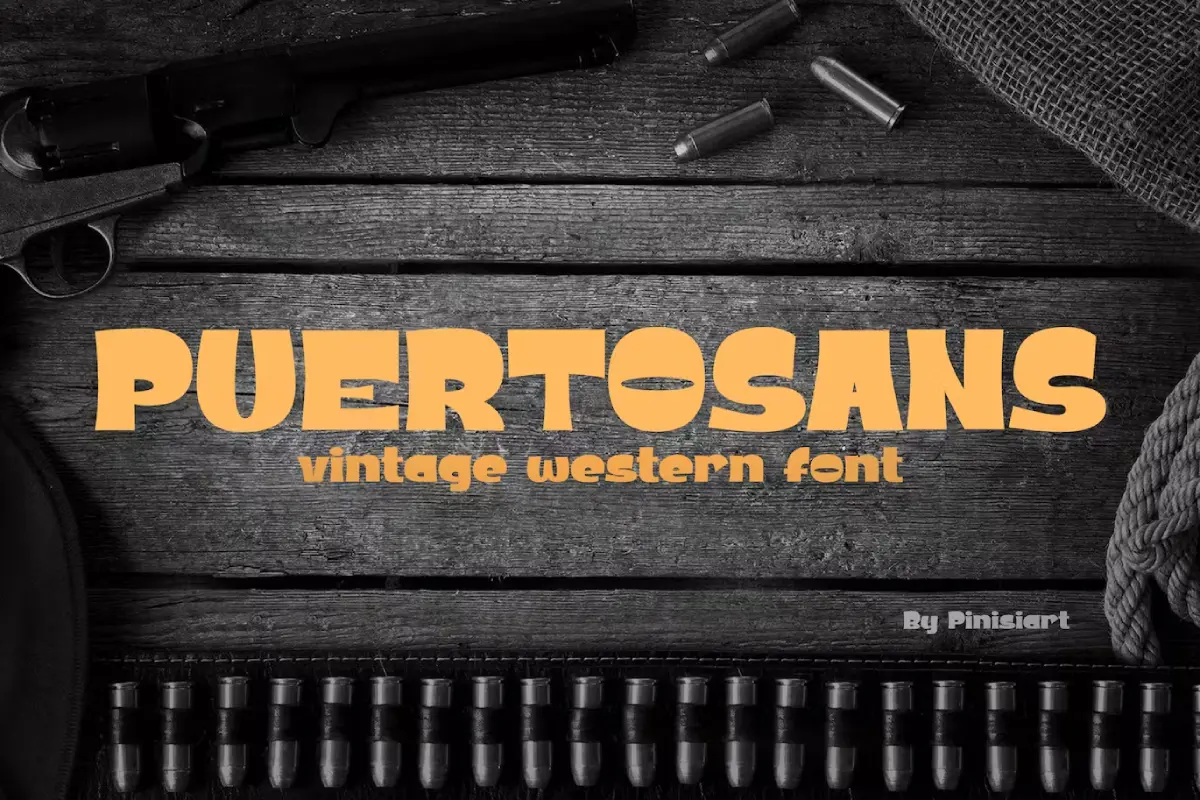 Welcome to the cowboy era with POERTOSANS, a classic western font that perfectly encapsulates the raw and daring spirit of the Wild West. Be it for designing books, games, posters, invitations, or any creative endeavor, POERTOSANS adds a genuine, gripping element to your work. Experience the Old West's unique charm with POERTOSANS!
Monkeymod – Wild West Sans Font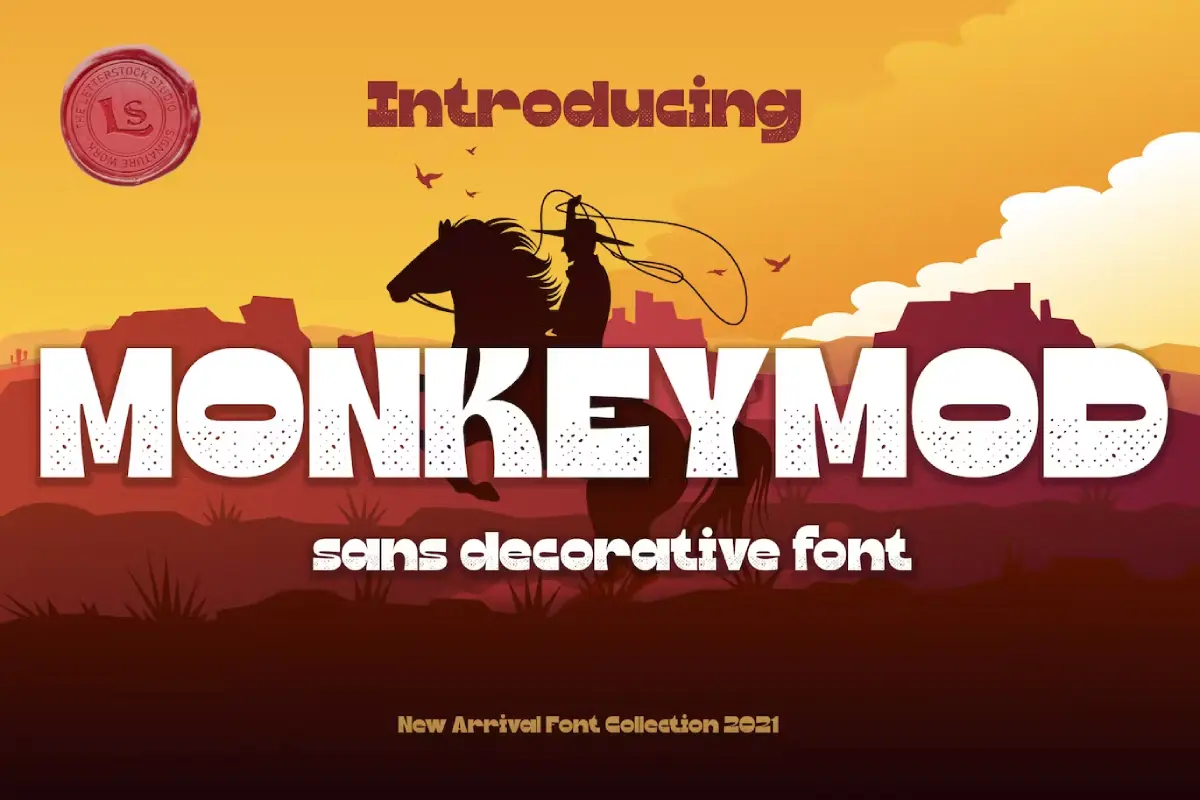 Let's tip our hats to the Monkeymod Font, a dynamic duo of typefaces that hark back to vintage cowboy movie posters. Each letter is carefully handcrafted, adding a genuine handmade charm reminiscent of the Wild West to brand identities, which is then meticulously polished with the pen tool for a neat finish.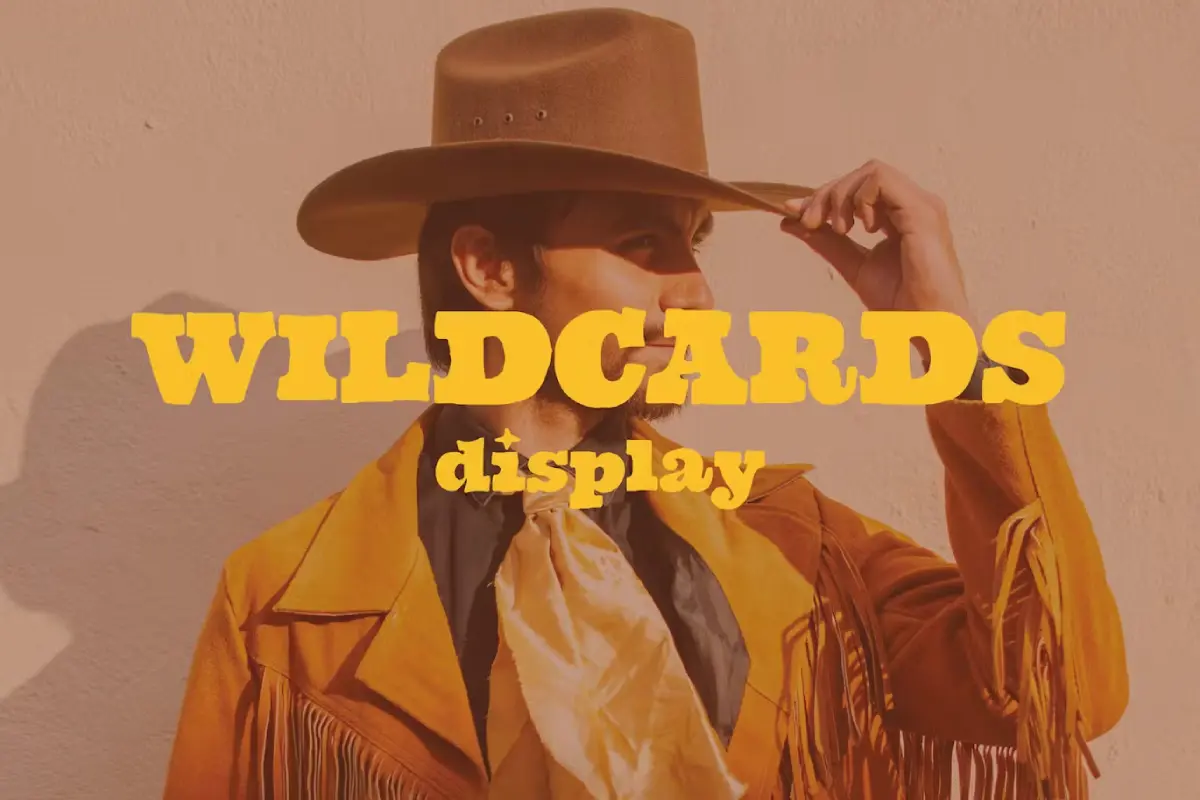 Get ready to create amazing designs with Wildcards! Inspired by the wild west, this versatile slab serif font adds a touch of modern flair to your projects. Whether you're designing logos, posters, or branding materials, Wildcards has everything you need to make a bold statement. So, saddle up and let your creativity run wild with Wildcards!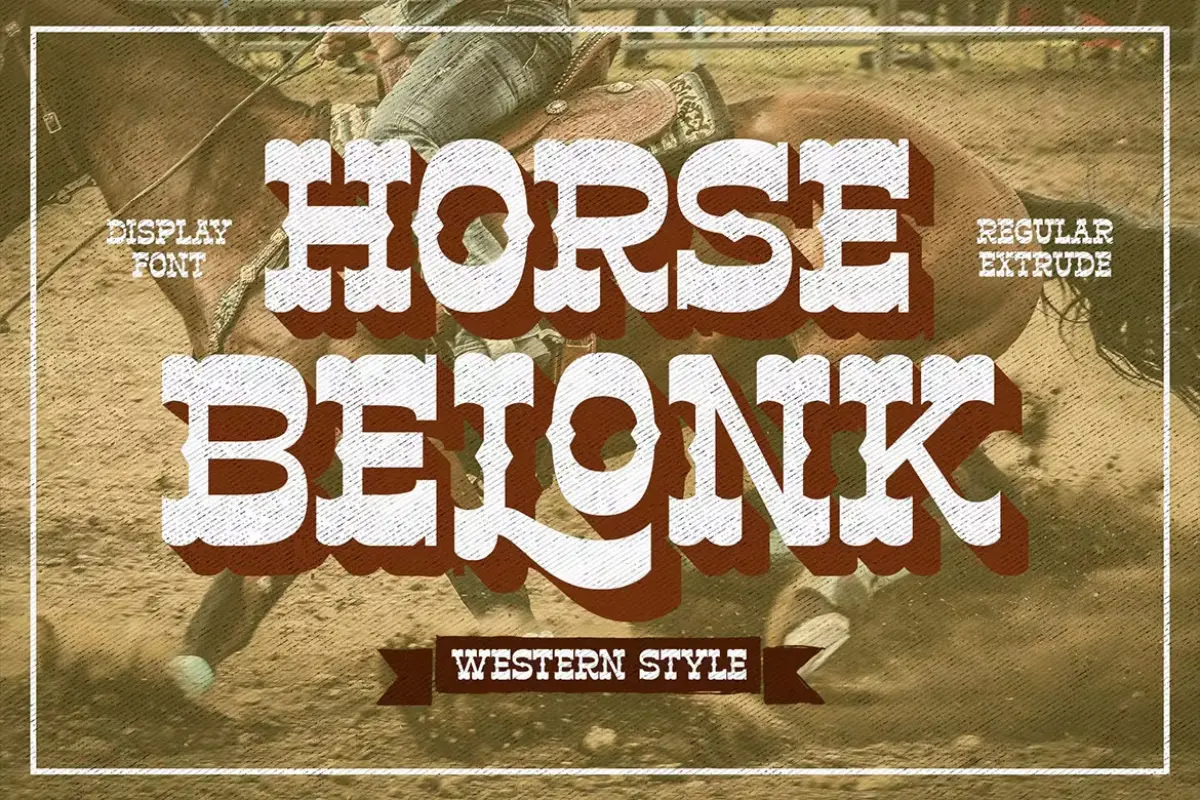 Let's introduce "Horse Belonk," a font inspired by the cowboy culture, rodeos, and vintage Texas styles. It's a bold, serif font with unique mid-line spurs for a strong look.
Frequently Asked Questions
What are western fonts?
Western fonts are typefaces that are inspired by the styles and culture of the American West. They often have a rugged, bold look that's reminiscent of cowboy themes.
Why should I use western fonts for my cowboy-themed project?
Western fonts help capture the spirit and mood of the cowboy era. They can enhance your project's authenticity and make it more visually engaging.
Where can I use these western fonts?
You can use these fonts in various places like book covers, posters, flyers, websites, logos, signboards, packaging, and more.
Are these fonts free to use?
The availability and cost of these fonts can vary. Some might be free for personal use, but require a license for commercial use. Always check the usage rights for each font.
Can I use these western fonts for my digital projects?
Yes, these fonts are suitable for both print and digital projects, including websites, e-books, social media graphics, and more.
Conclusion:
A well-chosen western font can make all the difference in your cowboy-themed project, giving it an authentic, engaging, and unforgettable vibe. The 25 fonts listed here are among the best in their class, offering a range of styles to suit various applications. Whether you're after the weathered look of an old saloon sign, the imposing boldness of a cattle brand, or the sophistication of a vintage typography, there's a western font out there for you. Embrace the spirit of the Old West and let these typefaces inspire your design journey!
Related Posts:
25+ Best Fonts for Your Gaming Projects
25+ Beautiful Modern Script Fonts | Typefaces for 2023
25+ Printable Halloween Flyer Templates to Download in 2023