In today's fast-paced and ever-transforming digital realm, the importance of a visually compelling and functionally robust blog is more critical than ever. This becomes especially prominent as our interaction and communication shift increasingly towards the virtual space. This meticulously compiled array of over 35 Webflow blog website templates brings to the forefront a broad spectrum of choices for you to craft an energetic, engaging, and user-friendly blog platform. These templates serve as a springboard for your creativity and innovation, but above all, they aid in establishing a successful, meaningful dialogue with your readers.
UNLIMITED DOWNLOADS: 50 Million+ Fonts & Design Assets
All the Fonts you need and many other design elements, are available for a monthly subscription by subscribing to Envato Elements. The subscription costs $16.50 per month and gives you unlimited access to a massive and growing library of over 50 million items that can be downloaded as often as you need (stock photos too)!

[ez-toc]
Every template in this collection is expertly crafted, keeping in mind the paramount importance of providing a frictionless reading experience to your audience, irrespective of the device they choose to access your blog from. Ranging from minimalist designs tailored for personal blogs to comprehensive layouts enriched with a multitude of features for professional content platforms, there exists a template to complement every conceivable blogging need and preference.
Thanks to Webflow's intuitively designed platform, the task of customizing these templates to suit your distinctive style is simple and hassle-free, even for those of us who lack coding expertise. Regardless of your chosen blogging sphere, be it travel, food, fashion, technology, or anything else you're passionate about, this collection offers a template that is poised to transform your vision into reality. With these templates, you can truly make your mark in the digital world, leaving a lasting impression on your audience while offering them a unique, memorable, and worthwhile reading experience.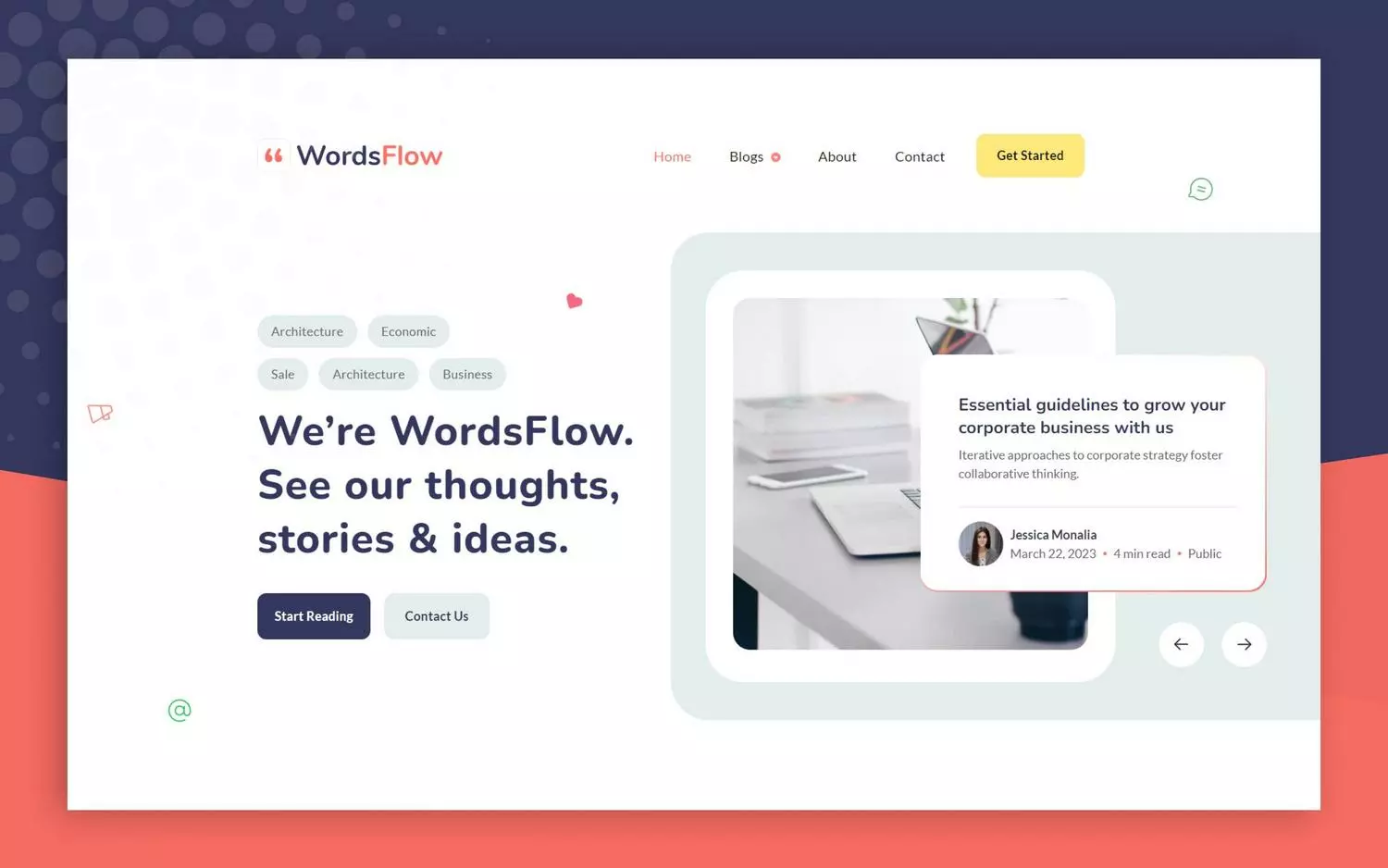 WordsFlow, a creative and perfect Webflow blog website template, keeps every detail simple yet efficient for your readers. It's an ideal choice for writers, bloggers, creators, portfolios, magazines, news teams, personal blogs, fashion, and travel blogs.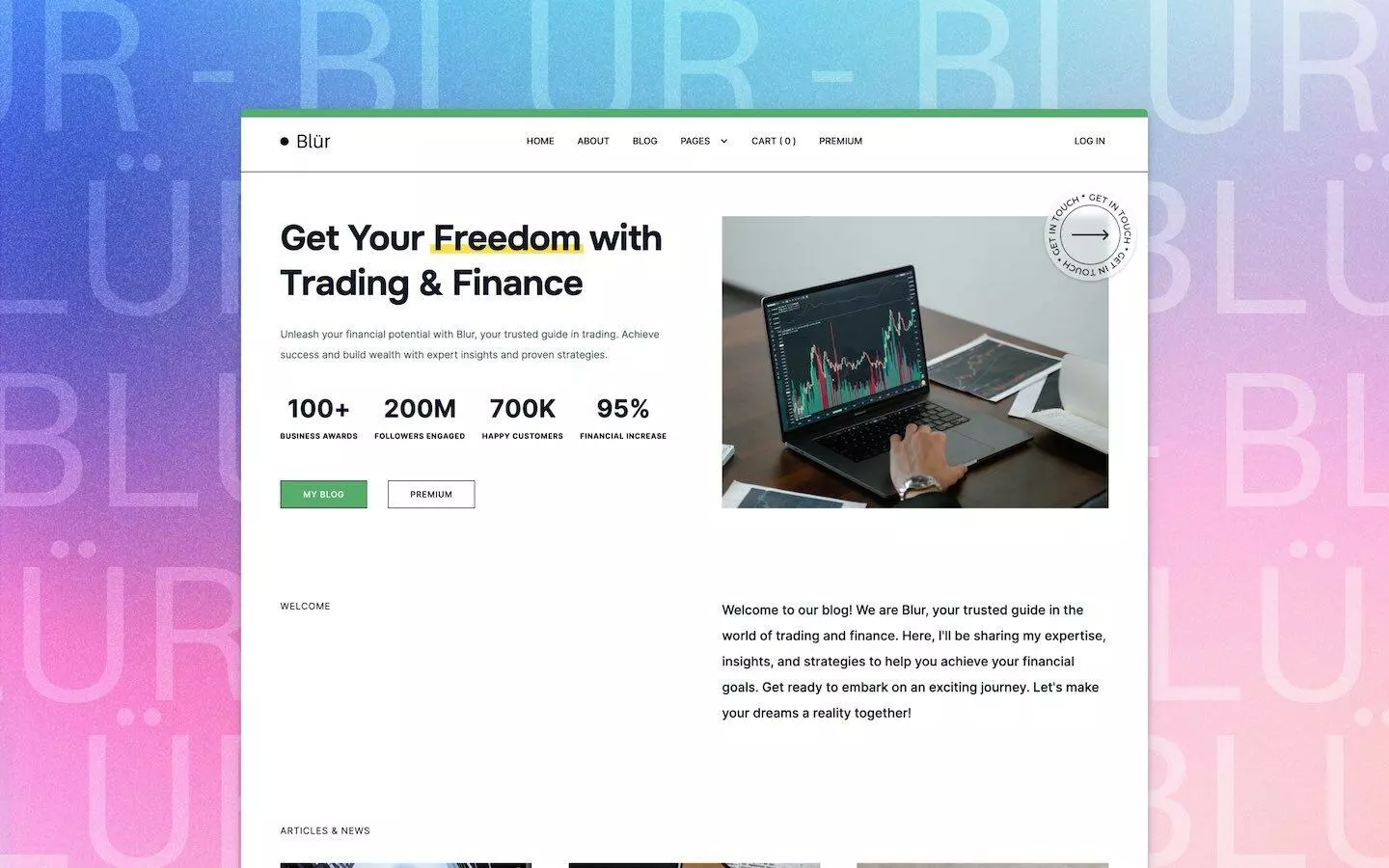 Introducing Blür, the ultimate Webflow blog website template, designed to help you establish an extraordinary online presence. Craft captivating content, engage your audience, and let your blog shine!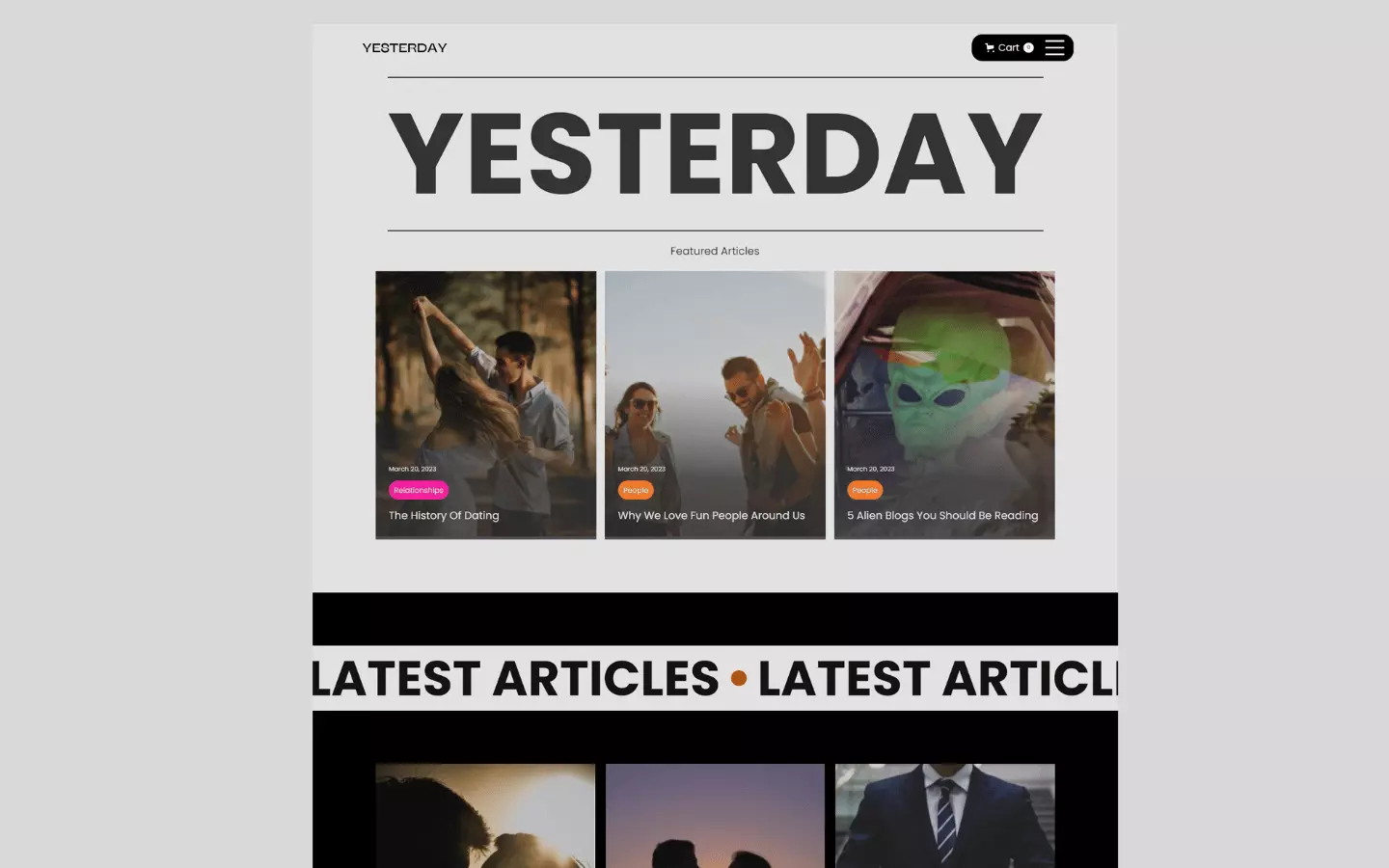 Yesterday is a Webflow blog website template that's perfect for blogs, magazines, and media houses, giving you a great platform to tell your stories.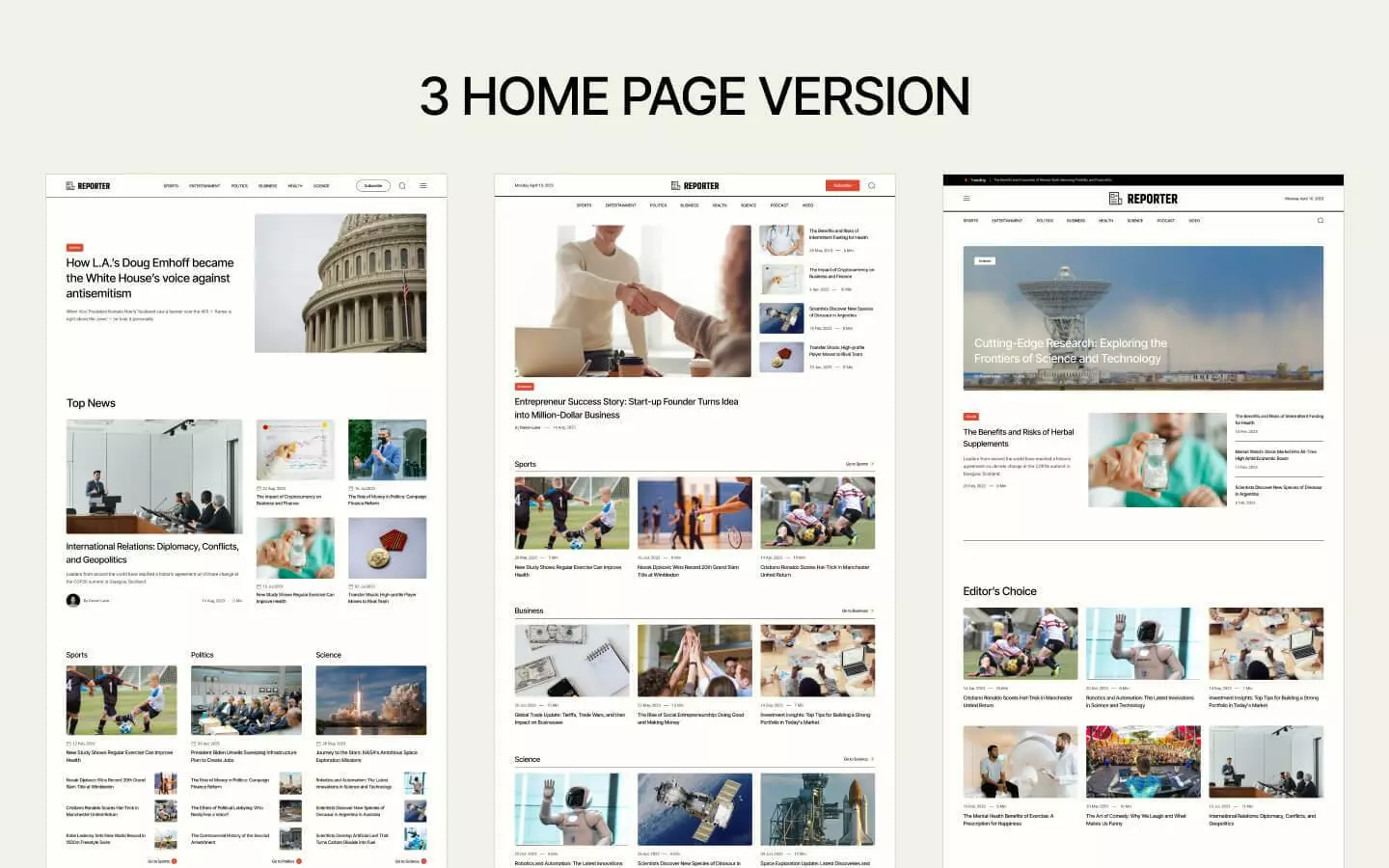 Reporter is a powerful Webflow news template that delivers fast, lightweight performance, making it the ideal choice for both desktop and mobile use.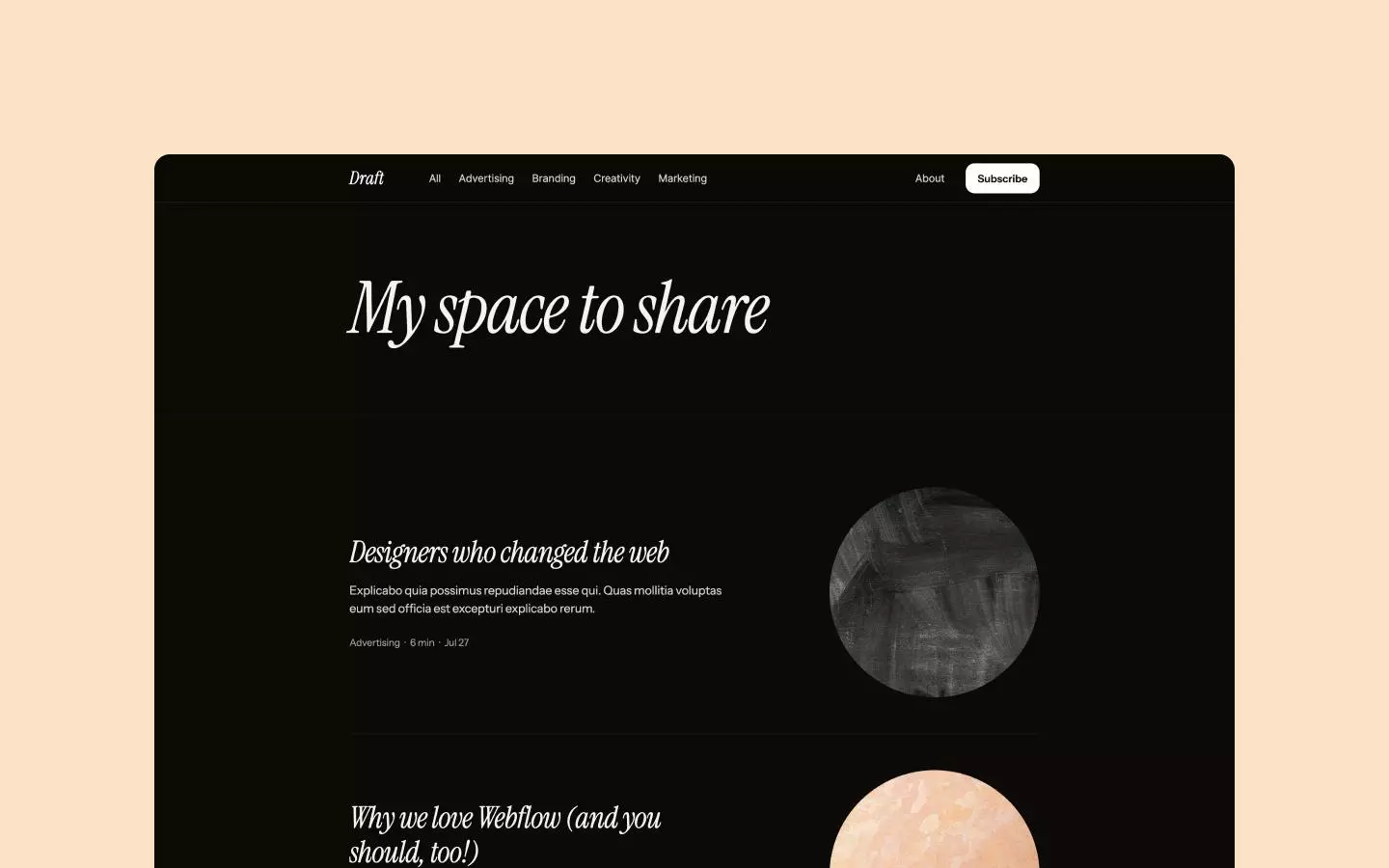 Draft is a clean and straightforward Webflow blog website template, perfect for founders, creators, and solopreneurs documenting their journey.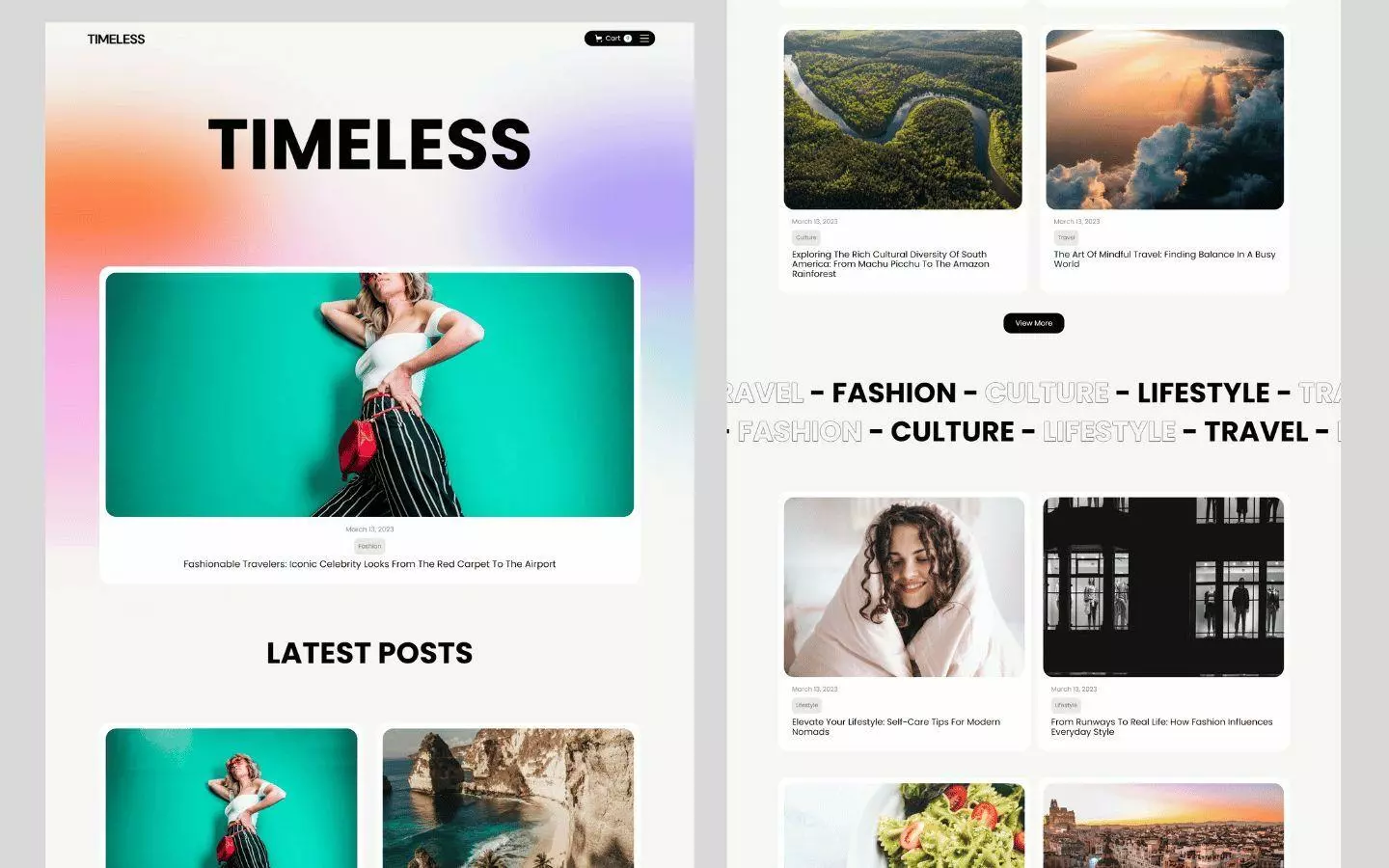 Timeless is a stylish Webflow blog website template that offers a modern design, captivating interactions & powerful features for your travel blog.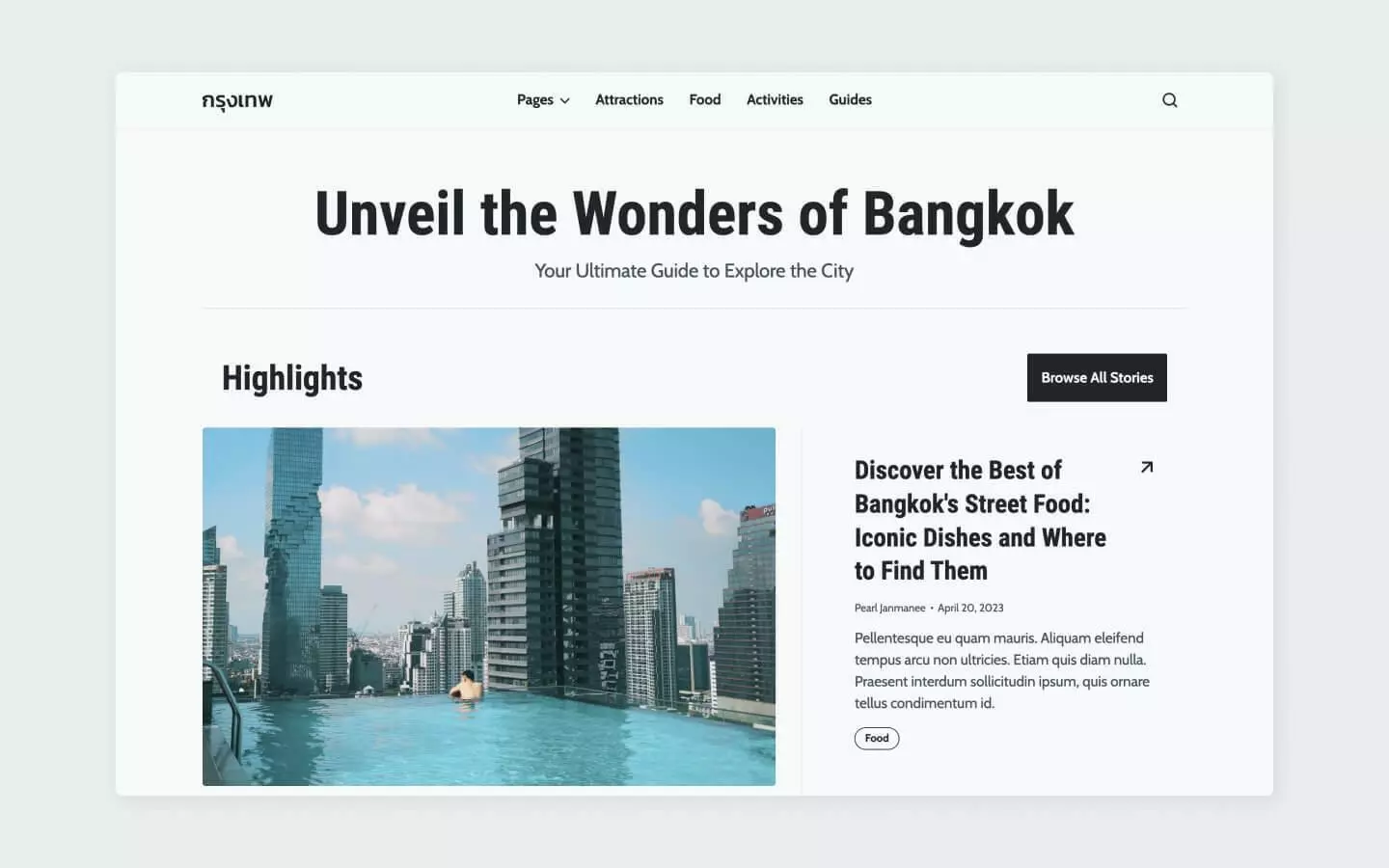 Krung Thep is a high-quality, modern Webflow blog website template that helps create a visually stunning and engaging blog.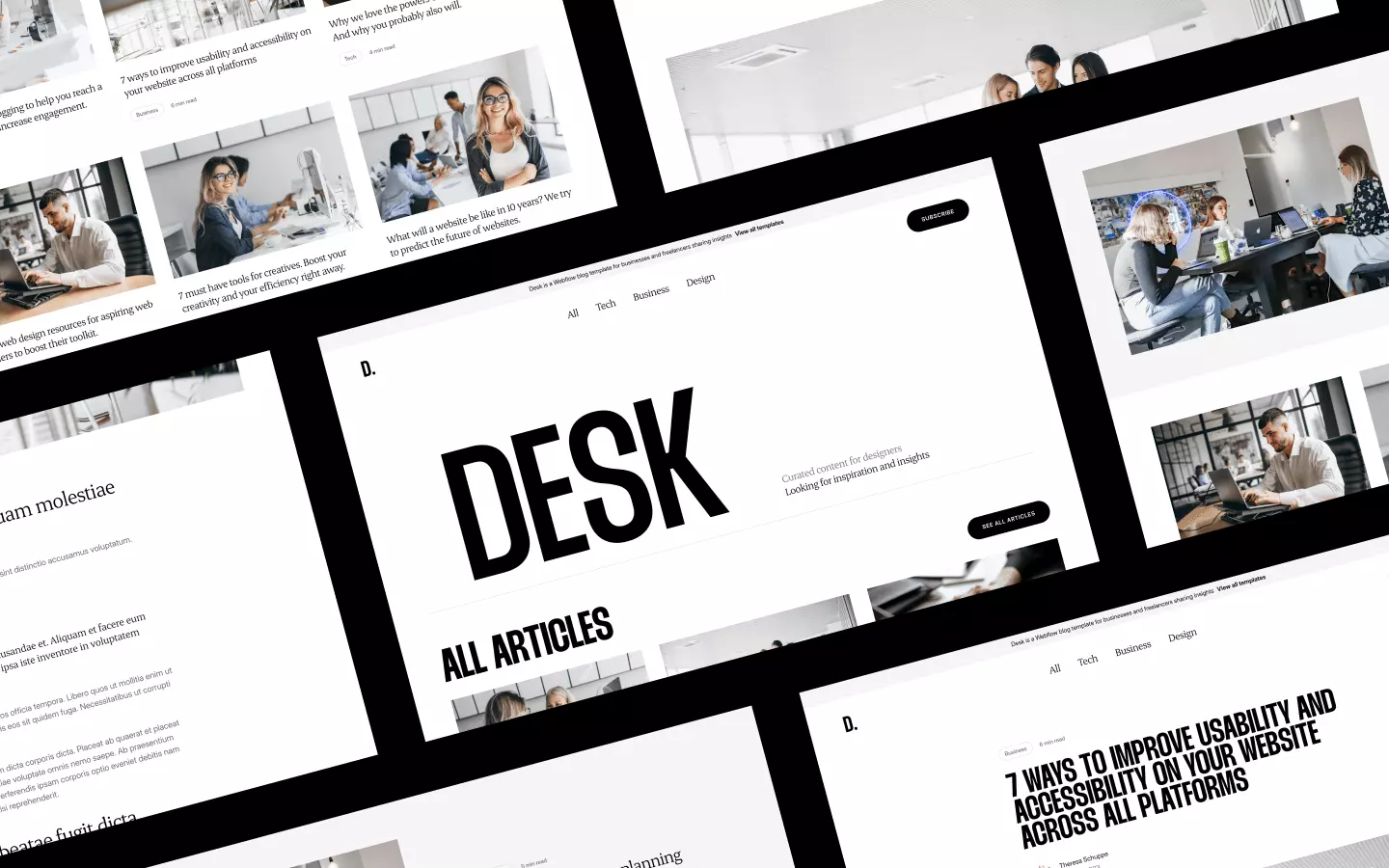 Desk is a high-quality Webflow blog website template ideal for bloggers, businesses, and content creators looking for a professional way to share their stories.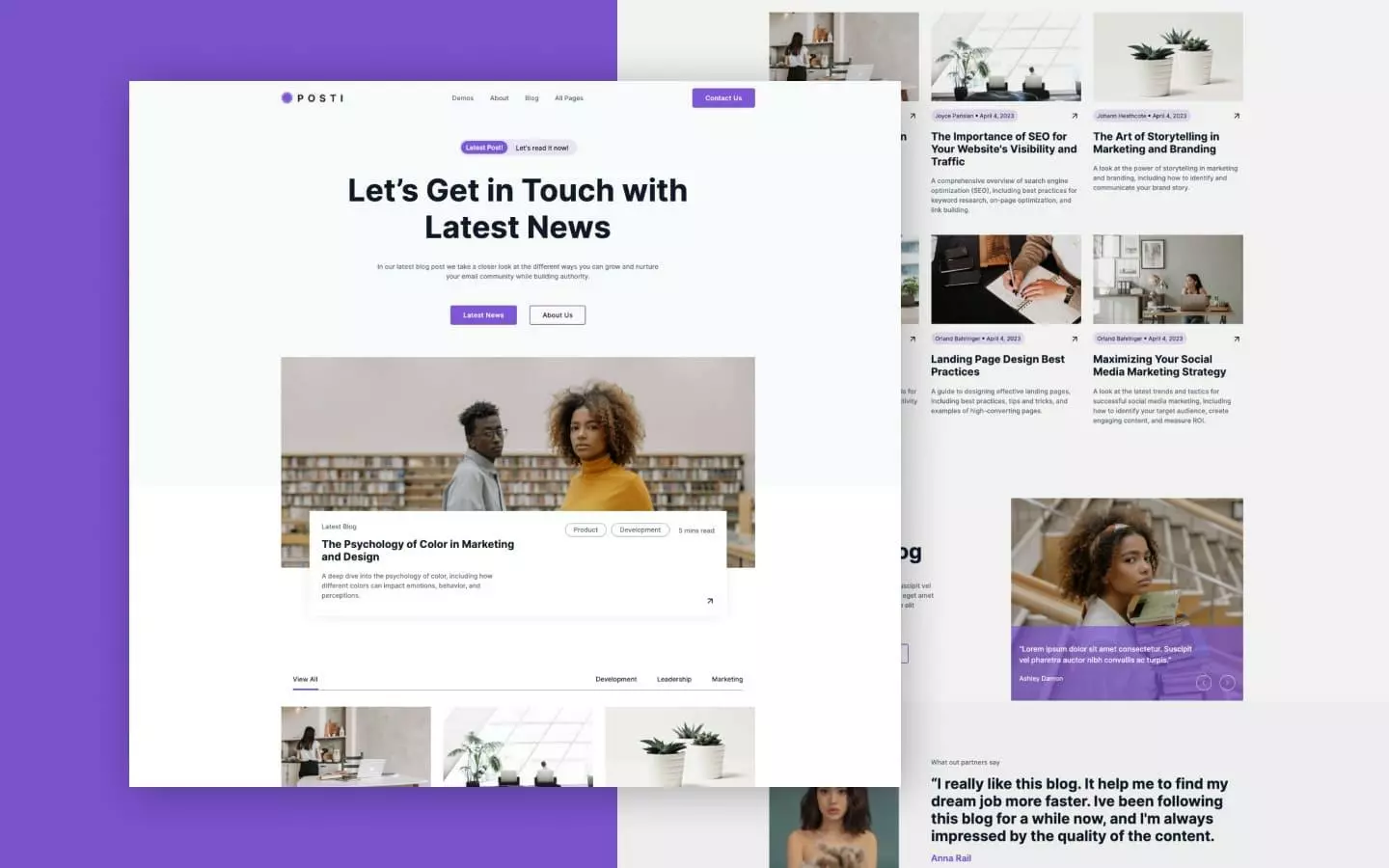 Posti 128 is a professional Webflow template perfect for blogs, bloggers, writers, journalists, and authors. It's well-suited for topics like magazine, news, personal blog, creative blog, lifestyle blog, and blogging.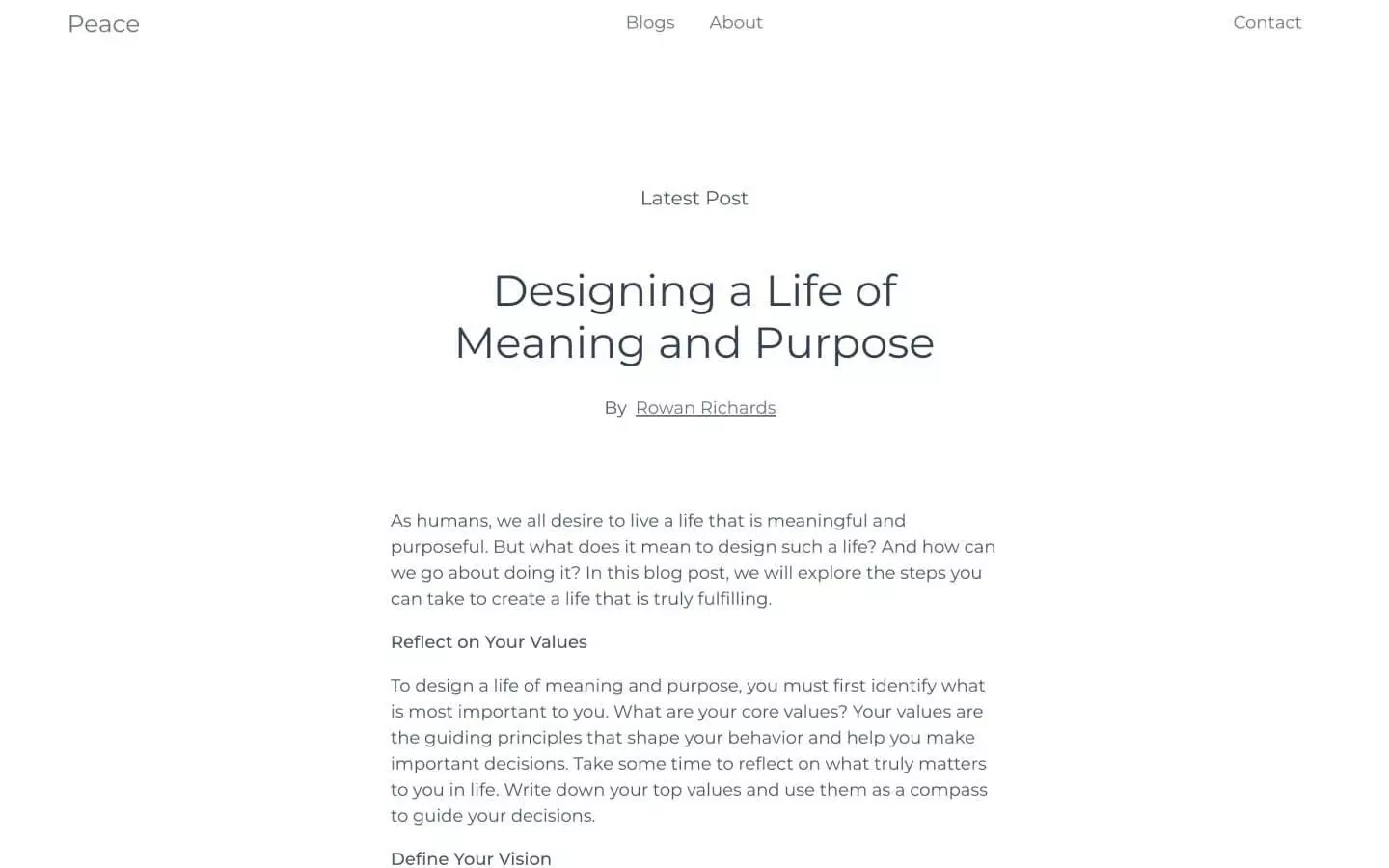 The Peaceful template is perfect for a personal blog. With a minimal design for minimalists, the simple layout ensures focus on the content. Customize it according to your needs.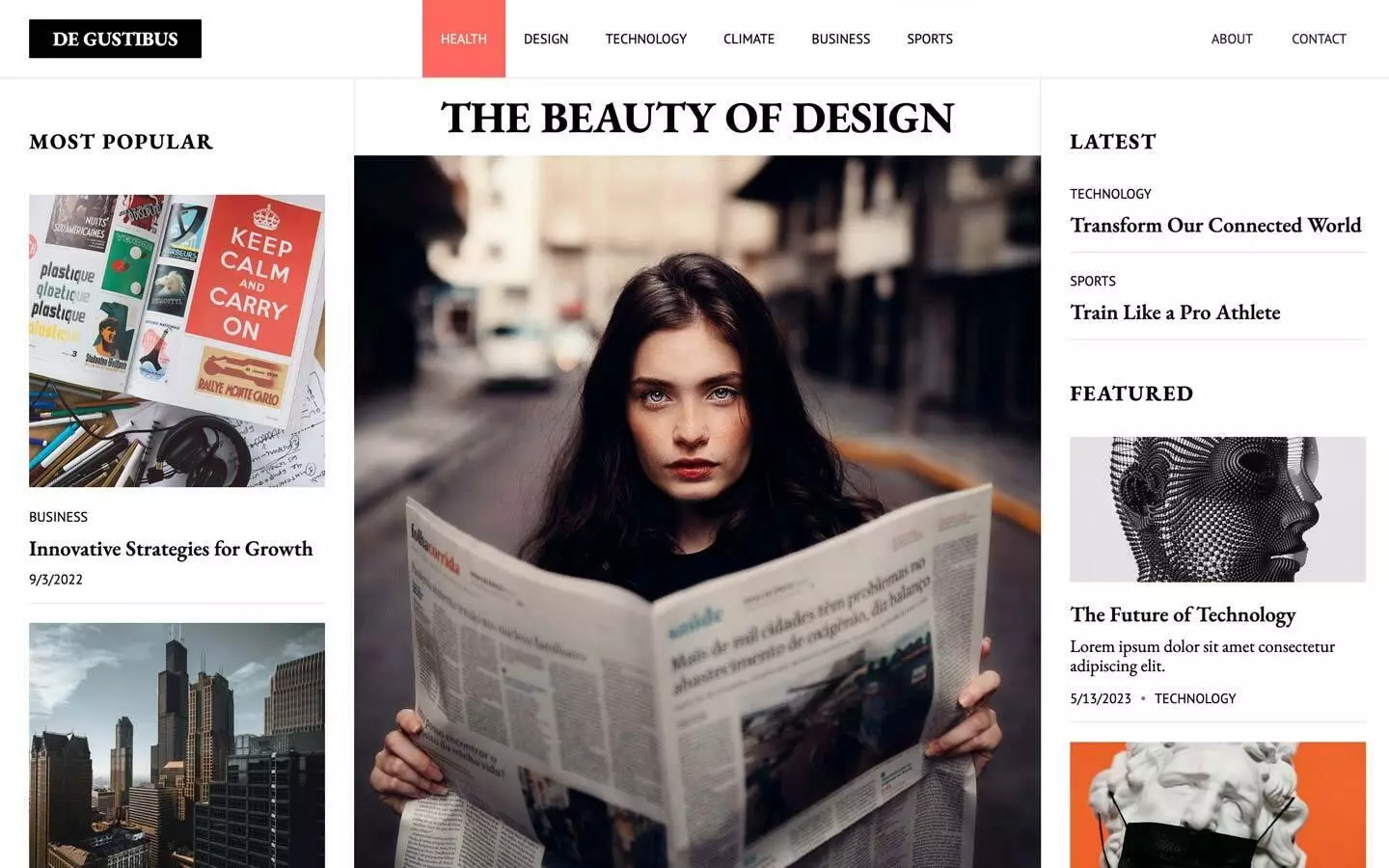 Degustibus provides a clean design and intuitive layout that will have your readers enjoying every moment they spend browsing through your articles.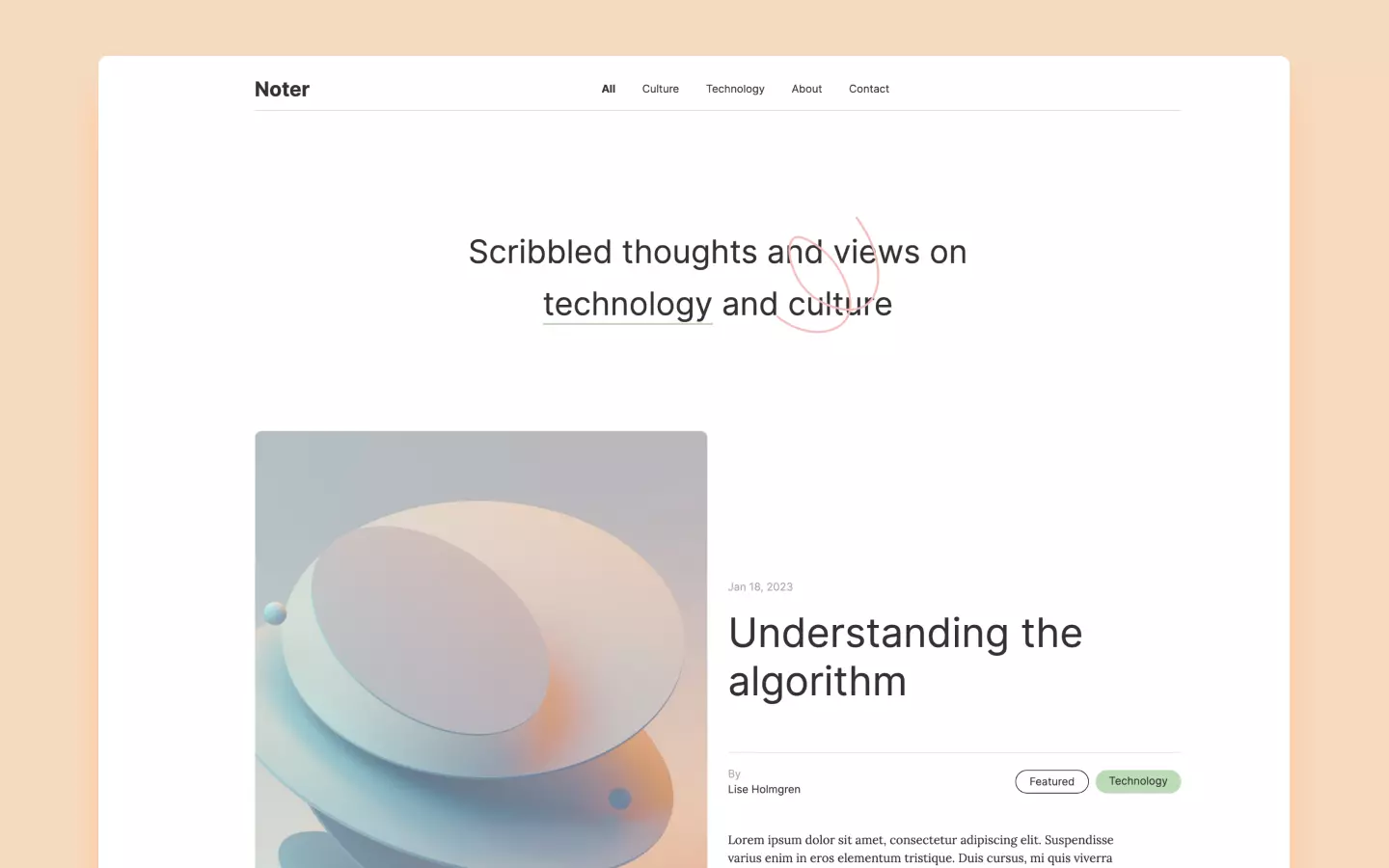 Noter is a sleek, minimal Webflow blog website template aimed at tech and culture enthusiasts. It highlights your insightful articles in a captivating space with subtle interactions and clean design.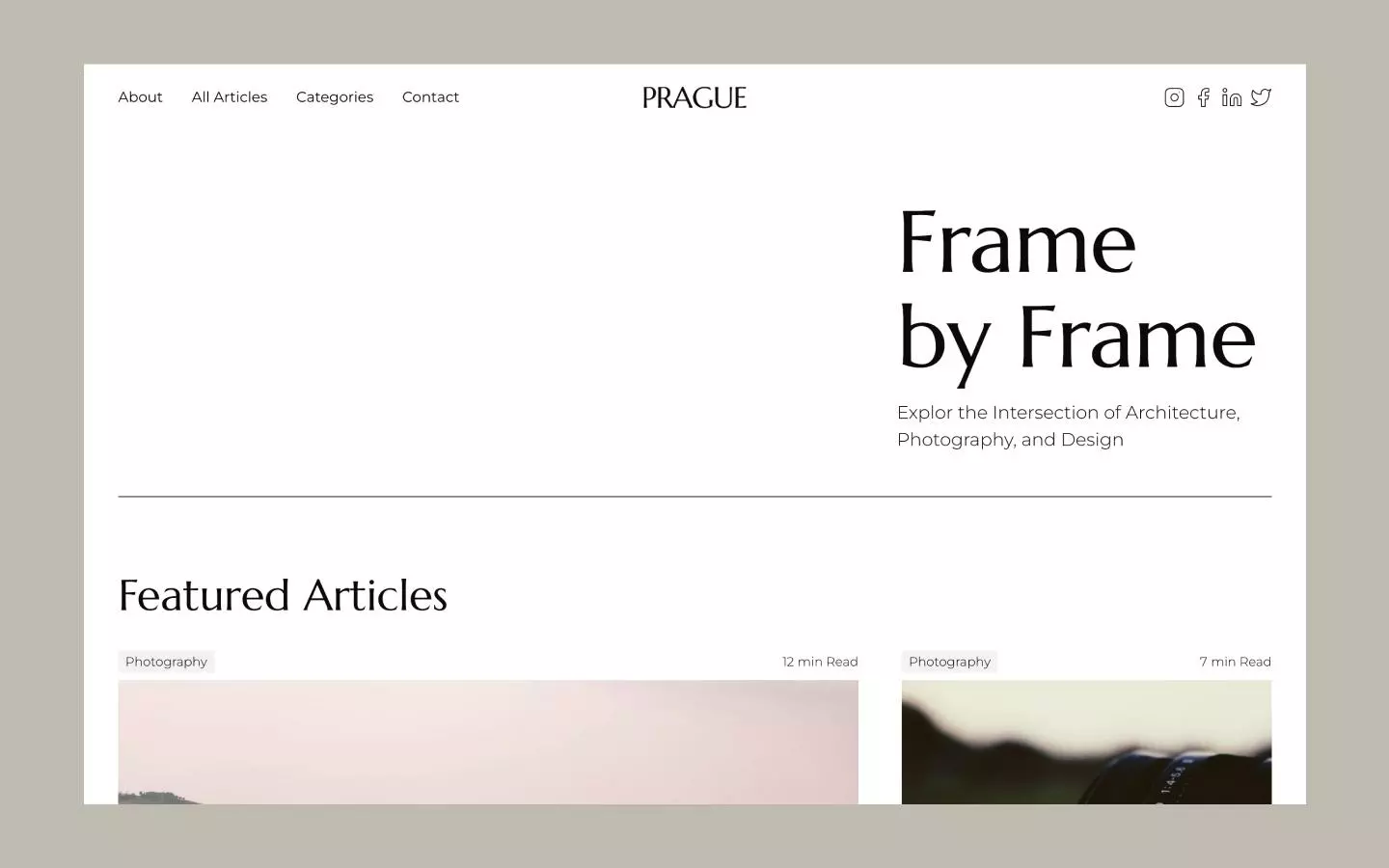 Introducing Prague, a contemporary Webflow template ideally crafted for Architecture, Photography, or Design Blogs. The template sports a chic and simplistic design, advanced interactions, and comprehensive CMS integration.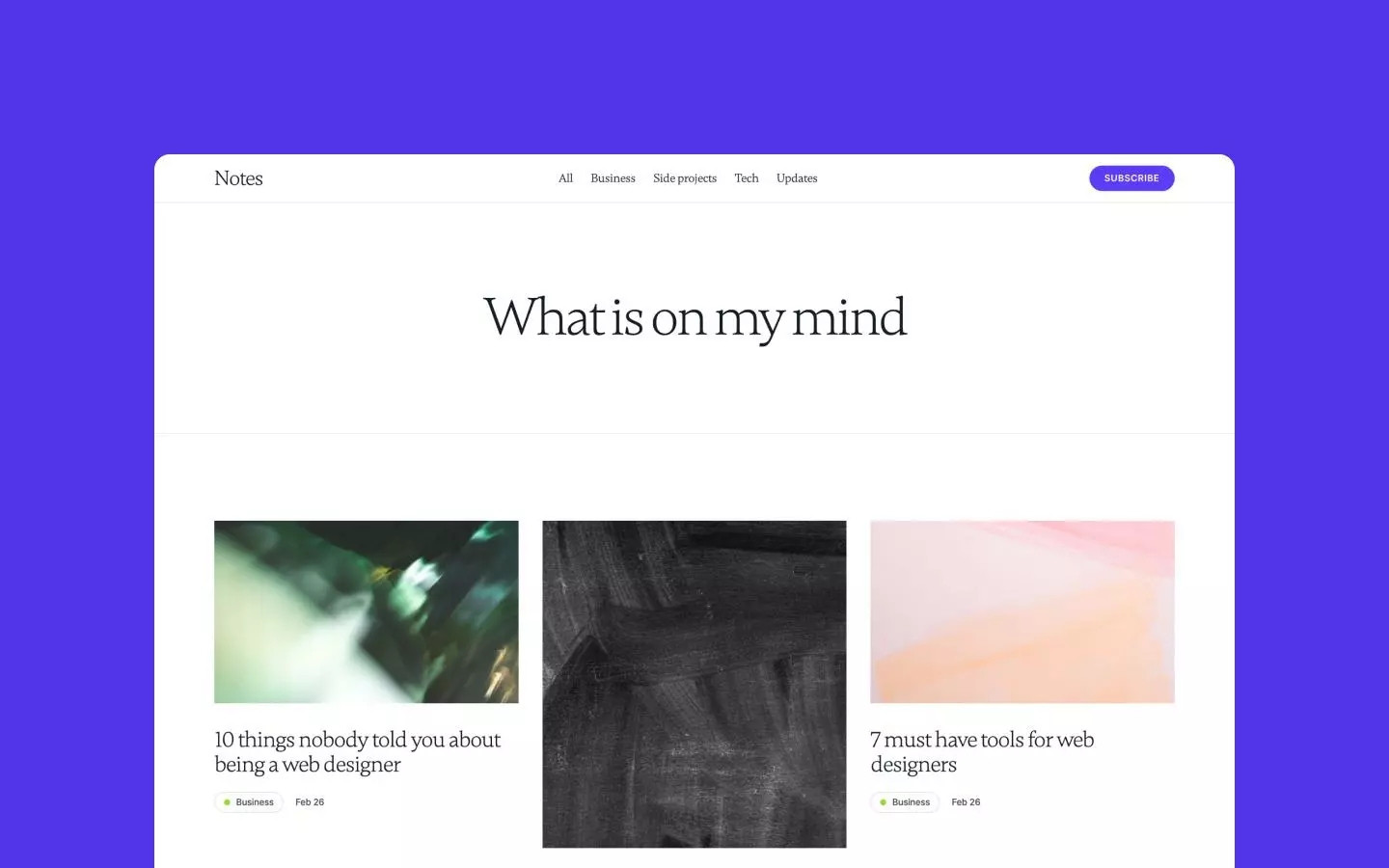 Meet Notes, a superior-quality, neat, and current personal blog template. This is just the ticket for writers, bloggers, and creators looking to display their writing and relay their original stories.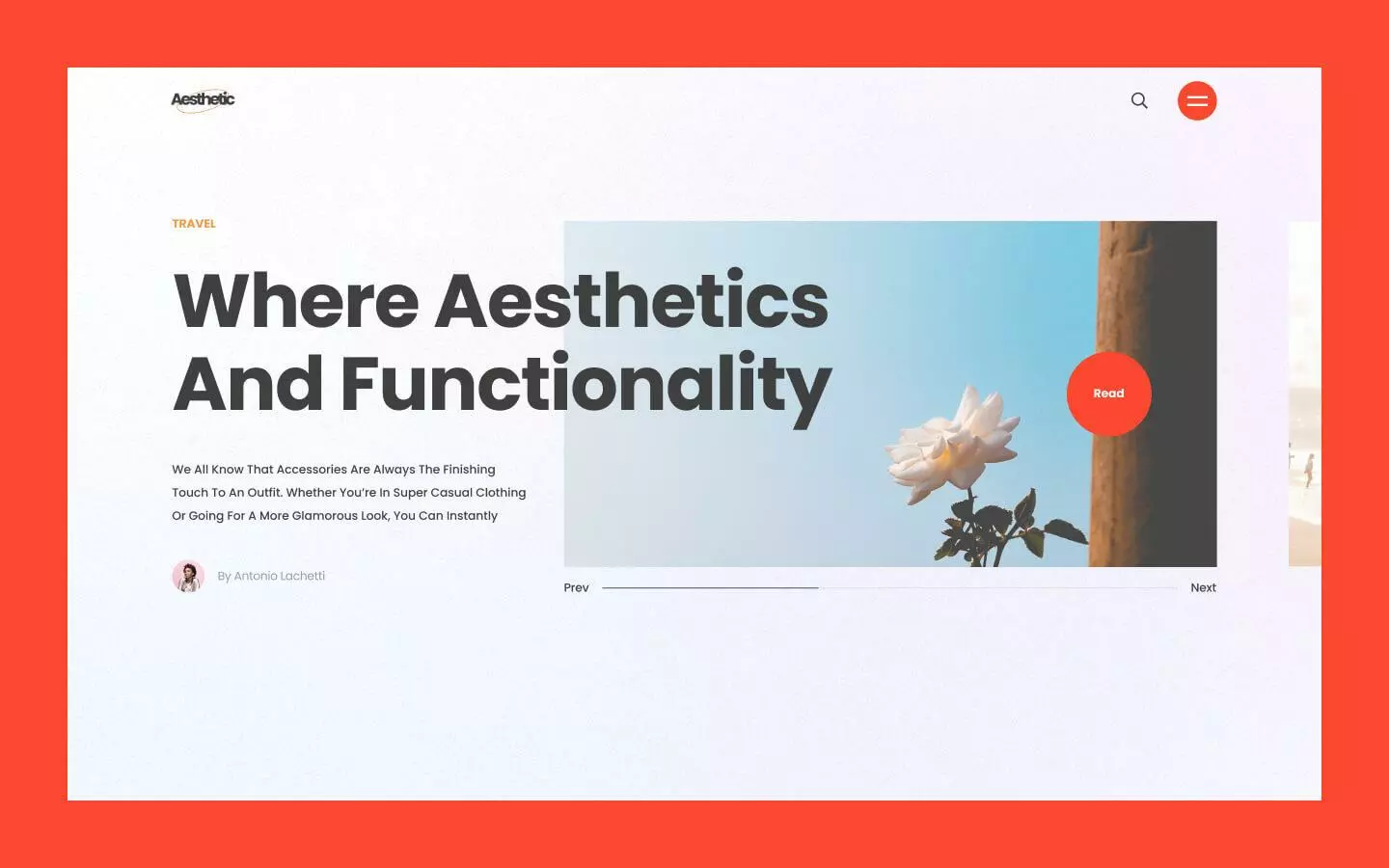 Looking for a neat and airy template for your dream blog? Look no further. Aesthetic comes with a crystal-clear UX and an ultra-clean UI, backed by 24 pages, 75 sections, and full CMS-readiness. You can also request the included Figma file, all with holistic human support.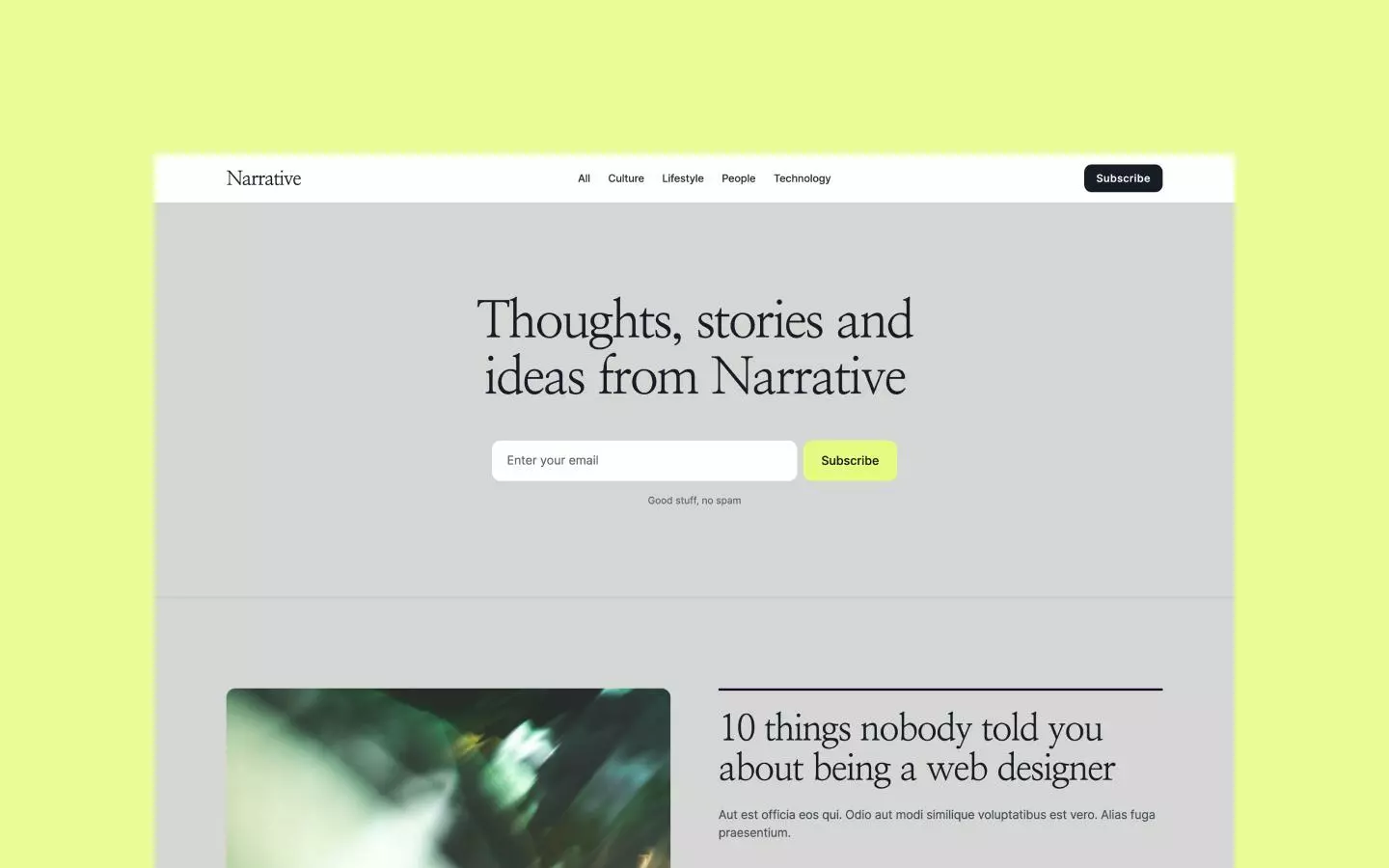 Introducing Narrative, a superior-quality, uncomplicated, and current blog template. It's a perfect match for writers, bloggers, and creators keen on exhibiting their writing and unfolding their unique tales.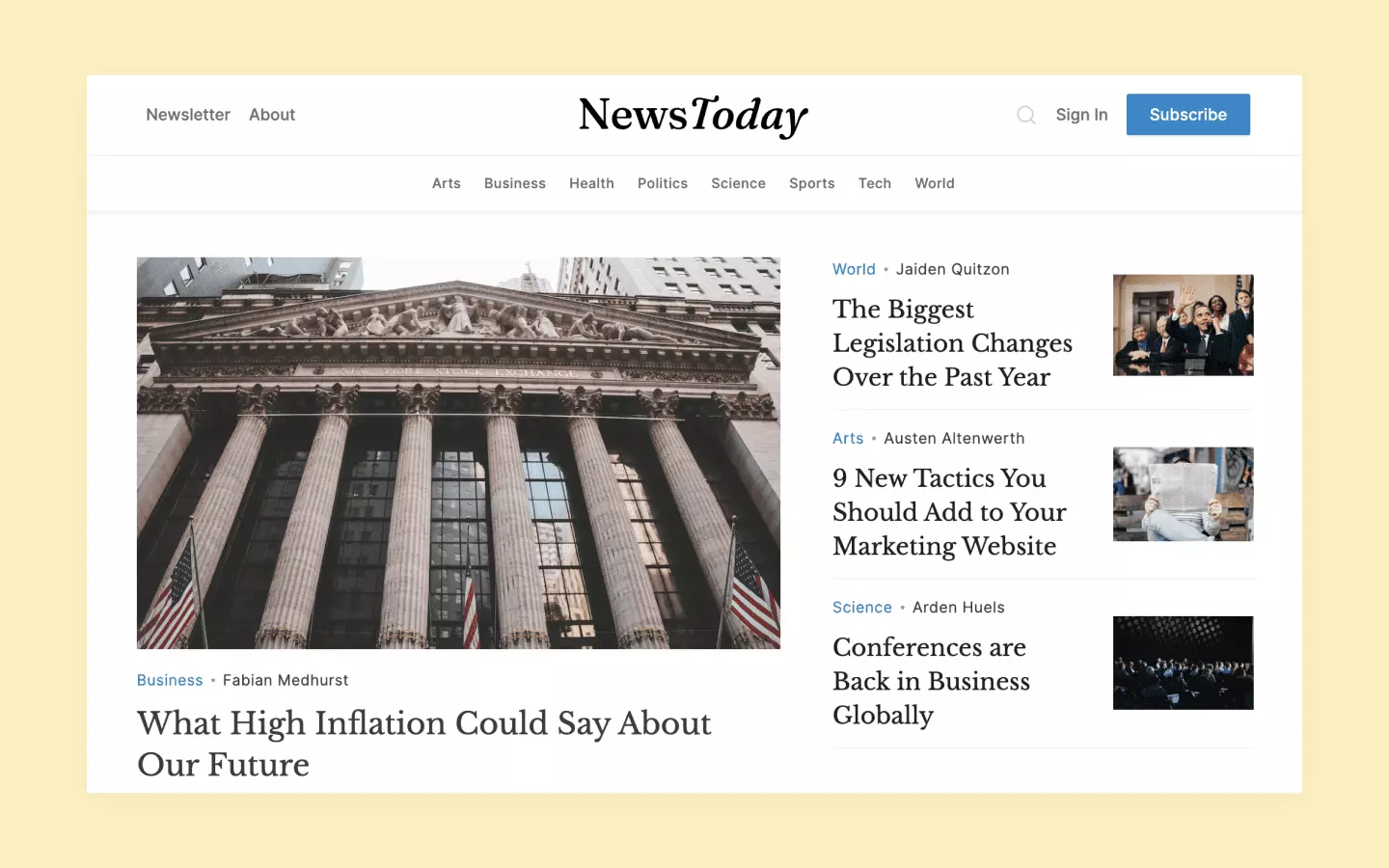 Journalism presents a blog and news membership Webflow Template, complete with log-in and subscription features. You can craft a general news website or collate industry-specific news, and then lock articles behind a paywall.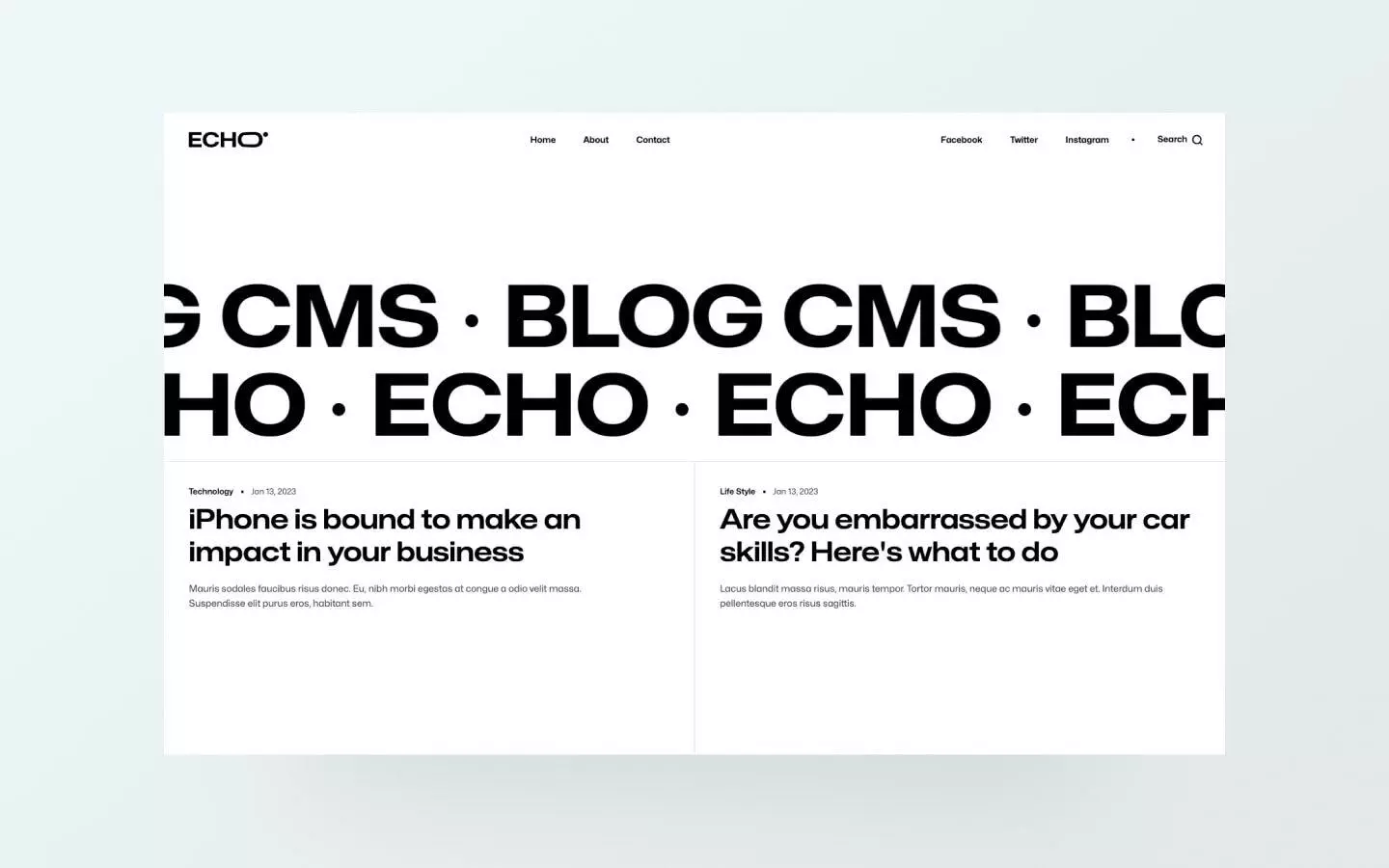 Echo, a Webflow template, is just what you need for constructing websites for multipurpose blogs, magazines, and portfolios.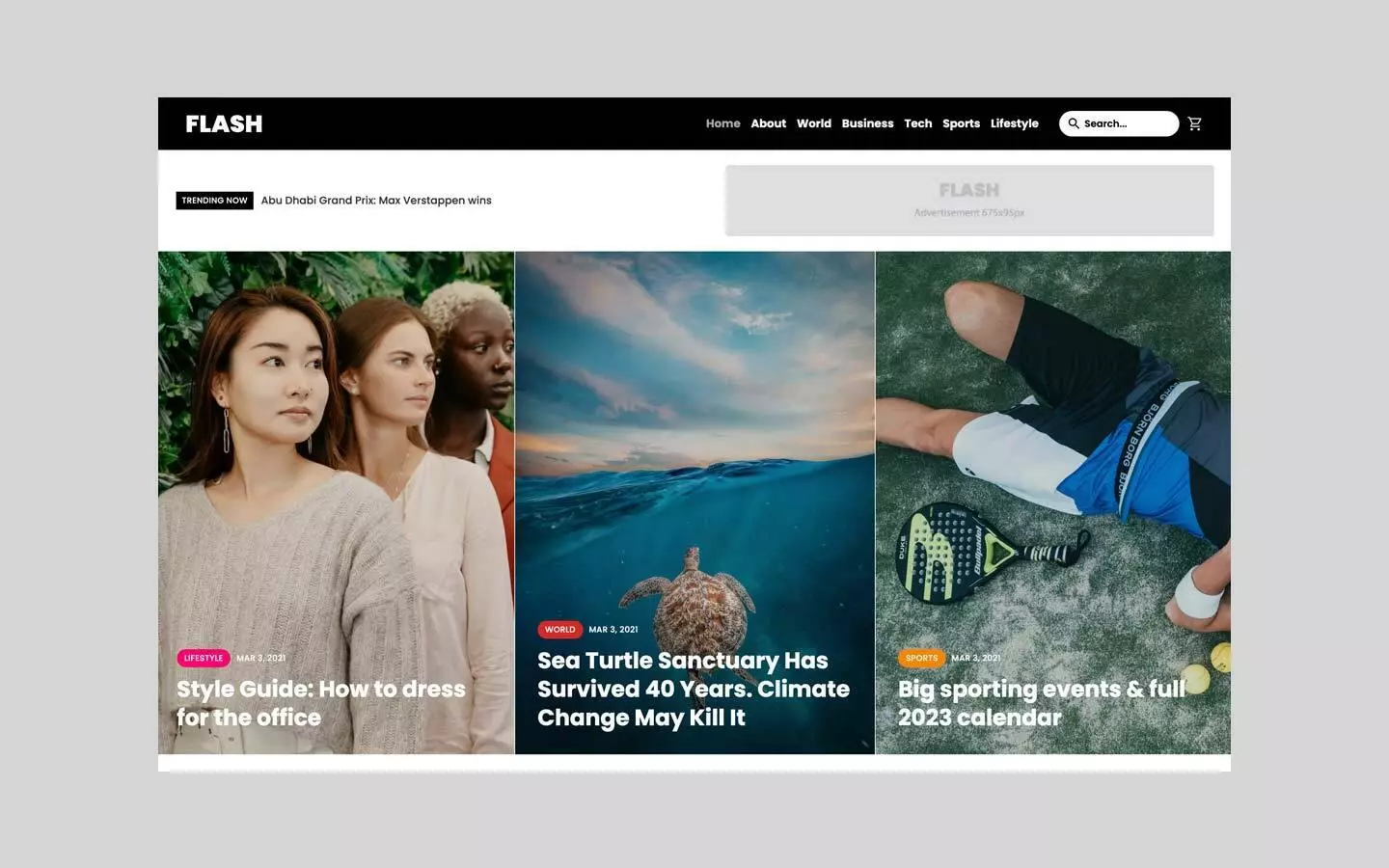 Flash brings you a highly adaptable Webflow Ecommerce template, perfect for blogs, news, magazine, technology, personal, or any other noteworthy news and blog website.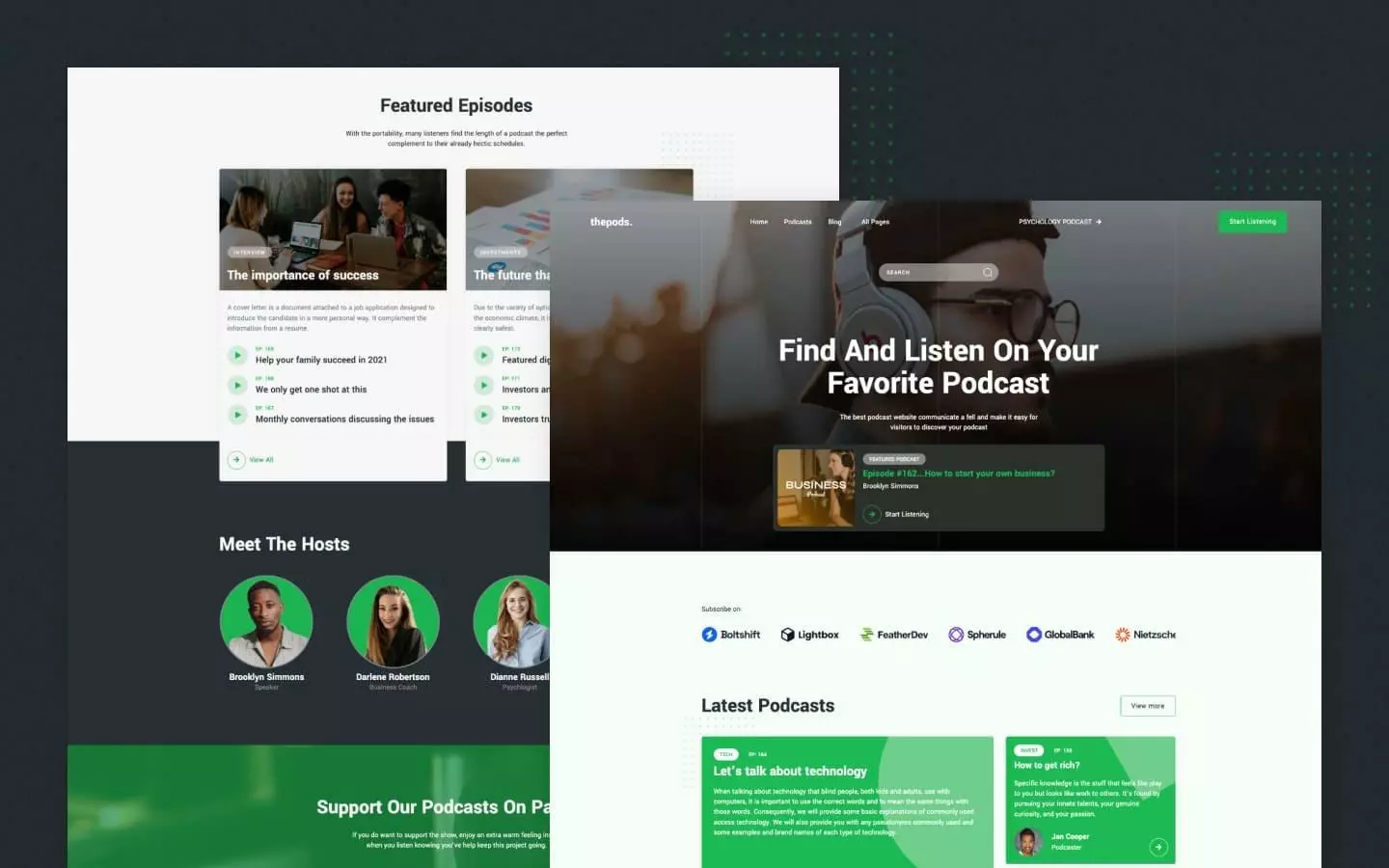 Here's Thepods, a Professional Website Template for podcasts, audio, radio, video, podcasting, and more. Perfect for a wide range of media types and platforms including vlogging.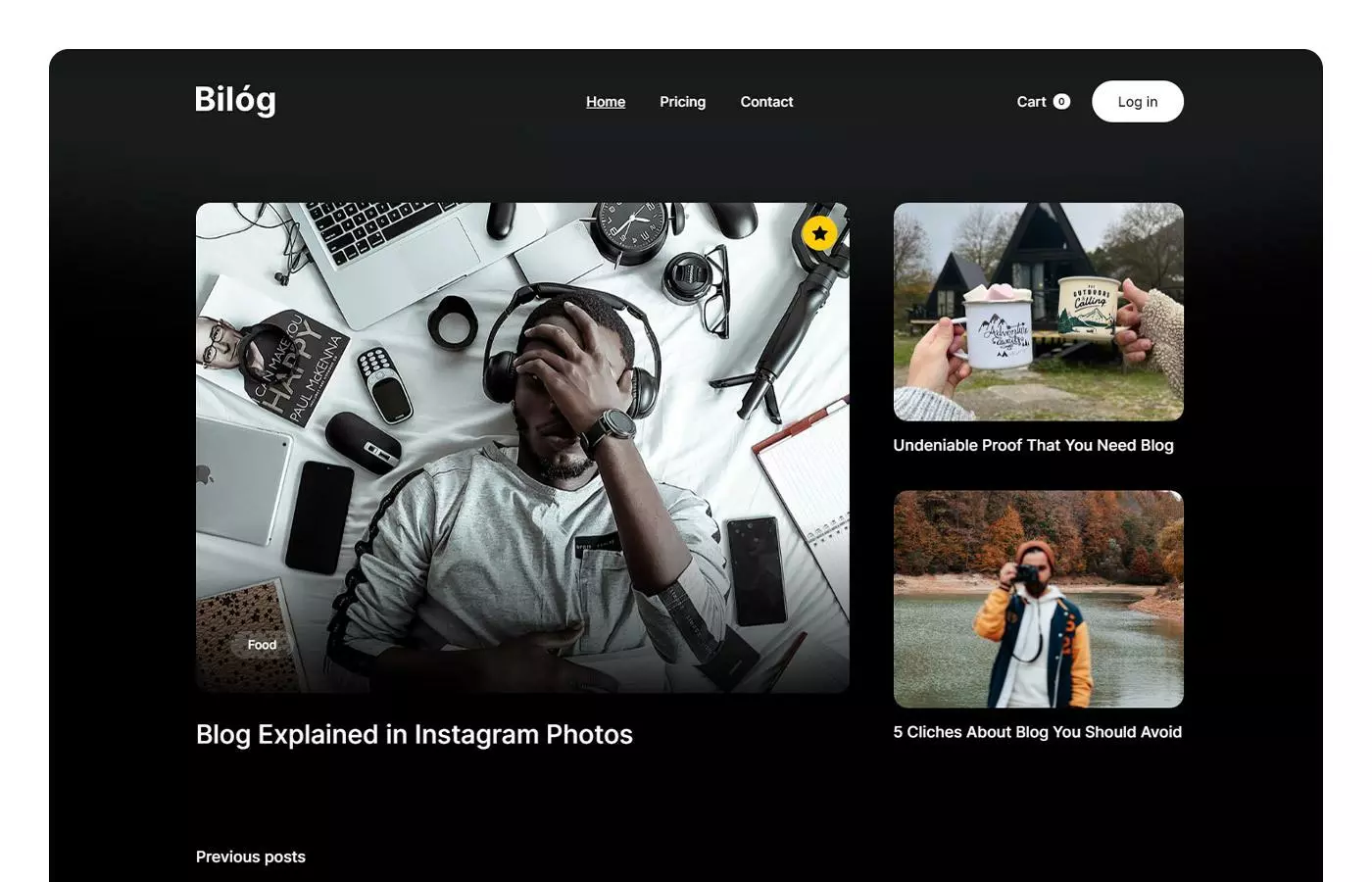 Introducing Bilog, a Membership Webflow Blog Template equipped with membership functionality, suitable for any blog website. It simplifies the creation of a paid blog website with gated content and login/sign-up functionality.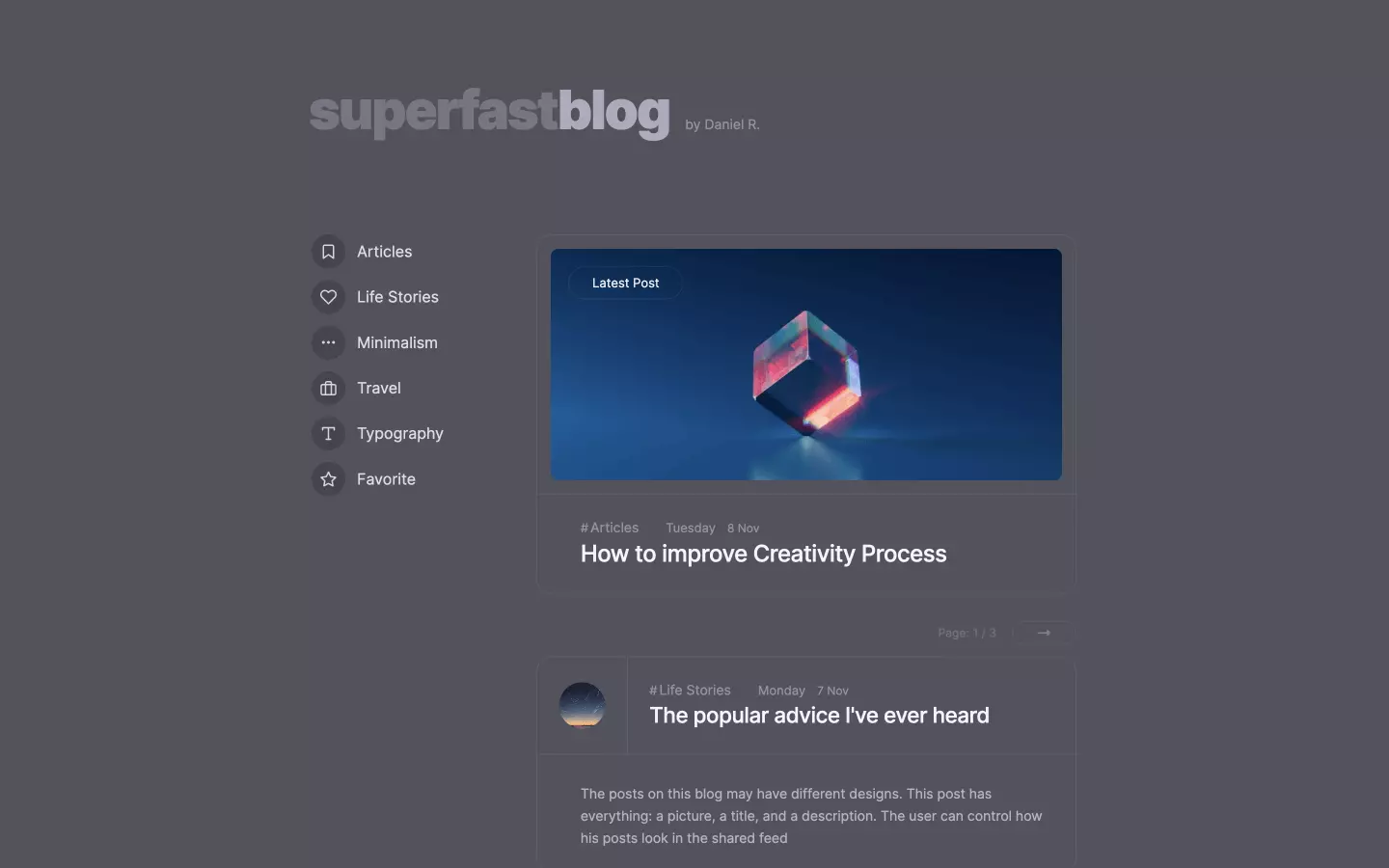 Superfastblog is a minimalist design website template, perfect for bloggers, authors, writers seeking to build a sleek website with appealing typography, smooth animations, and a minimalist layout.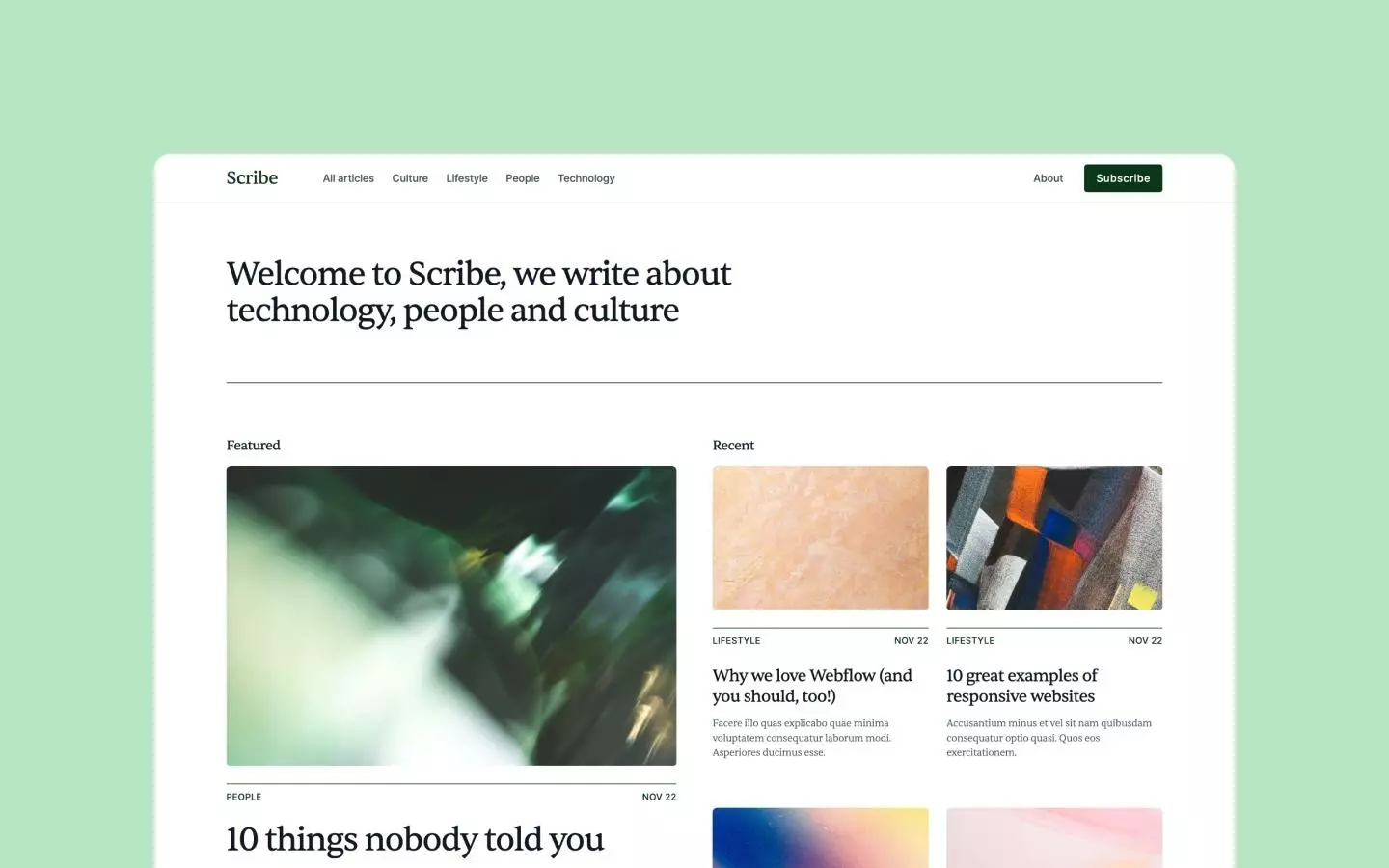 Scribe is a sleek and minimalist blog template for publications. It is ideally suited for writers, bloggers, and news teams to display their writing and narrate their unique stories.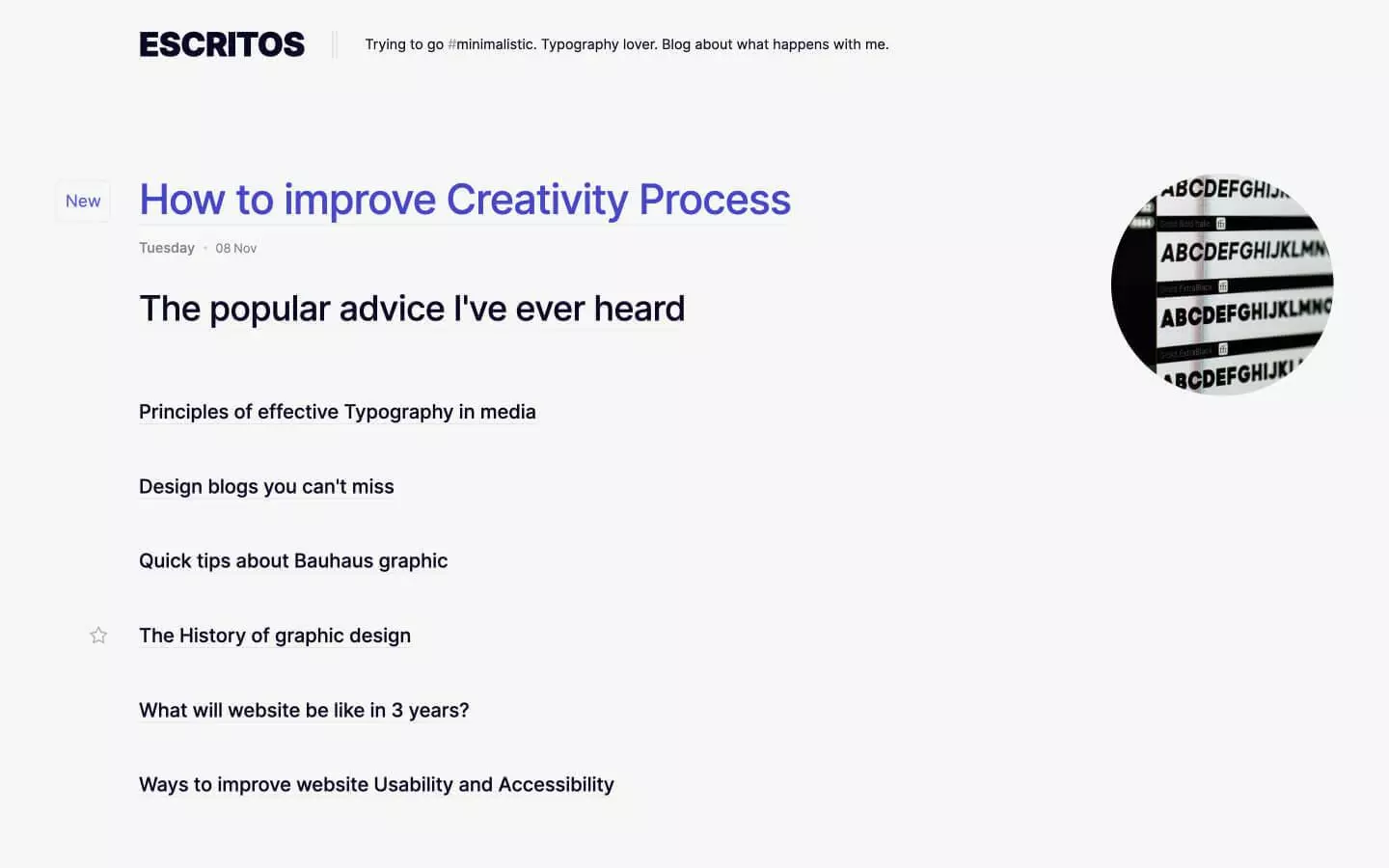 Escritos presents a minimalist design website template, perfect for bloggers, authors, writers who desire a sleek website with engaging typography, smooth animations, and a minimalist layout.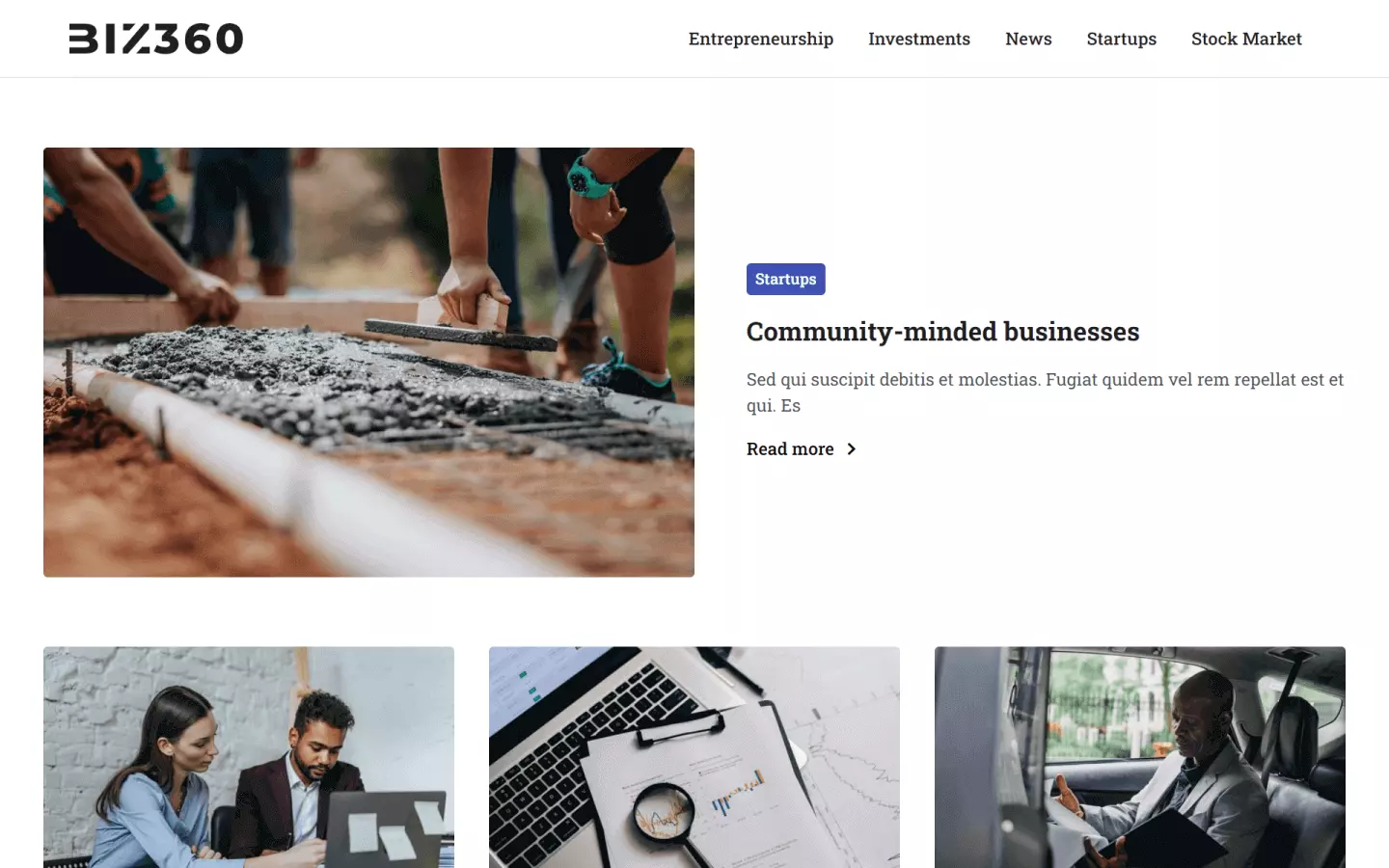 Biz360 offers a modern, clean blog template that's perfect for businesses or personal blogs. It comes with a large header image, social media icons, and a user-friendly layout that is a pleasure to read.
TDT brings you a modern, simple, and easy-to-use Podcast website template. It features CMS for work pages and blog pages, custom interactions, and is fully responsive.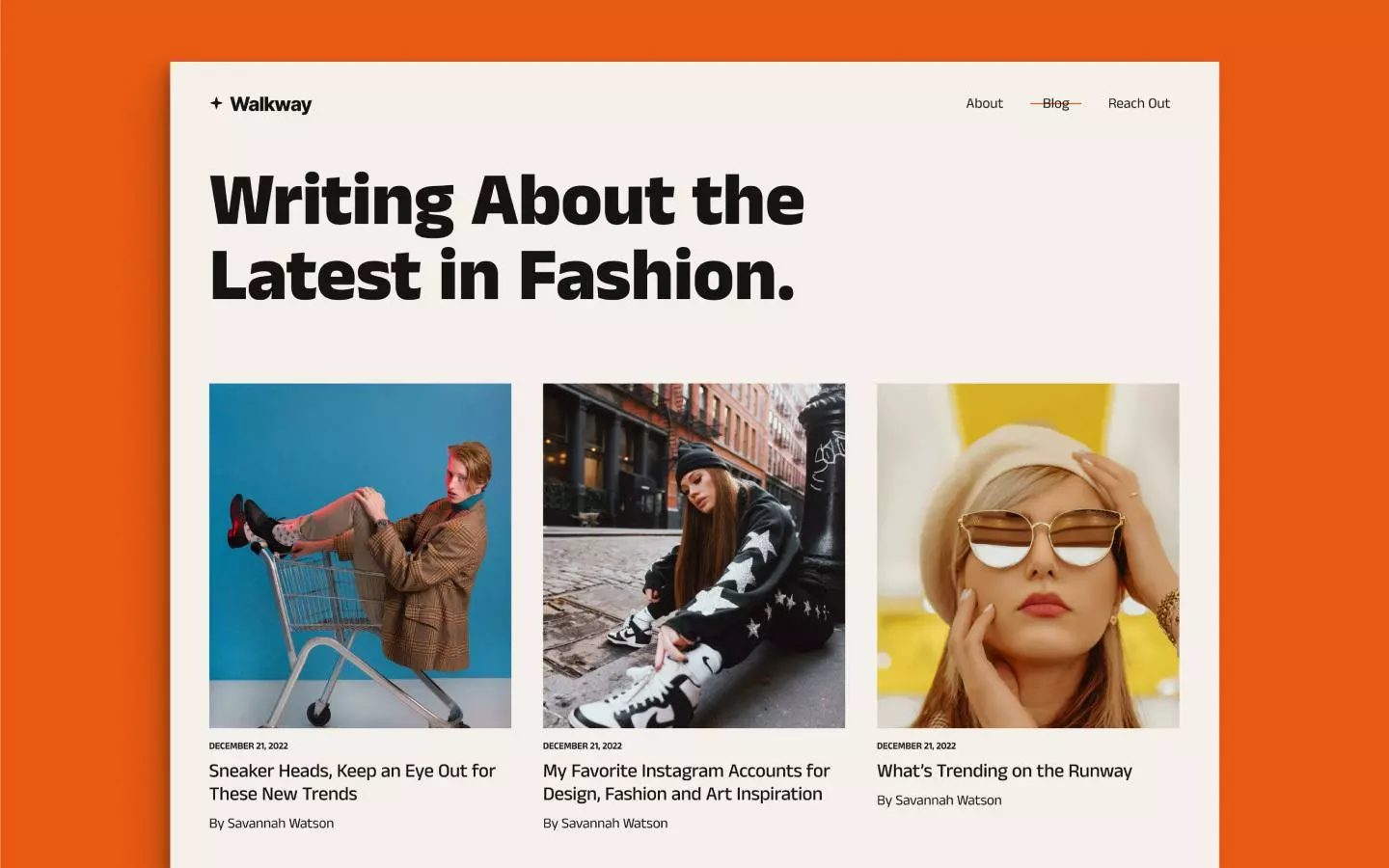 Walkway is an elegant blog template to share your fashion updates or a simple, photo heavy blog.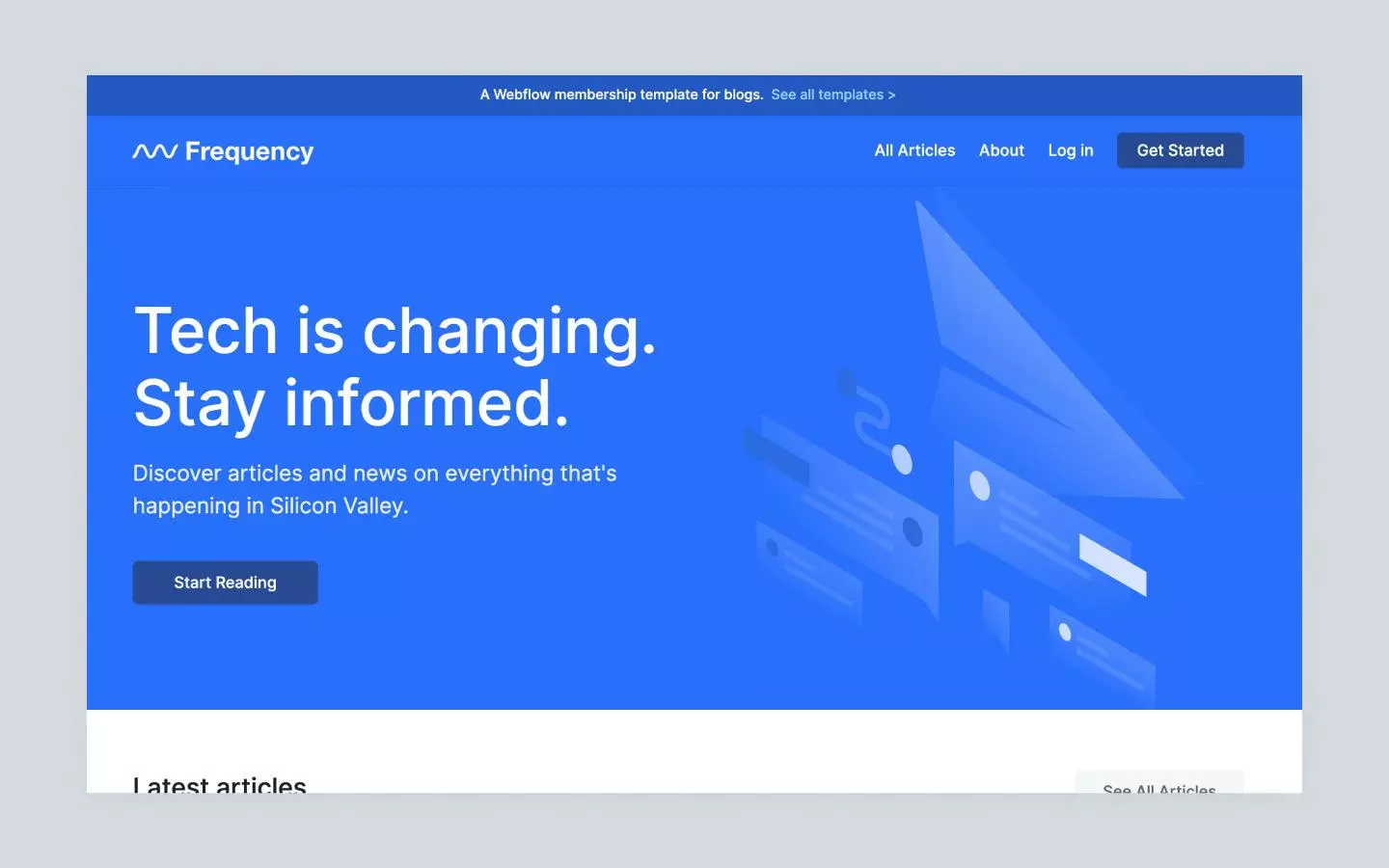 Frequency M is a modern Webflow template with membership functionality for any software blog or newsletter. It makes it easy to build a website with gated content, and log-in and sign-up functionality.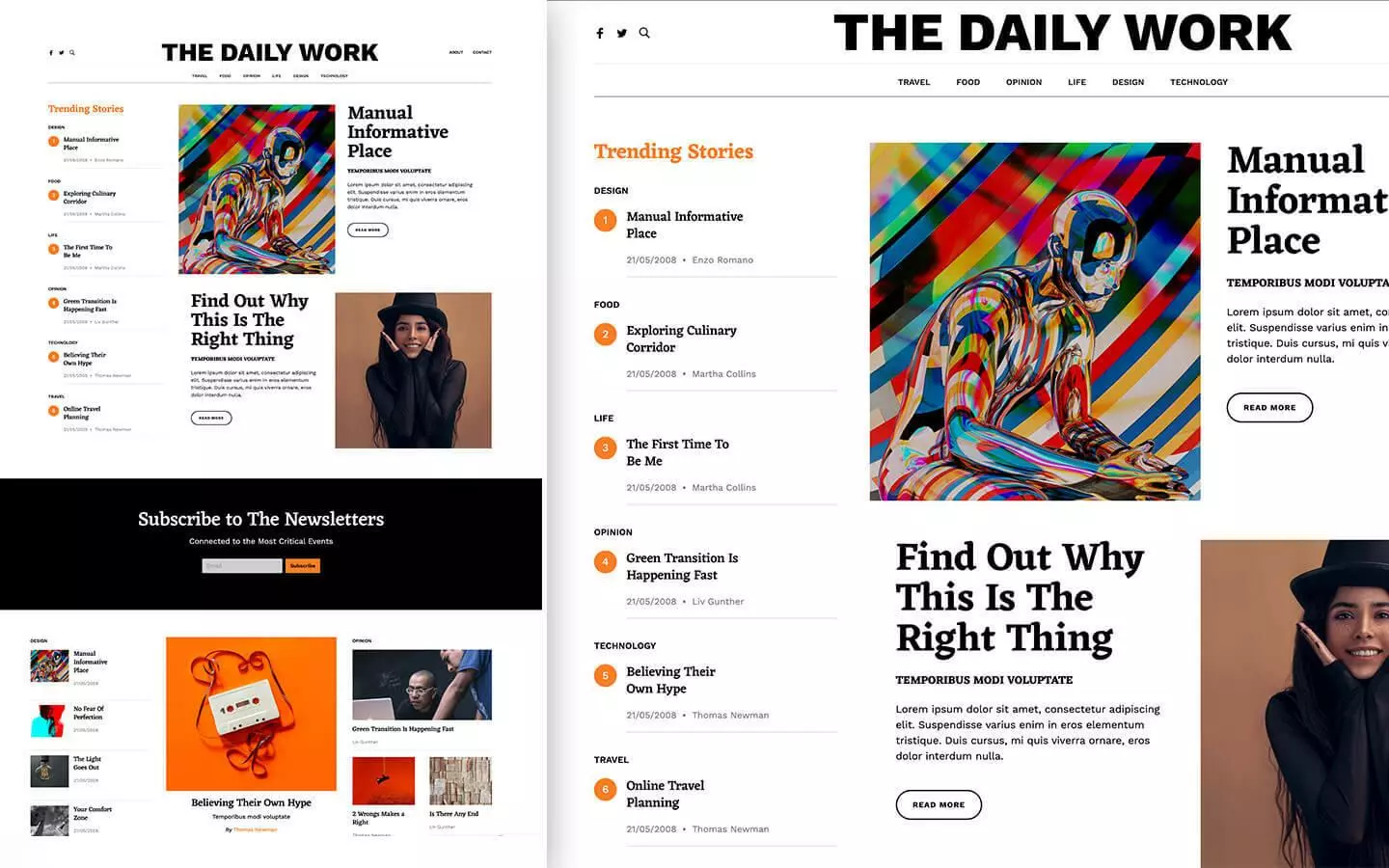 Create a great news website or show your work with our template.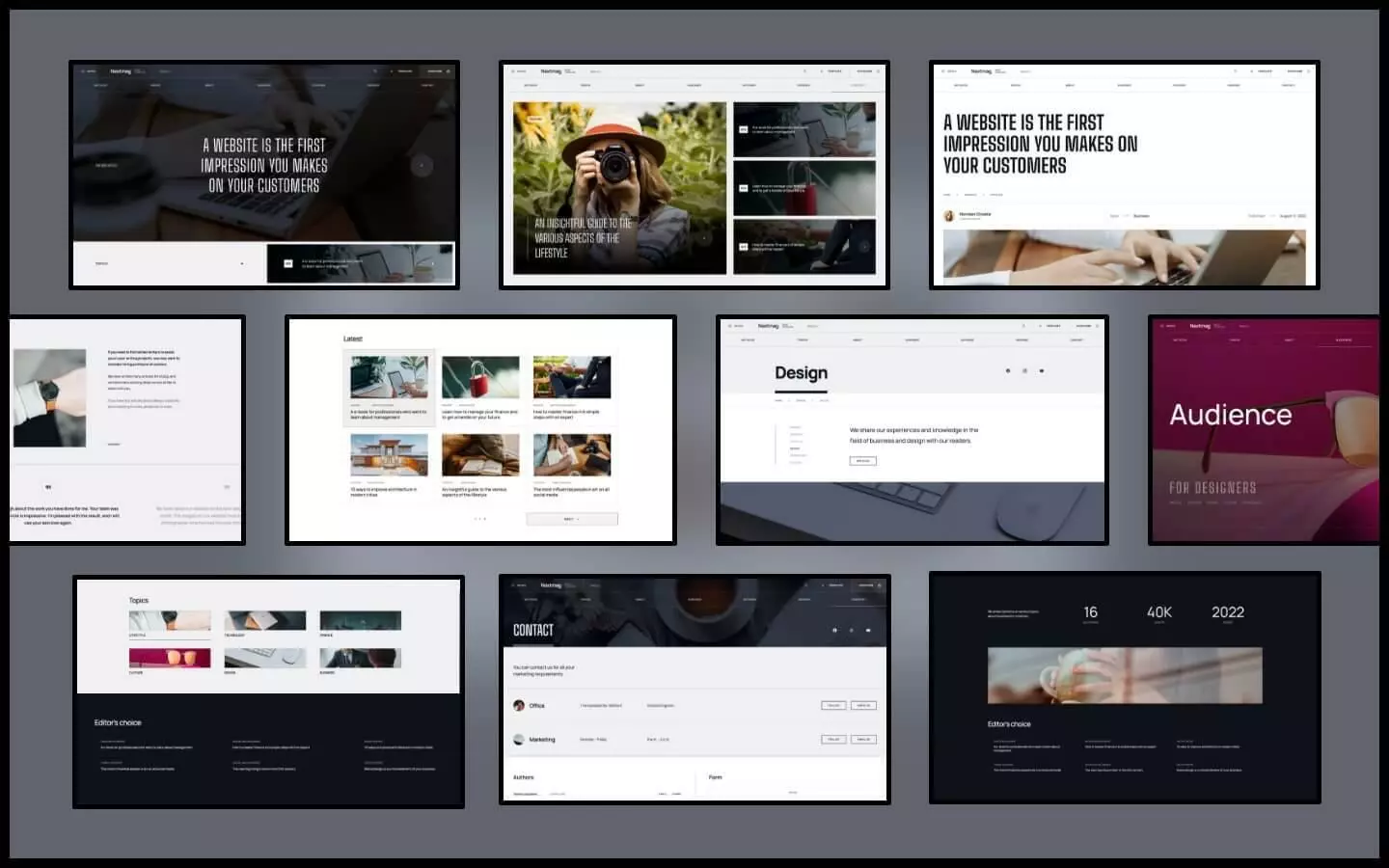 Create a modern blog, magazine, or content website without knowing a line of code. Nextmag is an interactive template with ready-made pages & pre-built sections in multiple designs & layouts for topics, articles, contents, audiences, & authors.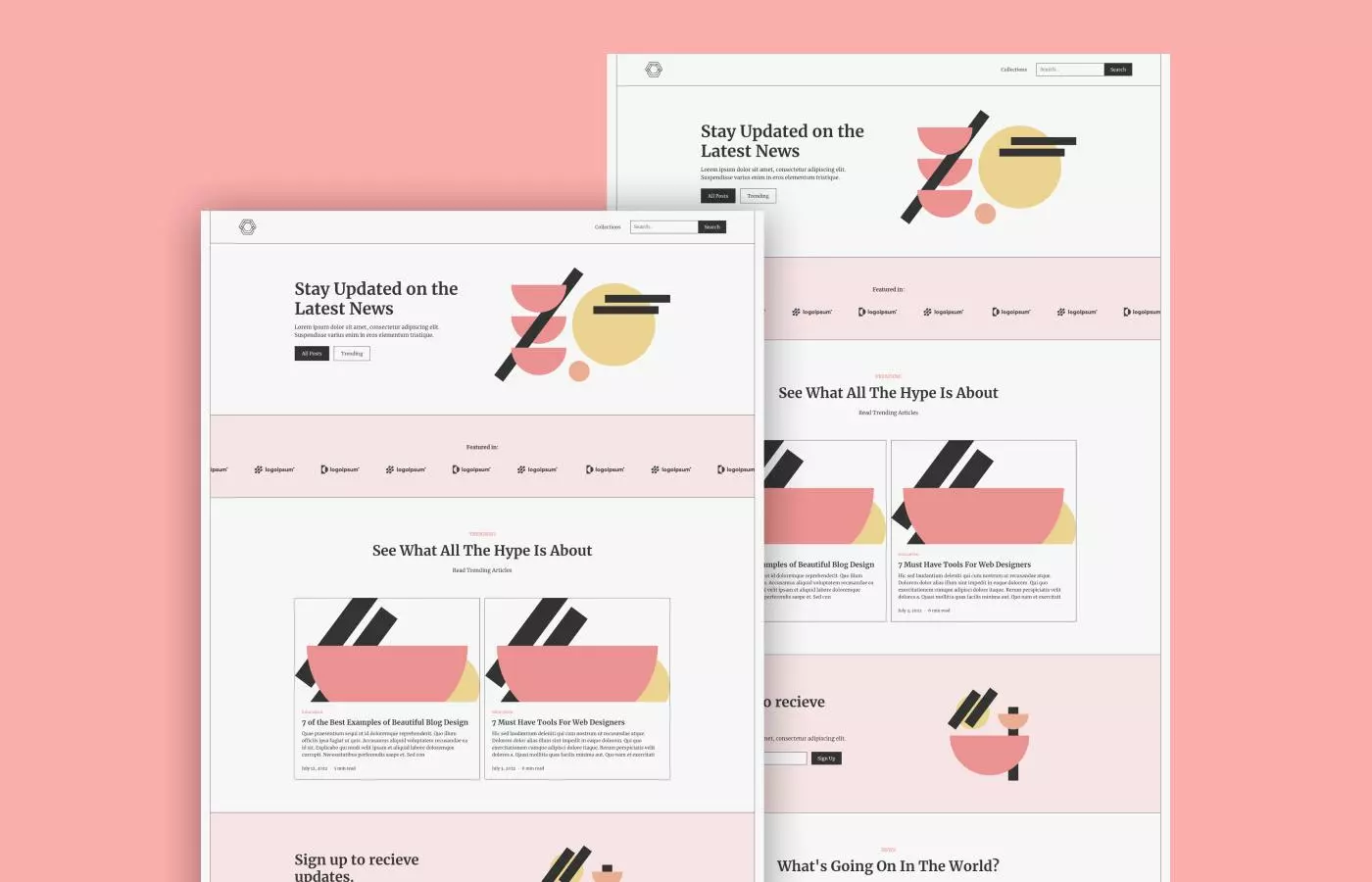 BeSavvy was created for all bloggers, new or experienced. Built with an affiliate marketing CMS sales funnel, this blog is ready to be equipped with all the necessary tools you'll need to launch your blog!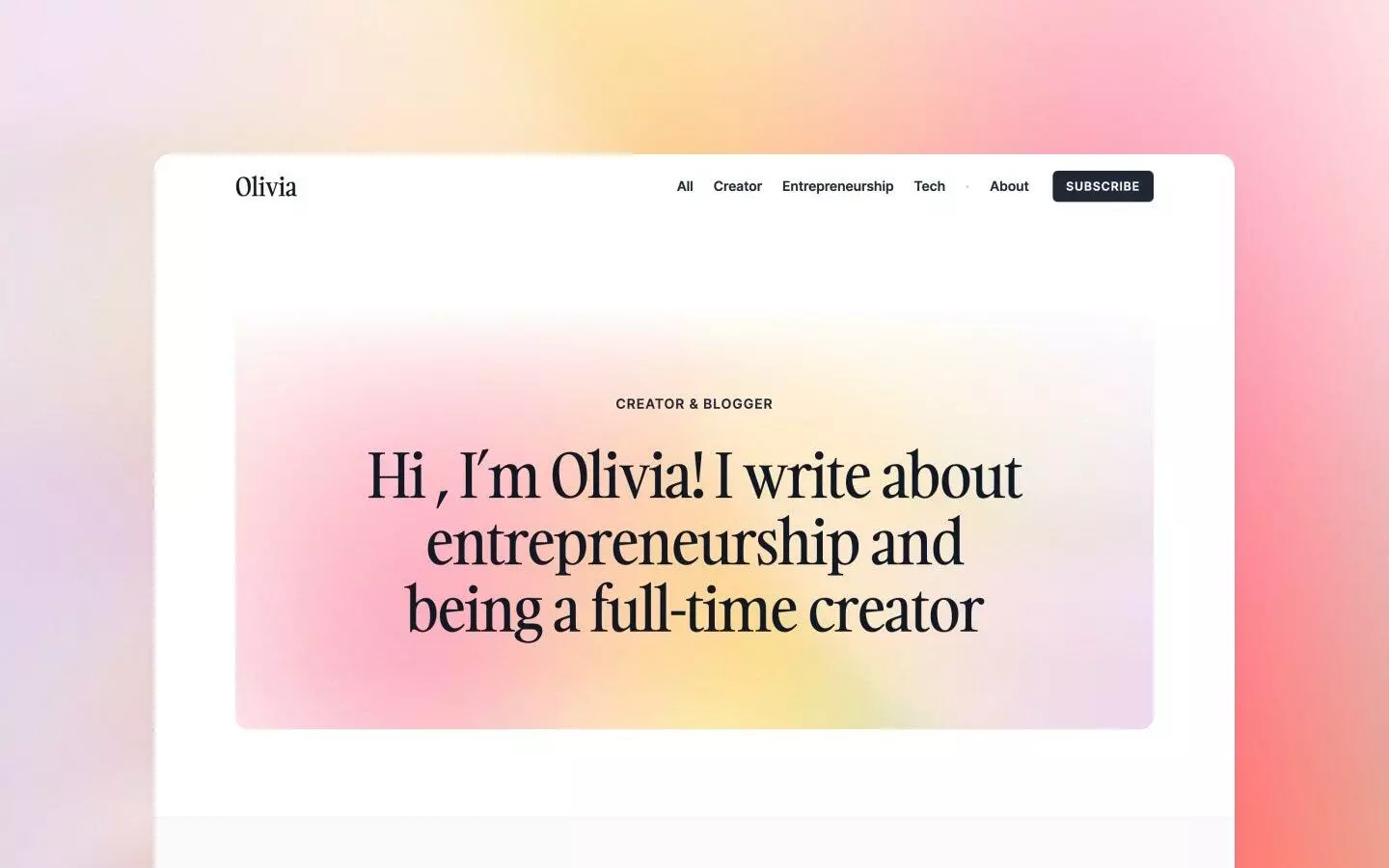 Compose is a vibrant, clean and minimal blog template. Perfect for bloggers, creators and entrepreneurs to showcase their writing and tell their unique stories.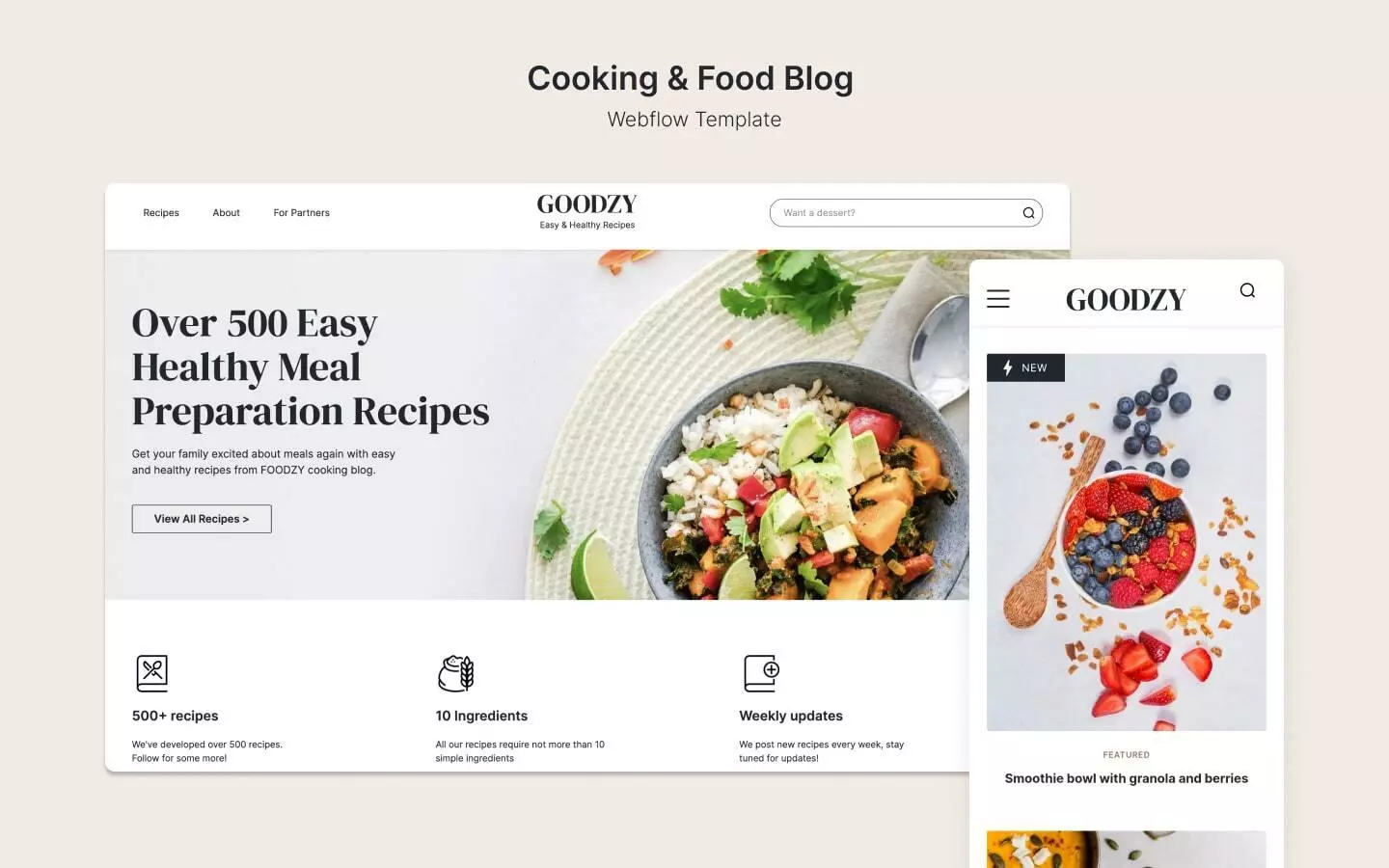 Goodzy is a cooking blogger's secret weapon! Use it to build fully responsive and truly elegant blogs. It has all the tools you'll need to get your site up and running as quickly as possible. Perfect for cooking and food bloggers. Powered by CMS.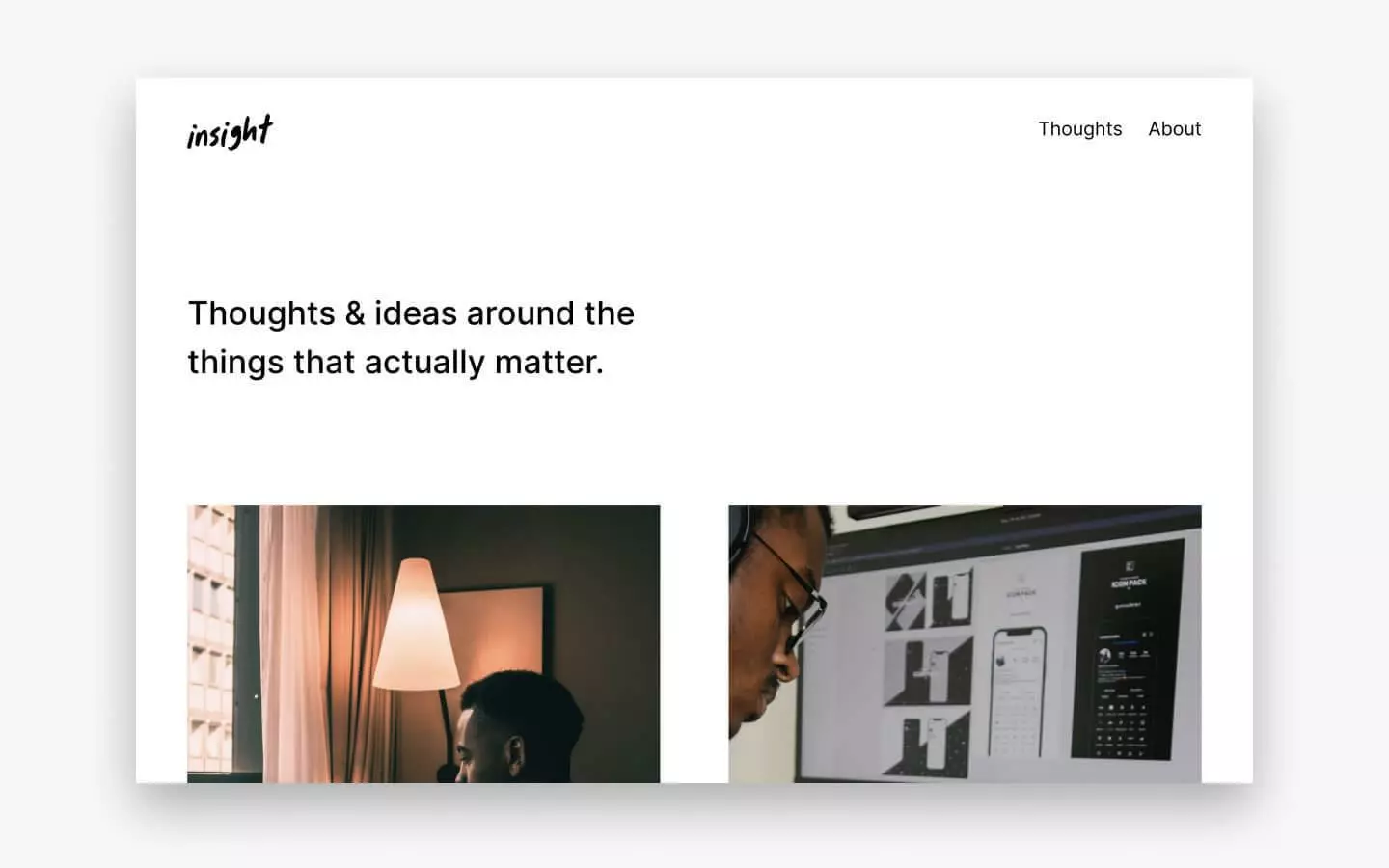 Insight is a minimal light-weight blog template designed to share your thoughts and ideas. Use this template to get started quickly. Keep it simple and leave it as-is, or add your own branding, fonts and colors.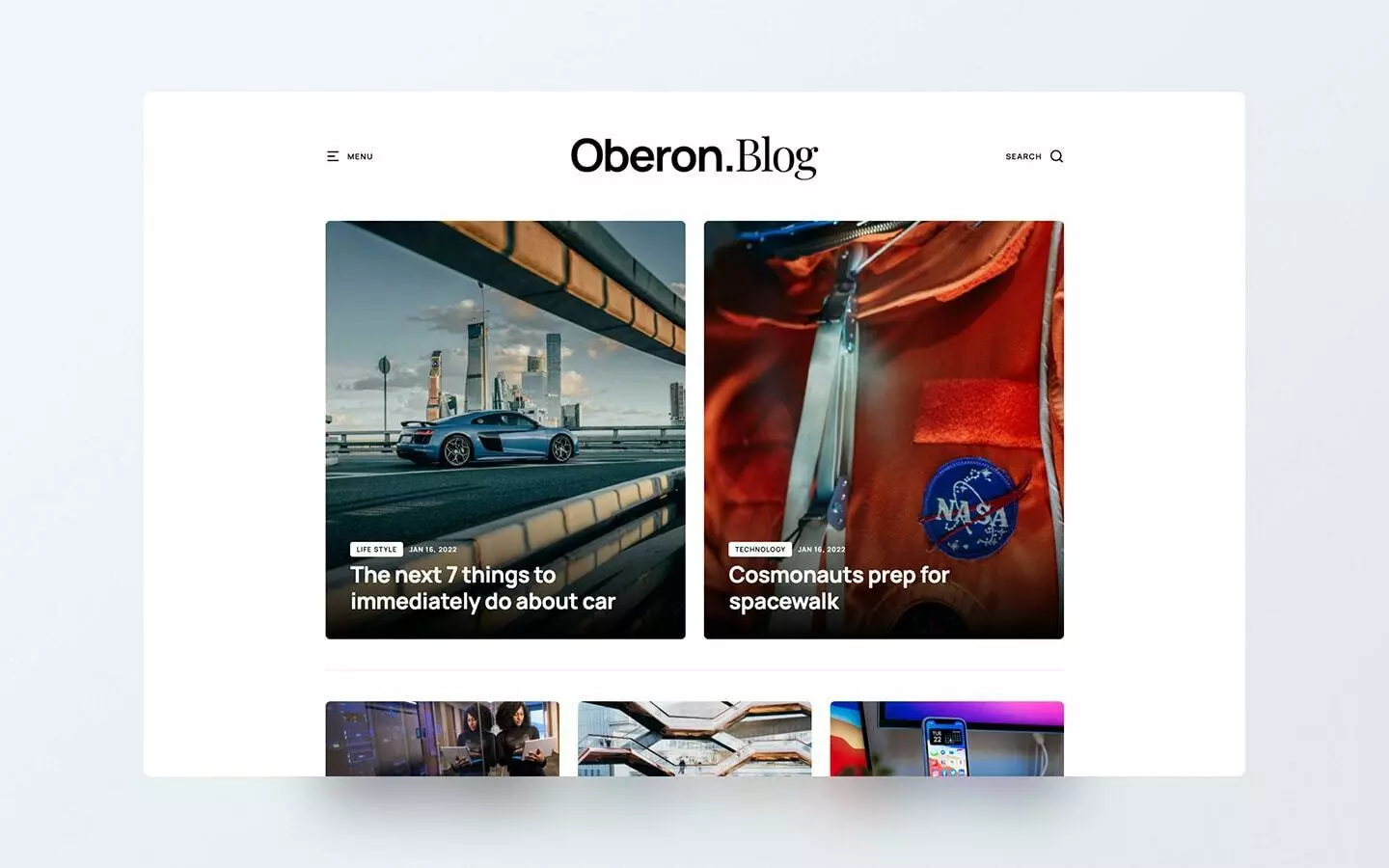 Oberon Webflow template is highly suitable for creating websites for multipurpose blogs, magazines, and portfolios.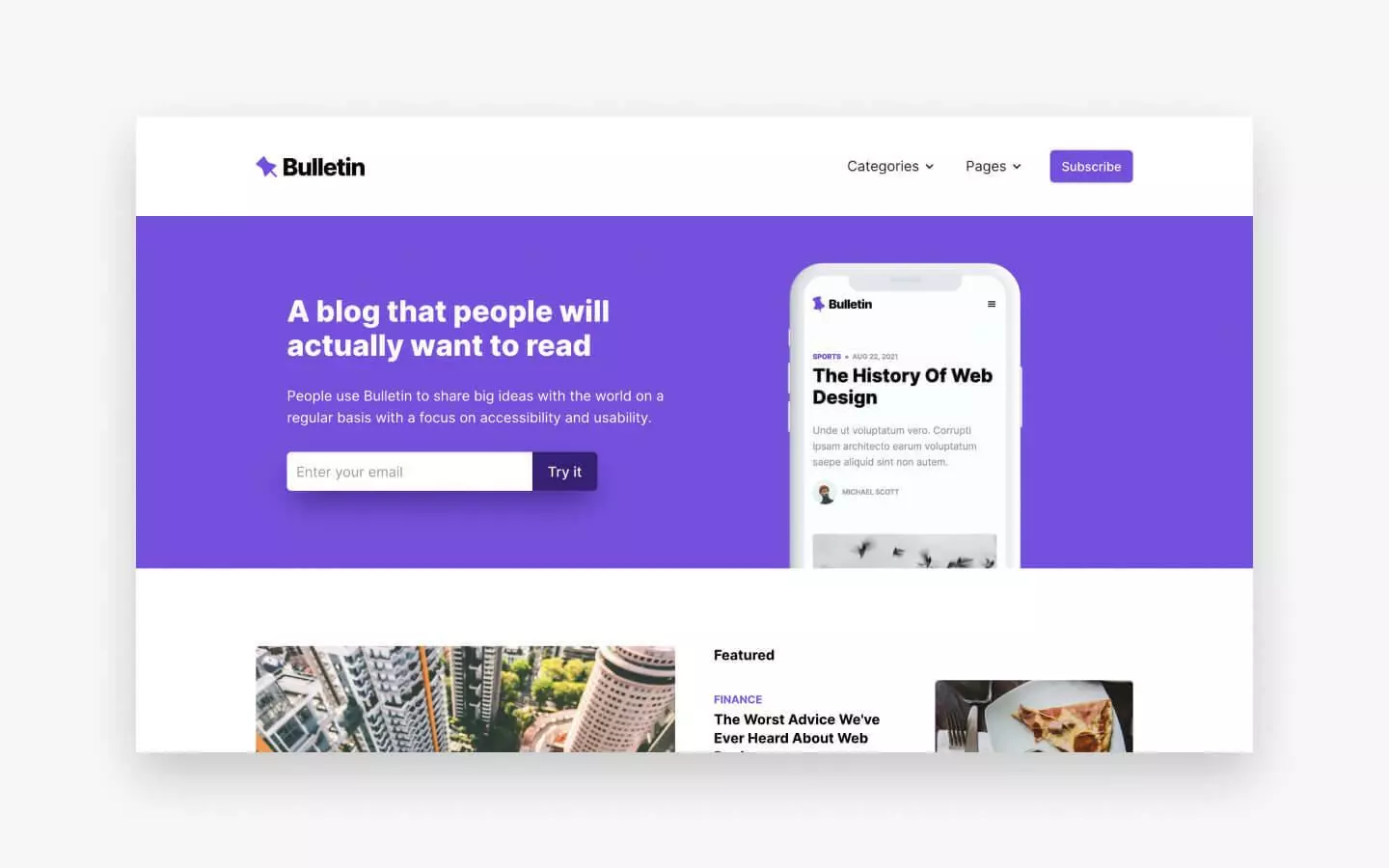 Bulletin is a simple blog template designed to share big ideas. Use it for your personal blog, or your major publication. Keep it simple and leave it as-is, or add your own branding, fonts and colors.
Wrap-up:
Leap into the digital future and create your own unique online space with our selection of over 35 Webflow blog website templates. Designed for responsiveness and easy navigation, these templates make the process of starting or enhancing your blog effortless and enjoyable.
Frequently Asked Question
What are Webflow blog website templates?
Webflow blog website templates are pre-designed layouts that you can use to create your own blog site. They are easy to customize and require no coding knowledge.
How many Webflow templates are available in this collection?
This collection features over 35 Webflow blog website templates.
Are these Webflow blog website templates responsive?
Yes, all the templates in this collection are responsive. They are designed to look and function well on any device, ensuring a great experience for your readers, regardless of how they access your blog.
Do I need coding knowledge to use these templates?
No, you don't need any coding knowledge to use these templates. Webflow's user-friendly platform allows you to customize your chosen template easily.
Related Posts:
15 Best Webflow Startup Website Templates For 2023
Discover the 6 Best Code Editors for Modern Developers