Every love story deserves a unique expression, and what better way to set the tone for your big day than with an invitation? As we journey through 2023, modern wedding invitations have taken center stage in the world of nuptials, offering couples a chance to incorporate their personalities into their wedding stationery. In this article, we're going to uncover the 17 best modern wedding invitations of 2023, each promising to leave a memorable impression on your guests.
UNLIMITED DOWNLOADS: 50 Million+ Fonts & Design Assets
All the Fonts you need and many other design elements, are available for a monthly subscription by subscribing to Envato Elements. The subscription costs $16.50 per month and gives you unlimited access to a massive and growing library of over 50 million items that can be downloaded as often as you need (stock photos too)!

[ez-toc]
Celebrating Creativity
This year has truly seen a surge of creativity and elegance in the world of wedding invitations. From minimalistic styles to more complex designs, there's a wedding invitation to cater to every couple's taste. Amid the abundance of options, certain invitations have captured attention with their blend of sophistication and modernity. These top-notch wedding invitations not only mirror the prevailing trends, but also possess an enduring allure, promising to be cherished keepsakes in wedding albums for generations to come.
Cues for the Modern Couple
Invitations act as the first peek into your wedding for your guests, so it's important to make a statement that truly represents you as a couple. With the upcoming list of the best modern wedding invitations of 2023, you're bound to find one that resonates with your wedding vision. Whether you're planning a summer soiree, a winter wonderland wedding, or anything in between, these invites are a perfect blend of style and sentiment. Let's dive into the world of modern wedding stationery and discover the designs that are charming couples and guests alike this year.
The Tropical Palm Leaves Wedding Invitation is a modern, beautiful template. Its lovely design is ideal for any upcoming project and fits any wedding season.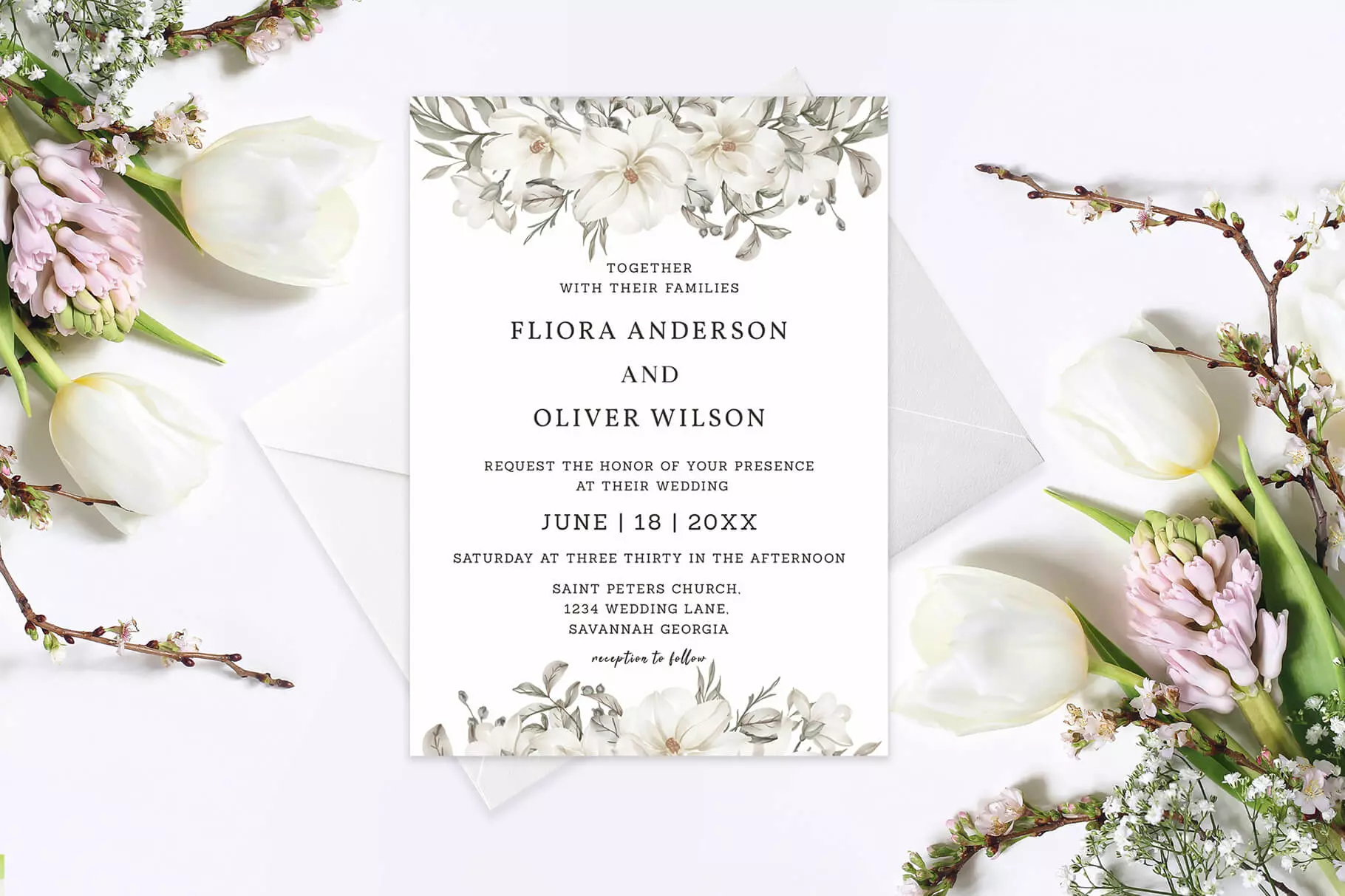 The White Floral Botanical Wedding Invitation is a fresh, brilliant template. It's a professional design perfect for any wedding theme or season.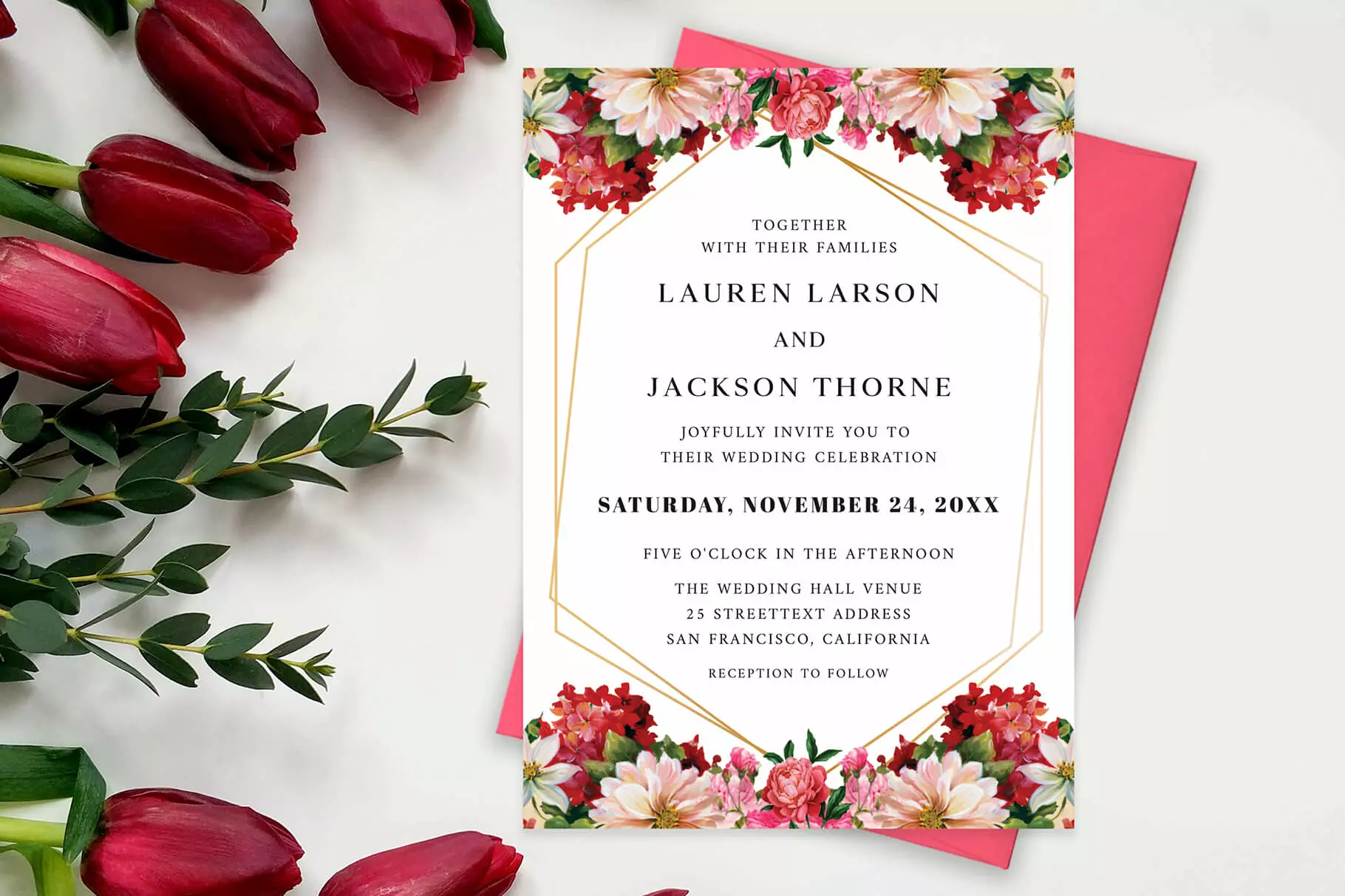 The Red and Pink Flowers Wedding Invitation is a beautifully designed template. Its mix of soberness and creativity makes it easy to tailor for your upcoming projects.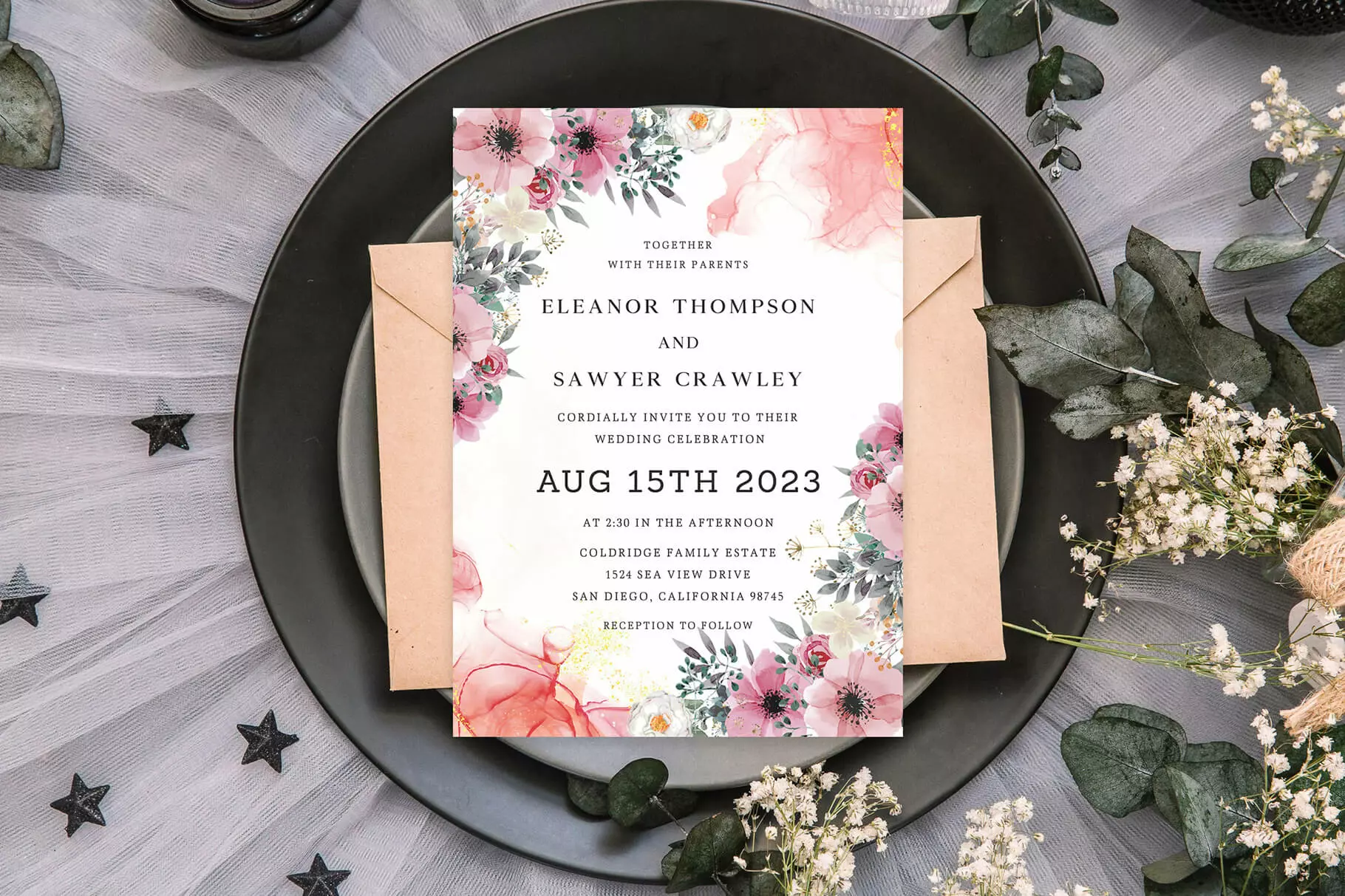 The Elegant Pink Floral Wedding Invitation is a lovely, attractive template. It's ideal for creating a professional-looking wedding invitation for any season or project.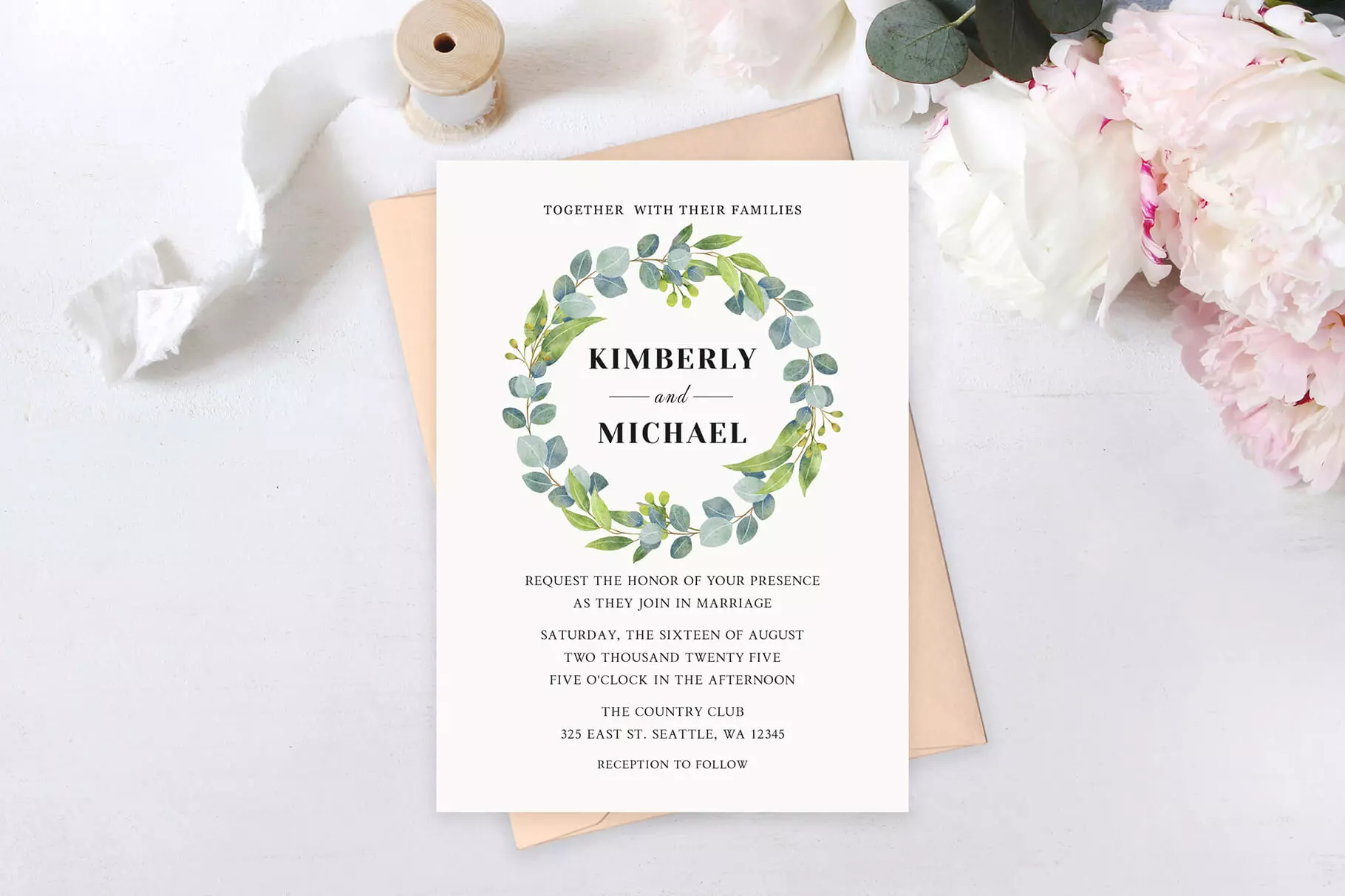 The Eucalyptus Green Wreath Wedding Invitation provides a rich, wreath-themed design. This template can easily be customized to highlight your unique style professionally.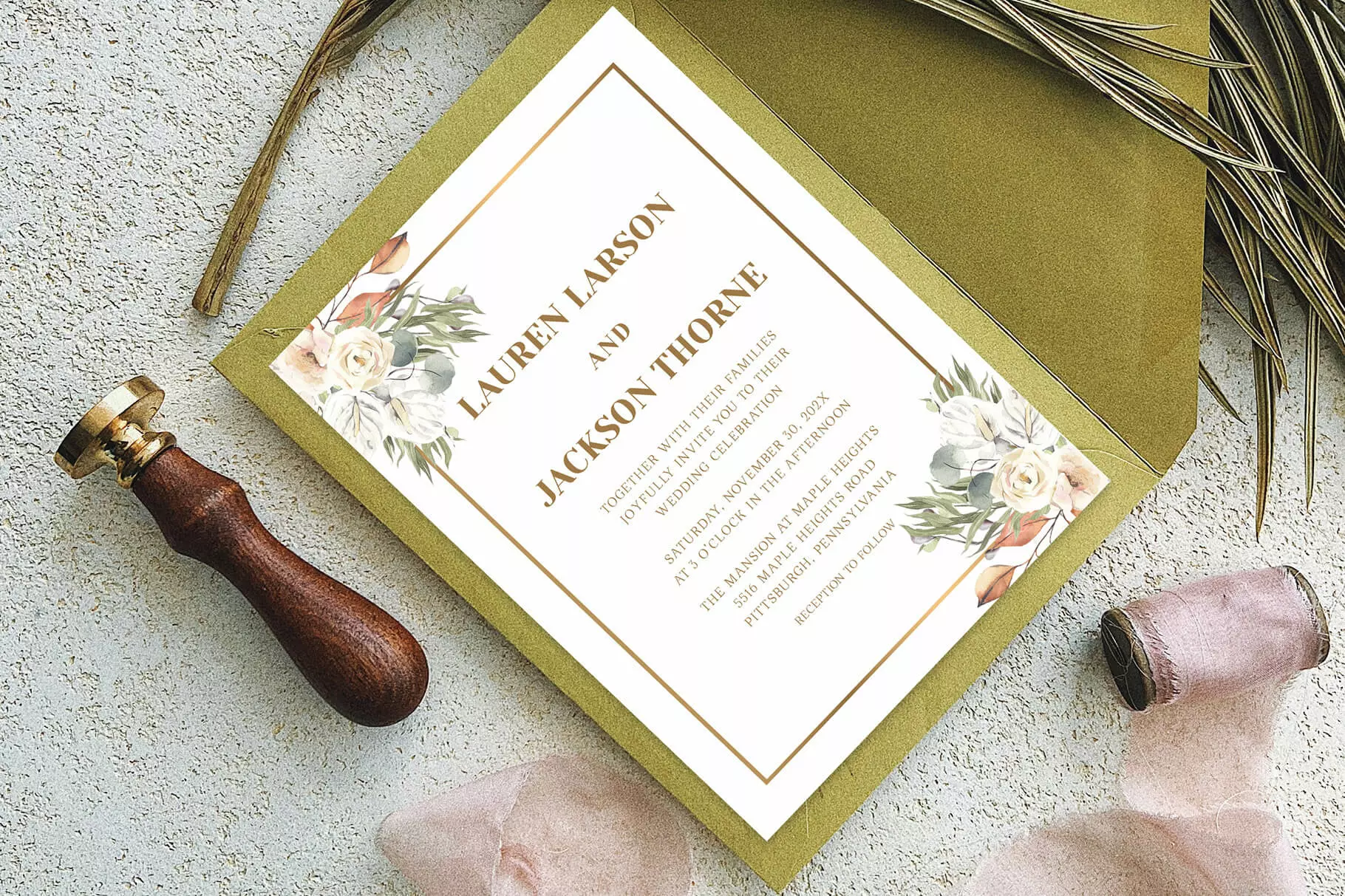 The Elegant Blush White Roses Wedding Invitation offers a creative, modern, and minimalist floral design. It's an easily customizable template that suits any season.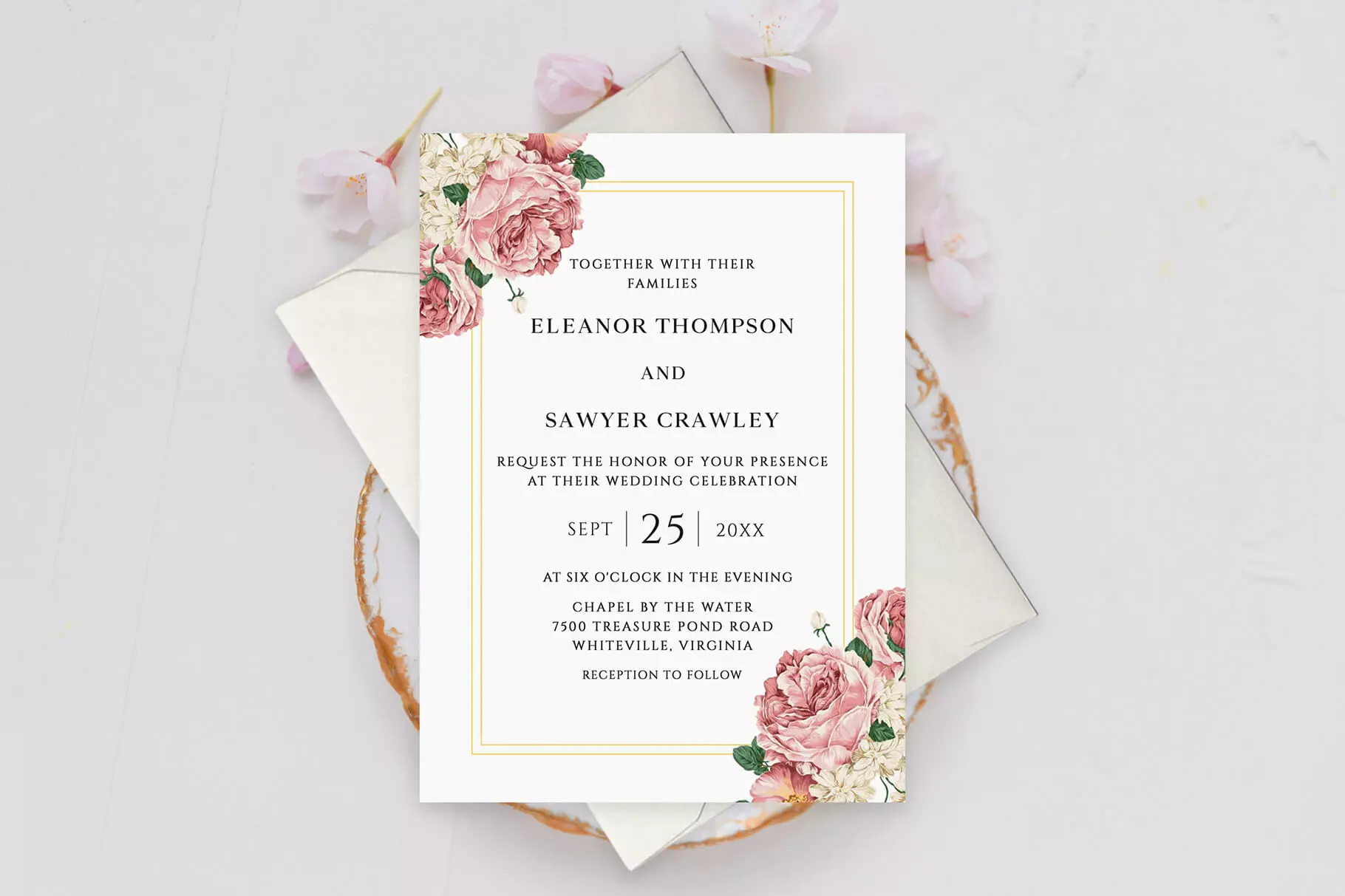 The Elegant Blush Pink Roses Wedding Invitation is a creative, modern, and minimalist floral design template. It's highly versatile for any wedding theme or season.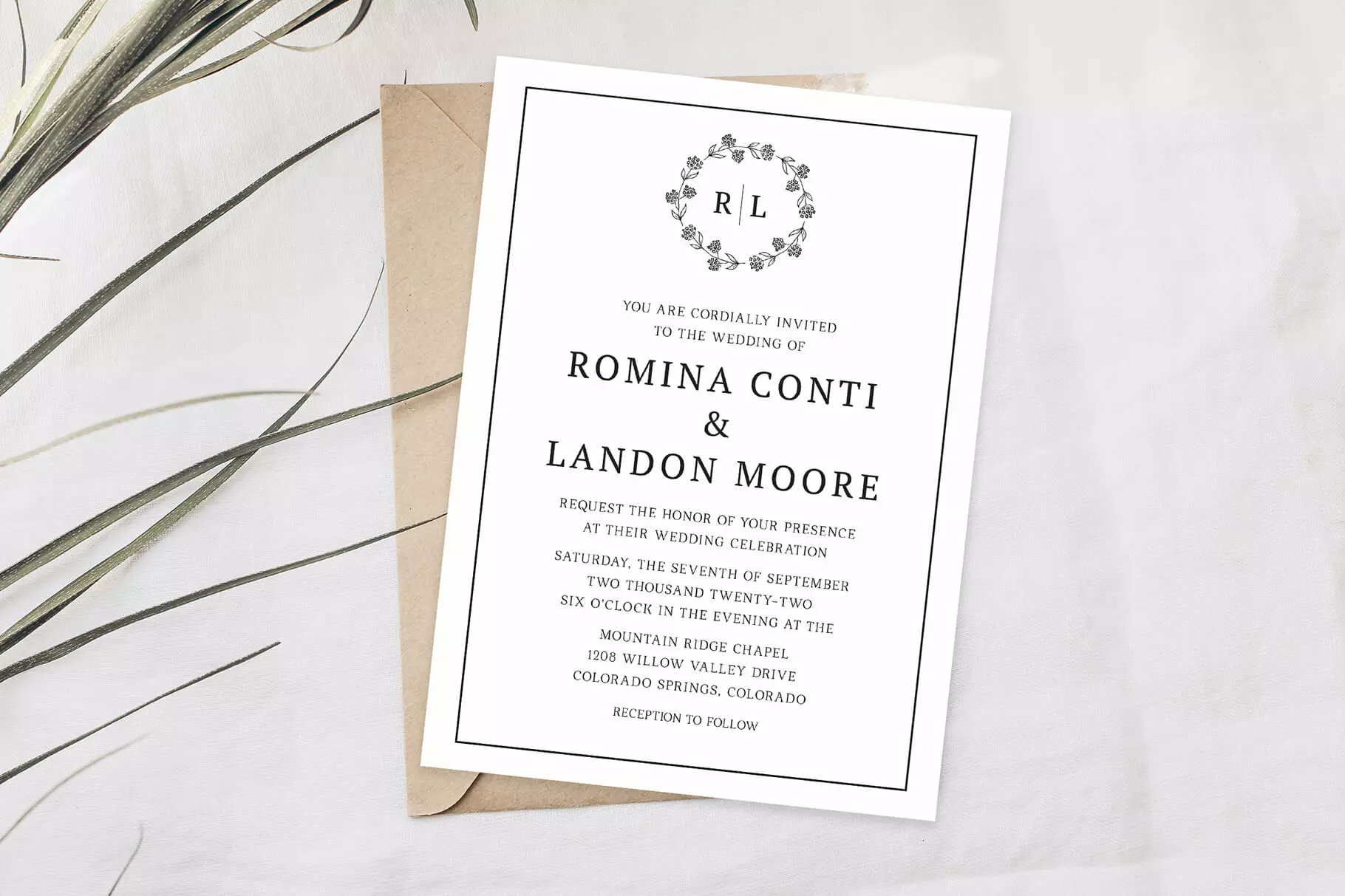 The Botanical Floral Monogram Wedding Invitation is a luxurious template with a charming design. Its adaptable aesthetic makes it perfect for any wedding season or theme.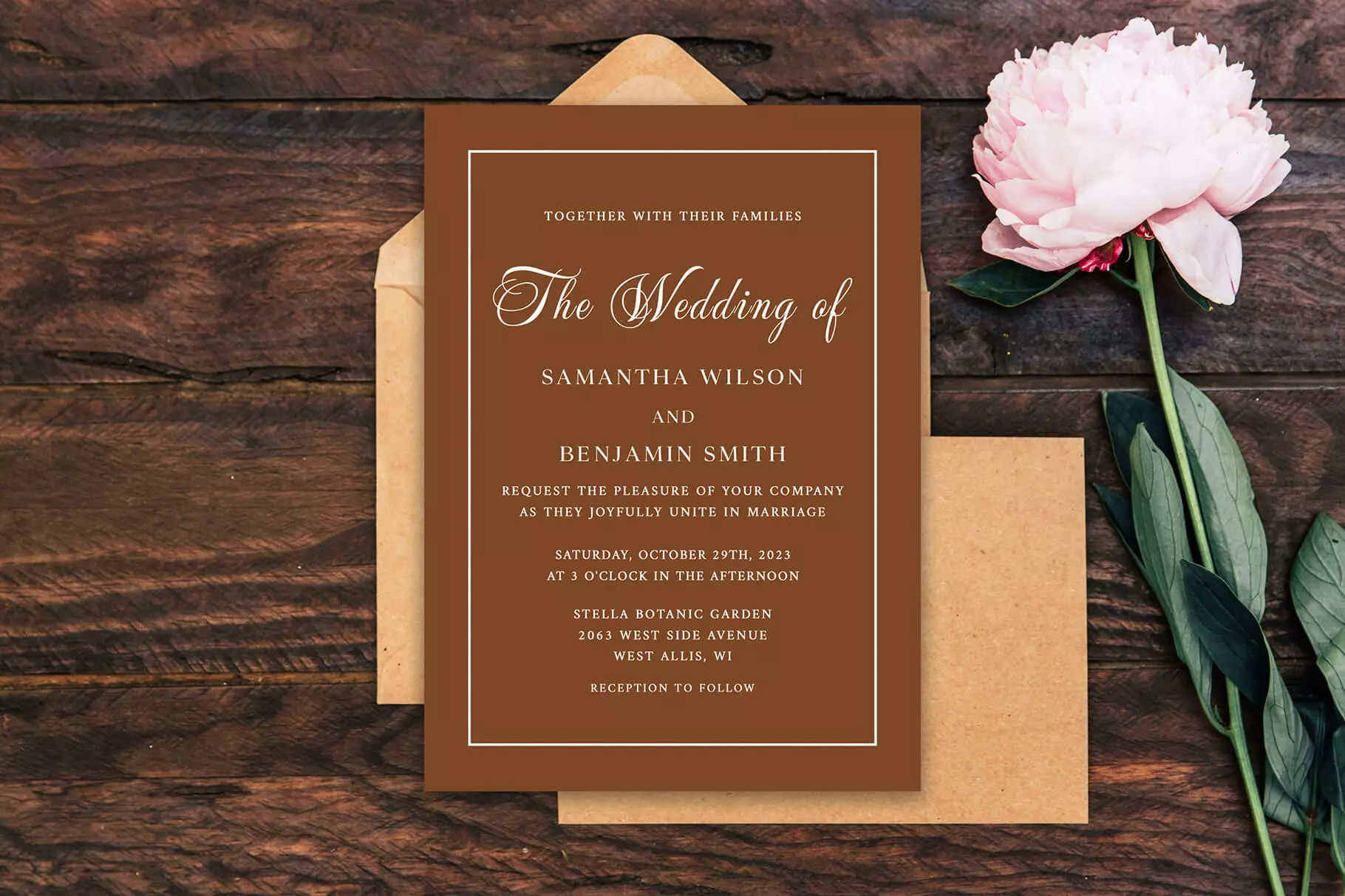 The Rust Terracotta Wedding Invitation is a casual, minimalist template with a terracotta color and geometric frame. It can effortlessly match any wedding theme.
The Wreath Rustic Elegant Floral Wedding Invitation is a modern, stunning template with a natural touch. Its unique design is perfect for any wedding theme.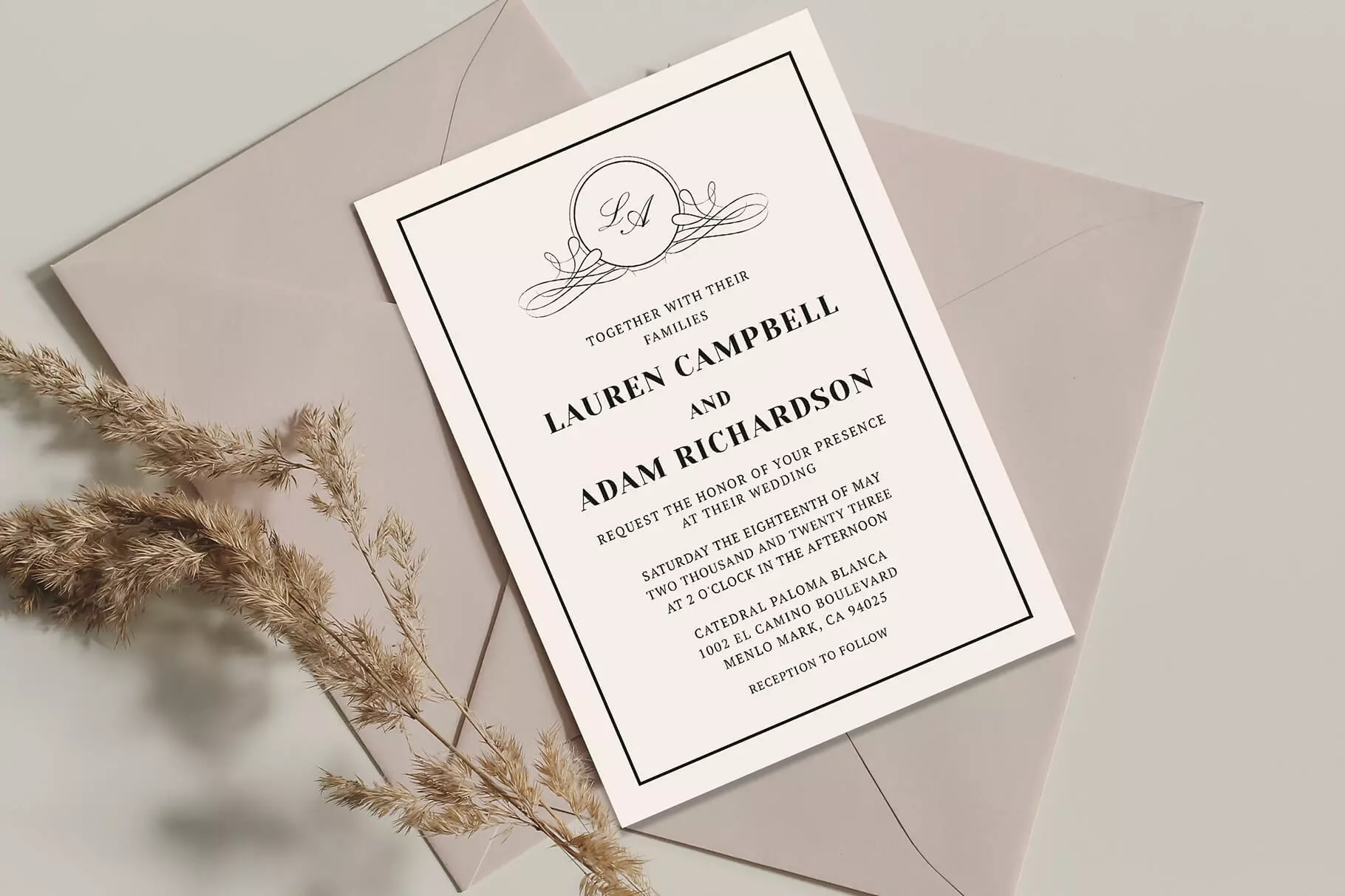 The Classic Ornate Monogram Wedding Invitation displays an elegant, modern, and luxurious floral design. It's an ideal template for any wedding season.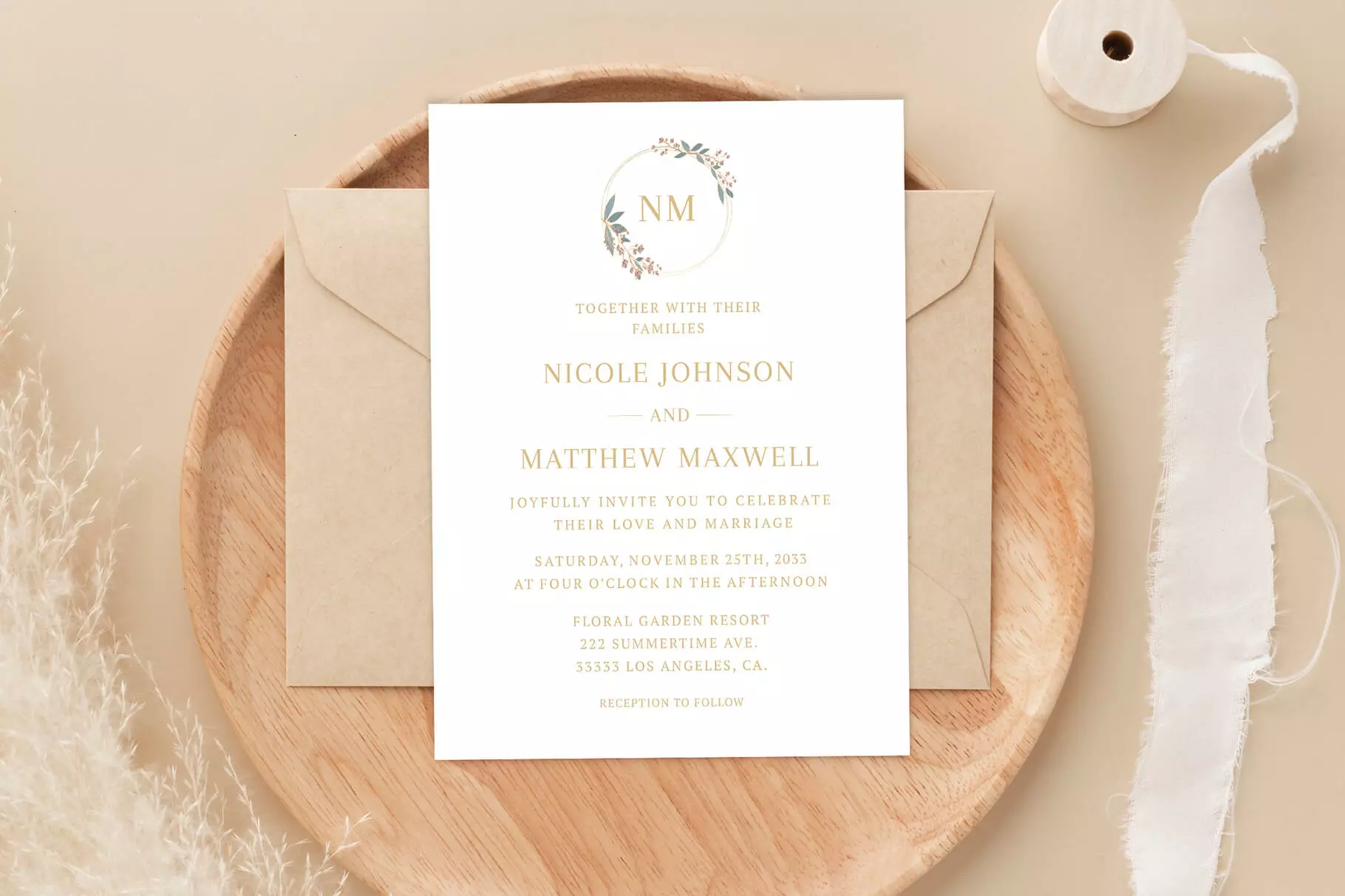 The Wreath Green And Gold Rustic Wedding Invitation is a charming, luxury design, which can fit any season or wedding theme with its well-crafted aesthetic.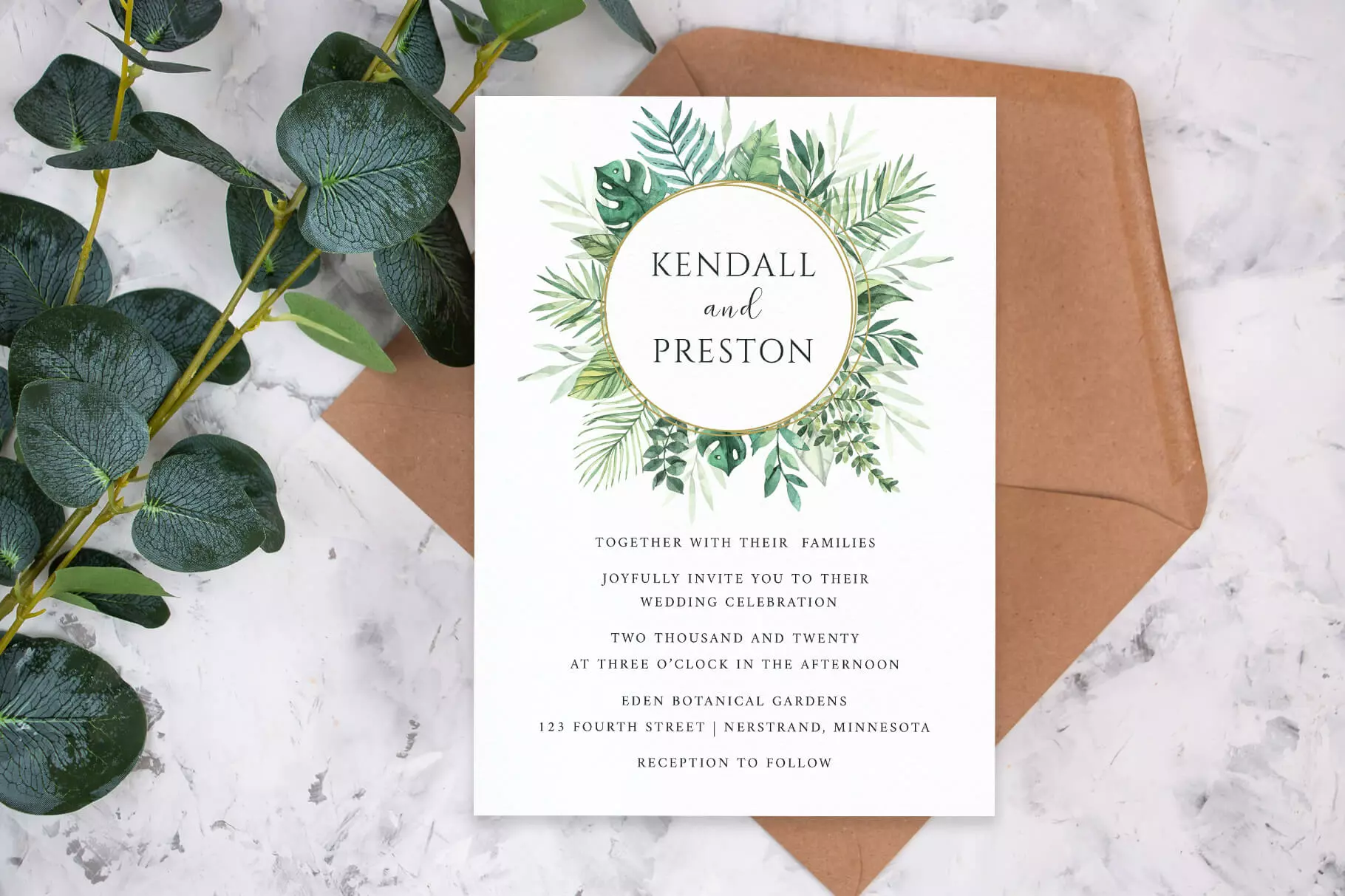 The Wreath Tropical Leaves Wedding Invitation is a sophisticated template infused with floral elements. It's an excellent choice for any upcoming project.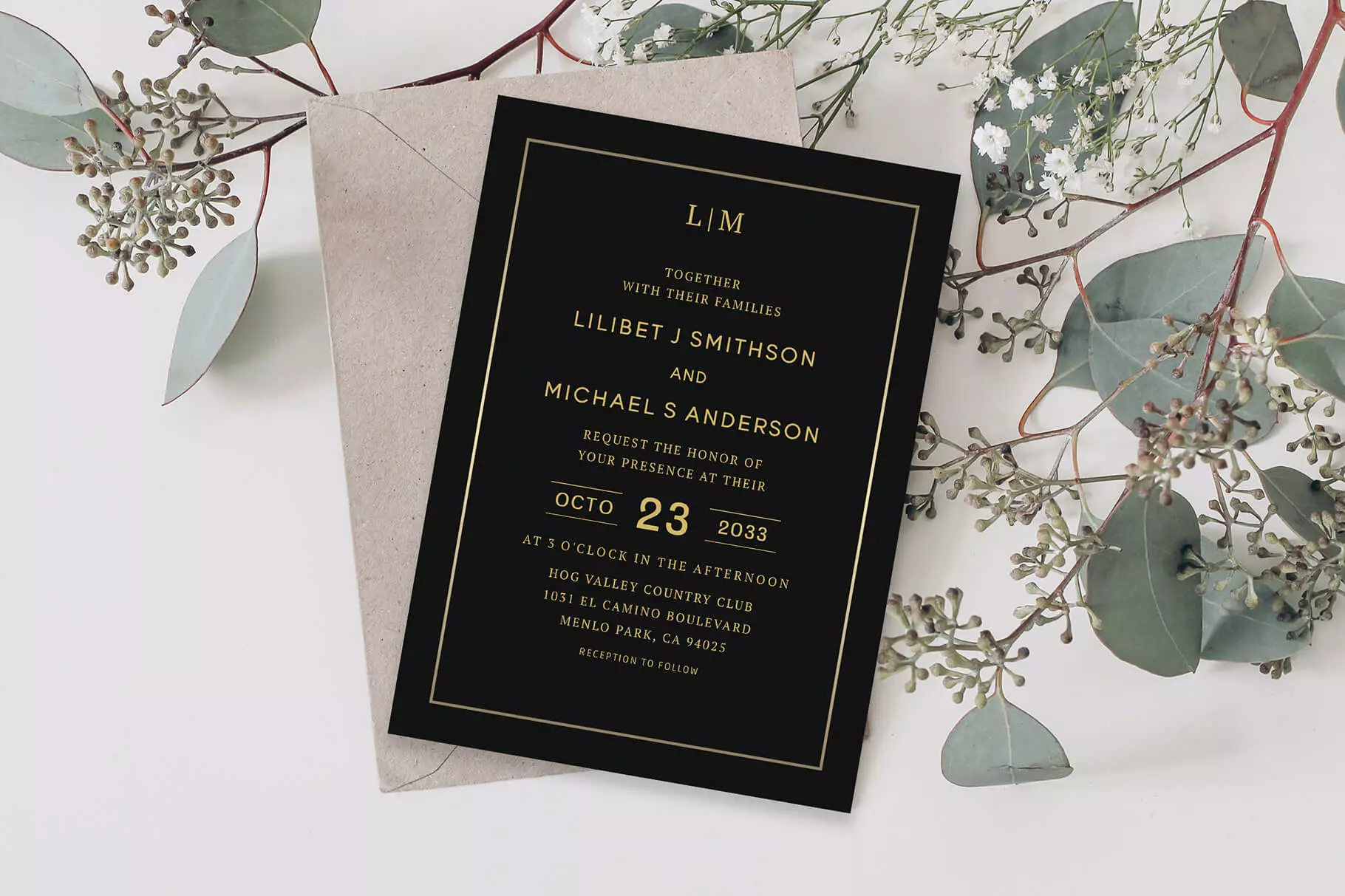 The Elegant Black Gold Foil Wedding Invitation presents a modern, classy design. It's a versatile template that matches any season or wedding theme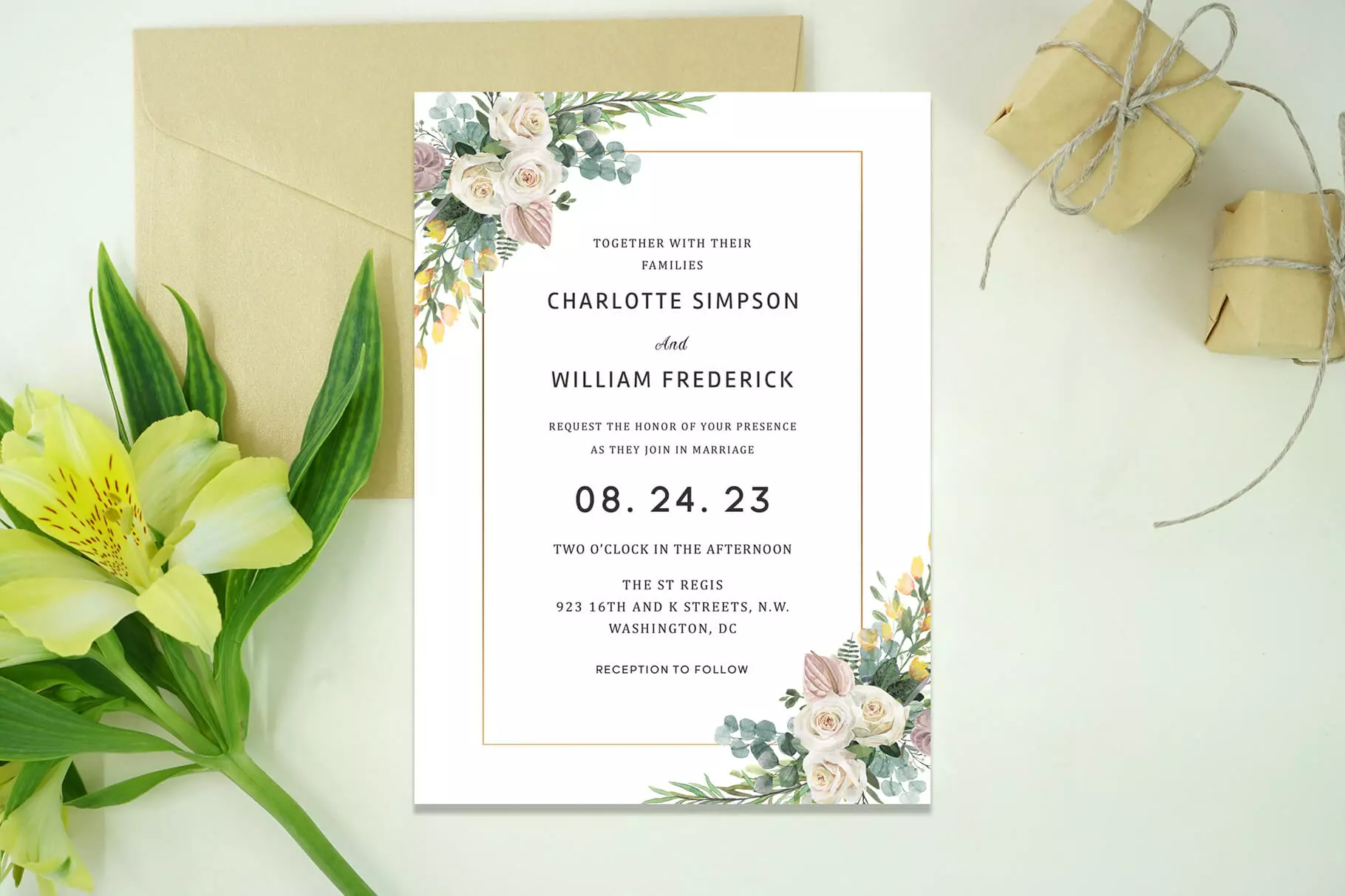 The Elegant White Gold Rose Floral Wedding Invitation V2 offers a unique, modern look. It's designed to be easily customized for a professional invitation design.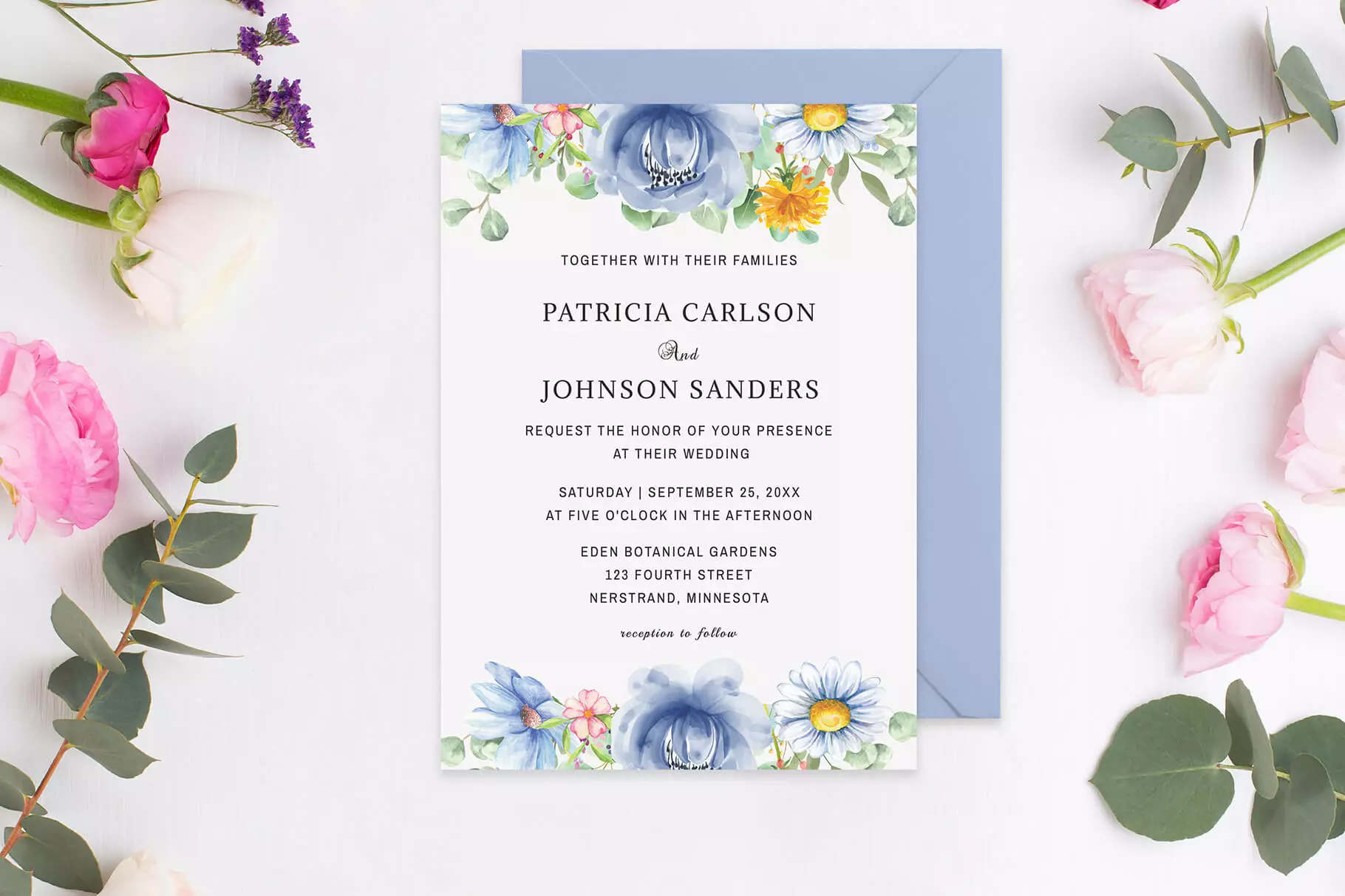 The Dusty Blue & Yellow Floral Wedding Invitation is a straightforward yet charming template. Its lovely design serves as a creative canvas for any wedding theme.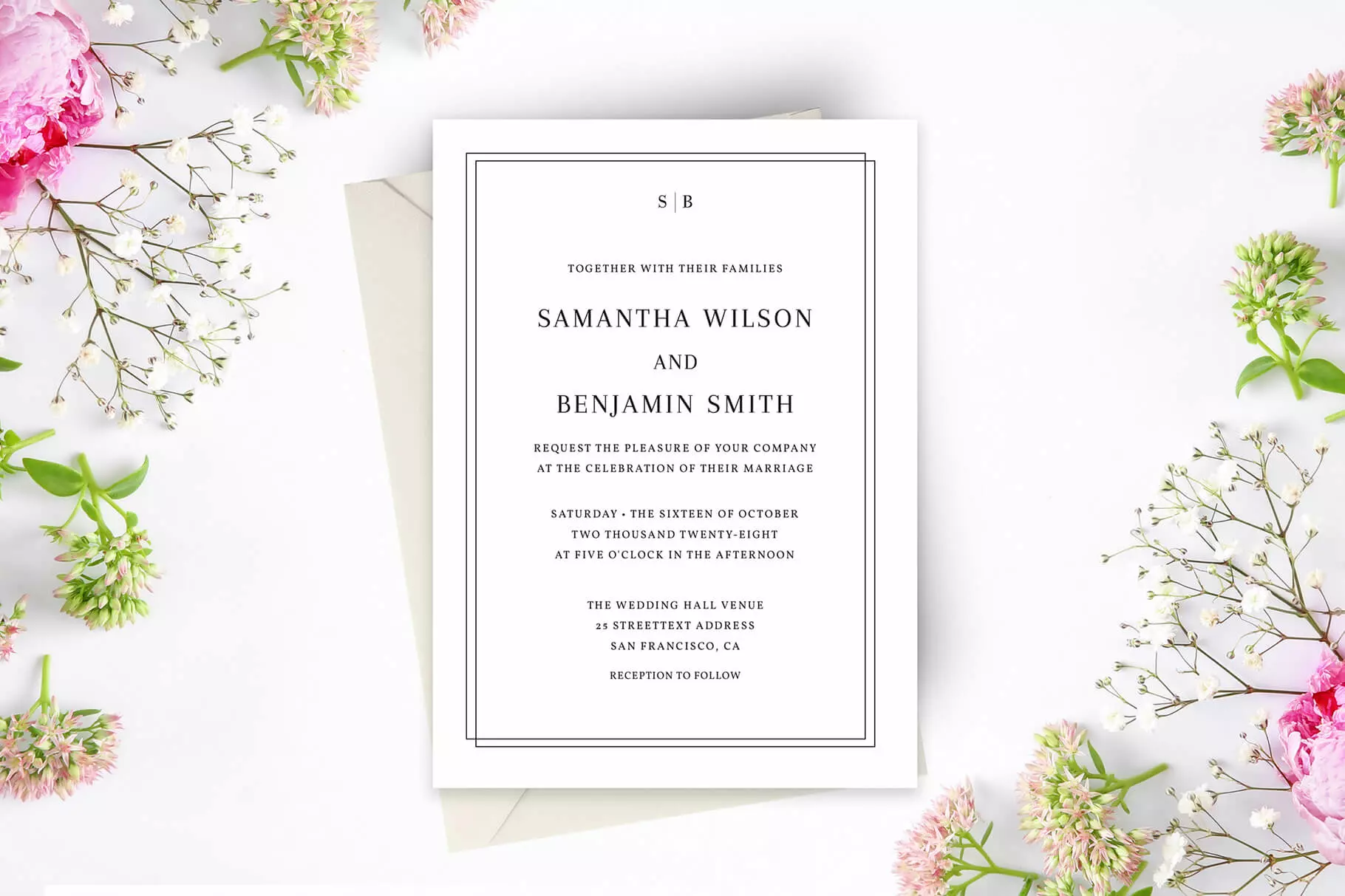 The Classic and Simple Elegant Wedding Invitation features a clean, minimalistic design. It's the perfect template to accentuate any wedding's elegance.
Frequently Asked Questions
What are some of the popular wedding invitation designs for 2023?
Popular designs in 2023 include watercolor motifs, greenery elements, bold typography, and embossed details.
How far in advance should I send my wedding invitations?
Ideally, wedding invitations should be sent 6-8 weeks prior to the wedding day. If it's a destination wedding, consider sending them 3 months in advance.
What should be included in a modern wedding invitation?
A modern wedding invitation should include the names of the couple, the date and time of the event, location, dress code if any, RSVP details, and information about any wedding-related events like rehearsal dinners or post-wedding brunches.
How do I choose the right design for my wedding invitations?
The design of your wedding invitations should reflect your personal style and the theme of your wedding. Consider your color scheme, preferred aesthetic (e.g., minimalist, rustic, vintage), and any motifs or symbols that are meaningful to you.
Can I incorporate sustainable practices in my wedding invitations?
Absolutely! In 2023, many couples are opting for eco-friendly practices, including using recycled paper, digital invitations, plantable seed paper invitations, or paper made from renewable resources.
Conclusion
Invitations serve as the first chapter of your wedding story. They hint at the theme, set the tone, and, most importantly, reflect your unique style. With the top 17 modern wedding invitations of 2023, there's a design out there that perfectly encapsulates your vision.
Related Posts
20+ Best Handwritten Calligraphy Font to Download in 2023
12+ New Free Resources for Graphic Designers 2023
25+ Best Fonts for Your Gaming Projects