In this article, we're showcasing a set of 25 free and premium branding & stationery mockup templates. These are useful tools for exhibiting your corporate identity designs in realistic environments.
UNLIMITED DOWNLOADS: 50 Million+ Fonts & Design Assets
All the Fonts you need and many other design elements, are available for a monthly subscription by subscribing to Envato Elements. The subscription costs $16.50 per month and gives you unlimited access to a massive and growing library of over 50 million items that can be downloaded as often as you need (stock photos too)!

These 25 templates are easily editable through Photoshop. They include items like business cards, letterheads, and envelopes, letting you effectively display your branding for any product or business type. Some templates also feature thematic elements providing a unified layout, especially handy for specific industries like photography, crafts, or restaurants.
Both free and premium options are available among these 25 branding mockup templates. Keep reading to find previews and download links for these Photoshop templates.
Branding isn't only about what you do but also how you present it. So when you're devising your next branding strategy for your products or clients, it's crucial to incorporate visuals. While you can create multiple design options and let your client choose, remember that viewing a design on a computer screen differs from experiencing it in real life.
Consider how your design would translate to everyday items like stationery. Will your logo fit on a promotional pen? Does your business card exude professionalism with its design and layout?
Table of Contents
As a designer, you know the profound impact branding materials can have. They can be game-changers. So, when preparing branding materials next time, think about using mockups.
Mockups provide a 3D, realistic view of your designs in various settings, helping you assess your designs and also convince your clients. This compilation of 25 Photoshop branding mockup templates – both free and premium – caters to diverse project requirements. It includes an array of options, from business cards and coffee cups to stationery and contextual mockups.
These stationery mockups offer a big list of stationery items along with 5 different PSDs to showcase your corporate identity designs. The list of items includes cd mockup, business card mockup, ID card mockup, letterhead mockup and envelope mockup.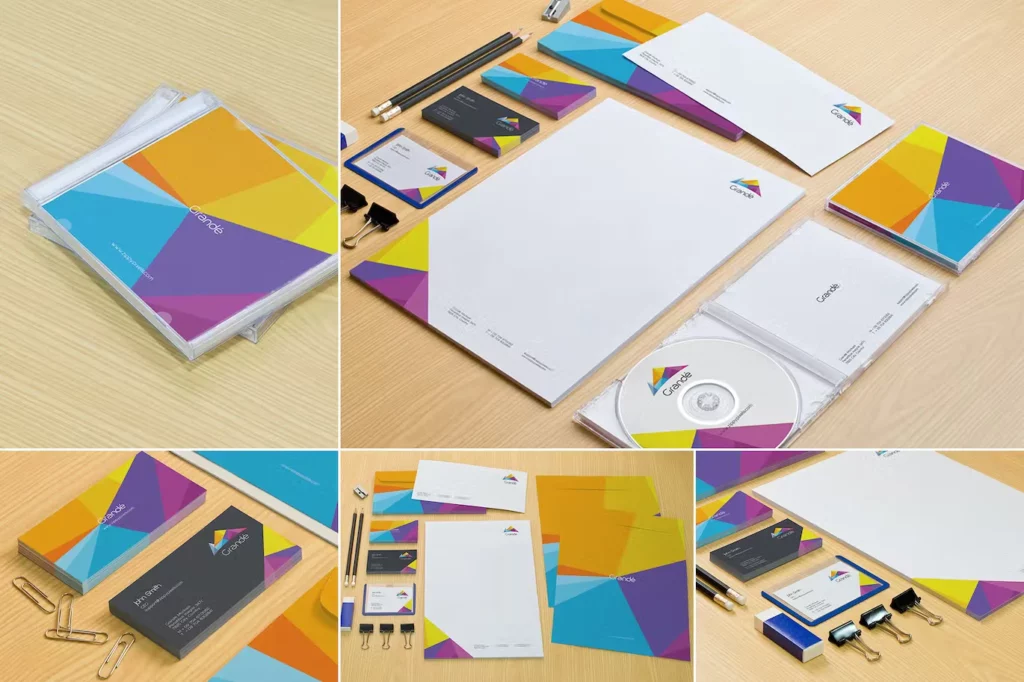 It is a unique, clean and tidy visual stationery mockup with a business card, envelope and letterhead and an iPhone next to it, to give a realistic look it has a shadow of plants falling on a bright and clean scene, adding charm and contrast to the visualization.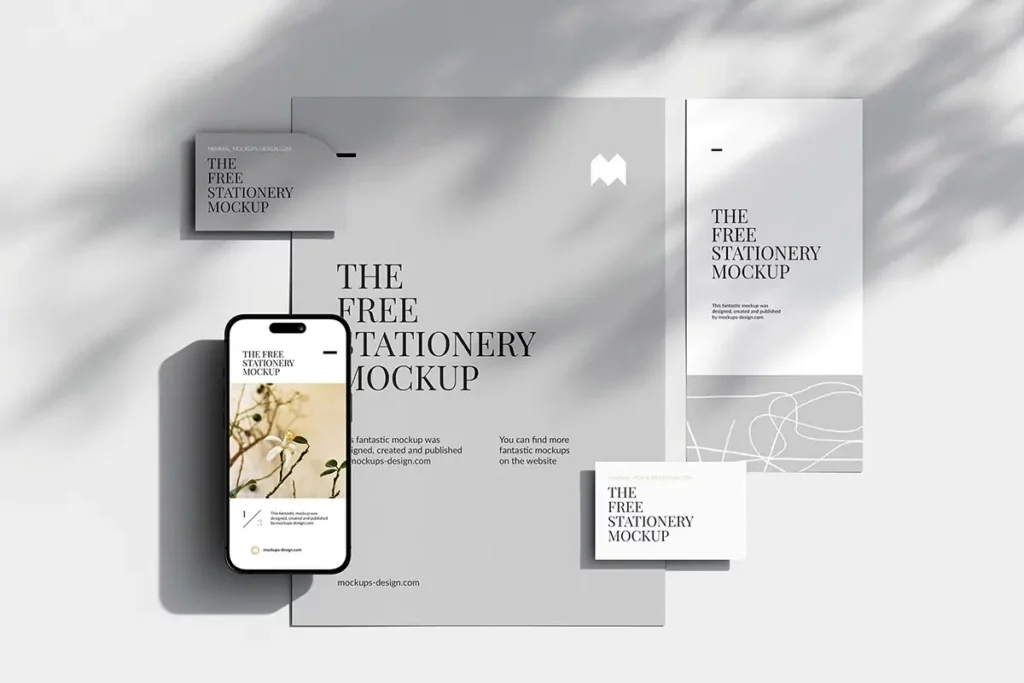 Presenting an exclusive set of 4 mockups scene that will showcase your stationery designs in an amazing quality. These mockups offer 6 moveable items with an ultra HD background. The items include letterhead, business card, envelope, ruler, vintage pen case and a plant. All items are placed in separate folders so you can customize each item individually or simply remove it.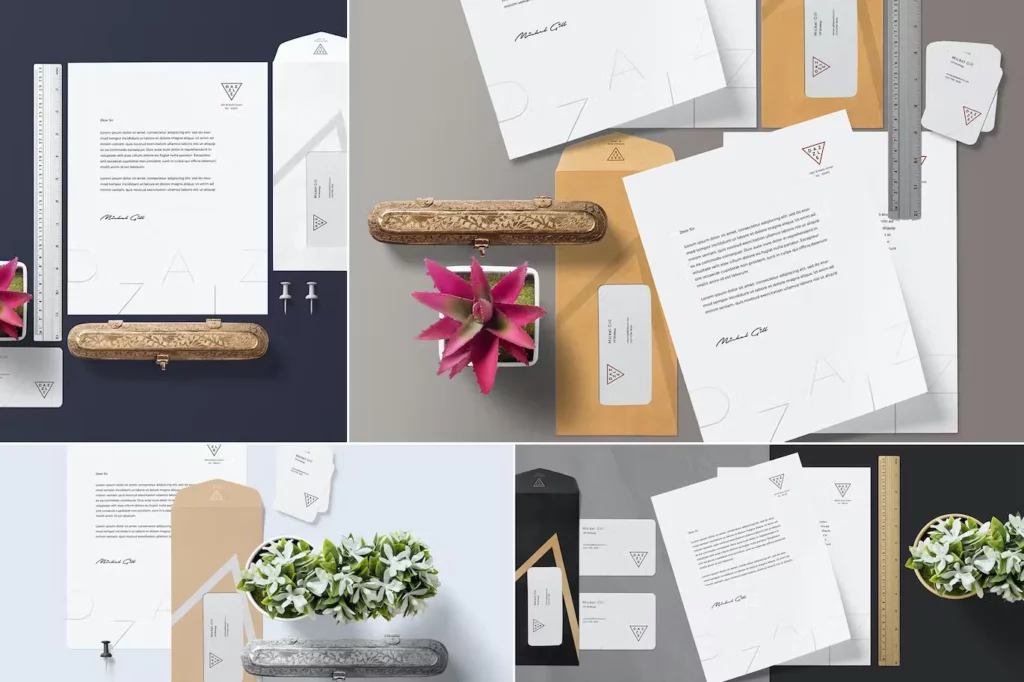 Super easy way to showcase your corporate or brand identity design in a realistic mockup display. This item consists of a full layered PSD file with the smartobject feature. This mean, you don't need to worry about placement, perspective, shadow, reflection, etc, all have done automatically. You can do this easily and just in a few seconds! (instruction include)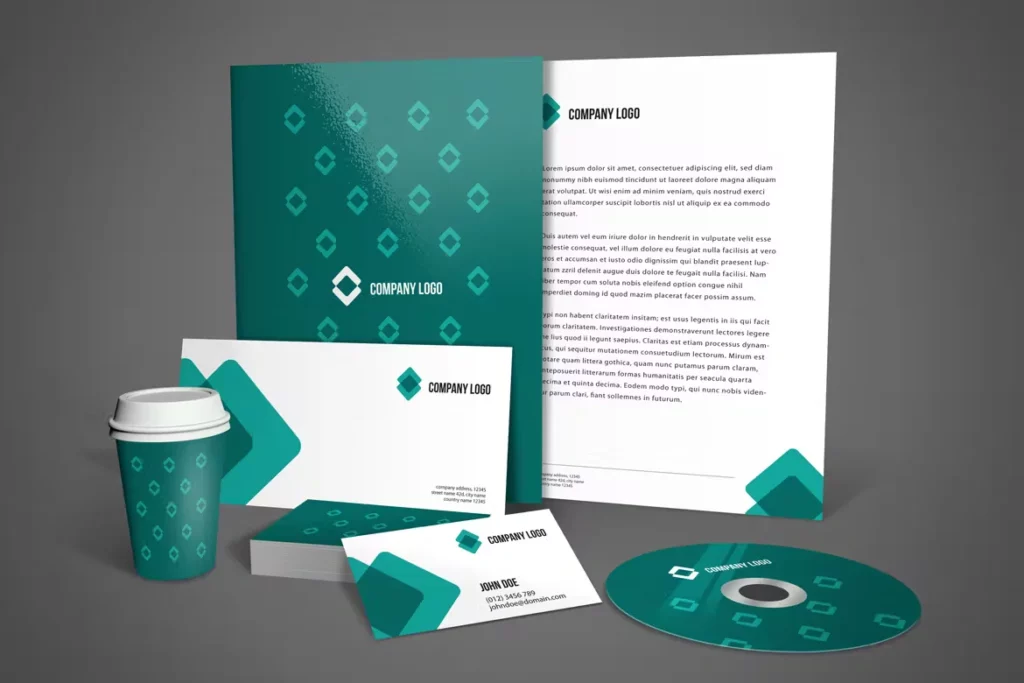 Free Minimal Stationery Mockup is a sober, minimal and classy stationery scenes mockup template. It comes in PSD format in 4000 x 2667 PX at 300 DPI with smart-object feature, allowing you easily add your design according to your taste.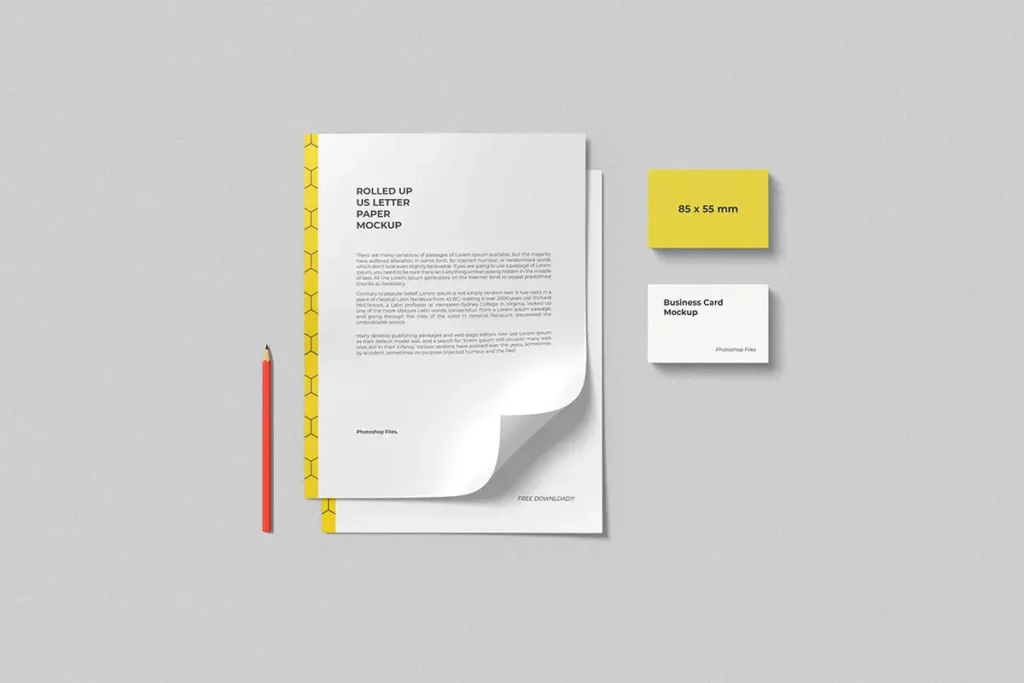 SIMPLE, CLEAN AND MODERN STATIONERY PACKAGE It is simple to work with, highly customizable, and easily adjusted to fit your needs. Minimal and Professional Corporate Stationery / Identity templates for creative businesses, created in Adobe InDesign in International DIN A4 and US Letter size. A clean, modern and simple design ideal for any purpose. Very easy to adapt and customize.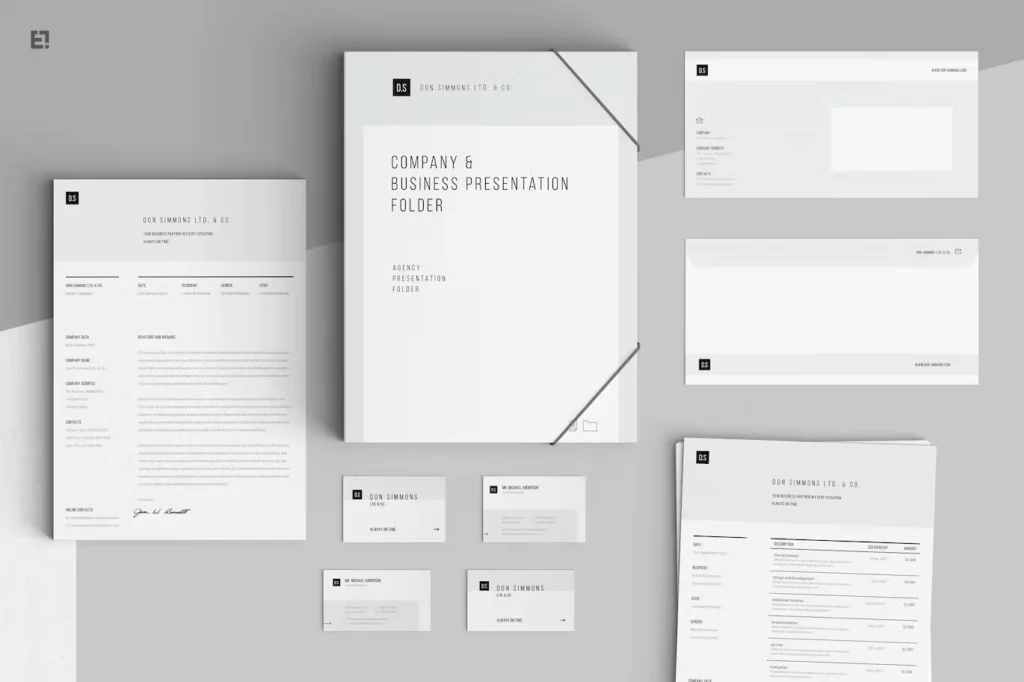 Free Modern Branding Stationery Mockup is an awesome and modern photorealistic mockup with a casual, authentic vibe! It comes in PSD format with built-in smart object feature.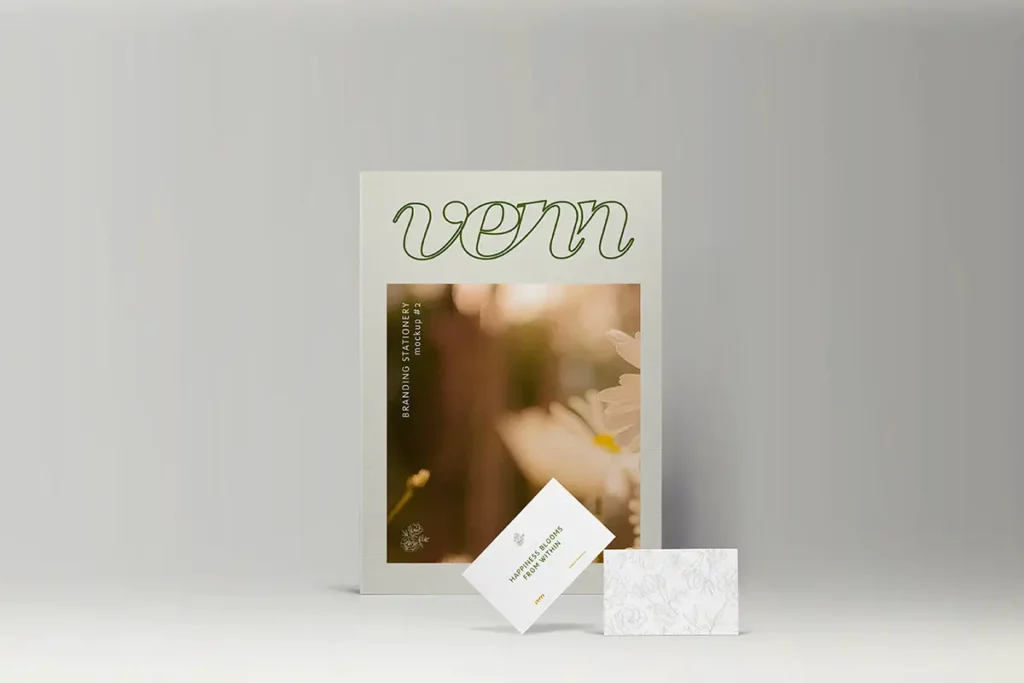 Clean and simple mock up that is great for presenting your logo designs. It is easy to place your designs with Smart Objects as well as change background color to fit your designs.
Free Stylish Stationery Branding Mockup is a minimal yet simple mockup by Graphic Crew. It is available in layered and editable PSD file with smart-object feature!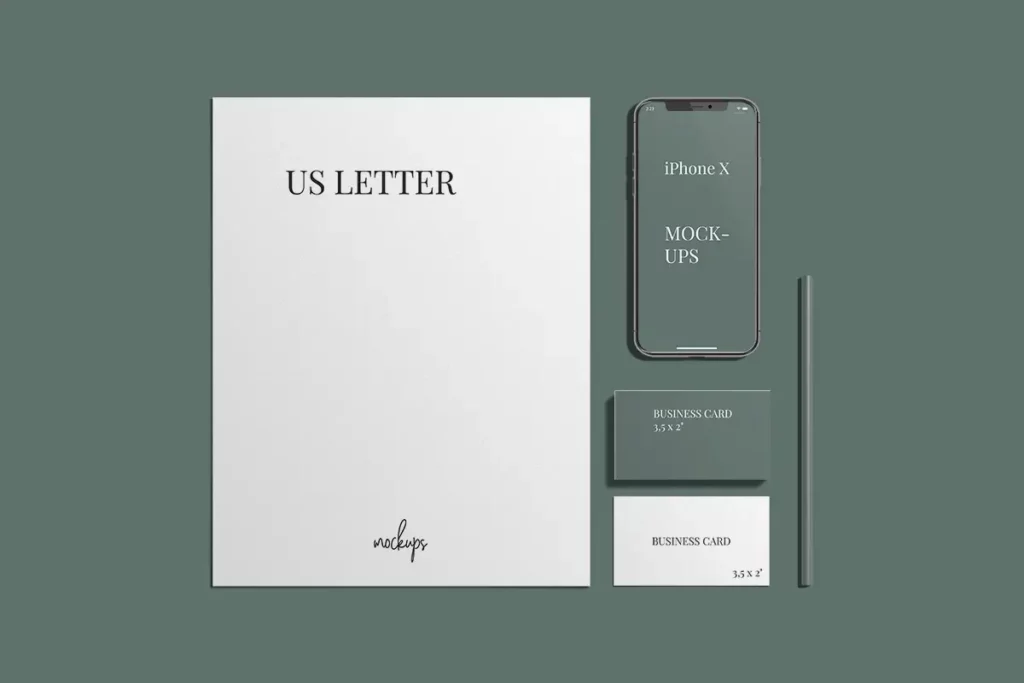 Impress your clients by presenting your stationery branding designs with these 4 super attractive mockups set. Featuring A4 size letterhead, ringed notepad and business cards to display your artwork.
Not only this, these mockups also include some other items like professional camera, paint brushes, paper cutter and pencil to make your presentation more gorgeous. Just use smart objects to replace the designs and well-named layers for the customization of effects, shadows & background.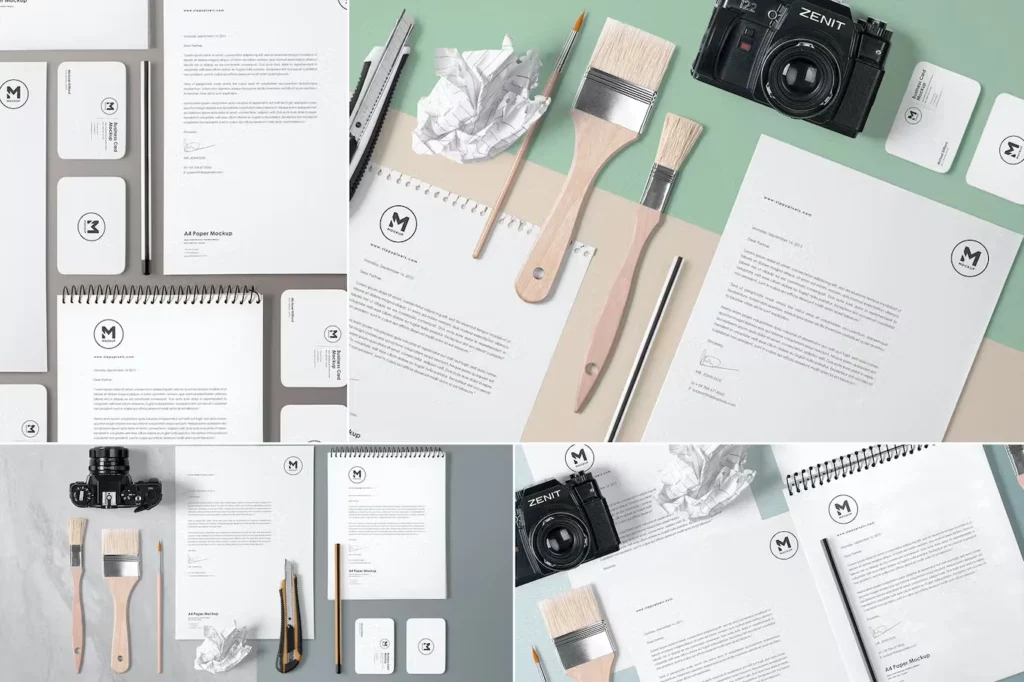 Free PSD Stationery Scene Mockup set contains business card, bag, tag, pen, sketchbook, and envelope. All neatly coming in 1 PSD file with built-in smart-objects.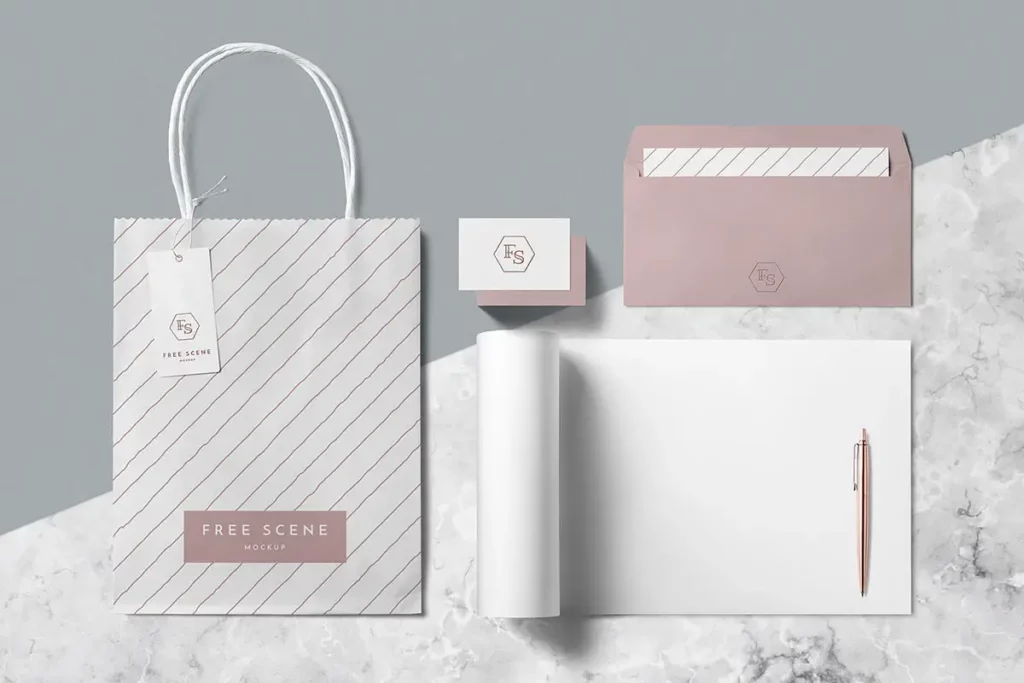 The stationery mockup is created with a high-quality image to create your branding presentation with three premade scenes. Object and shadow in this mockup are separated and fully customizable. The color of the paper clip and pencil also customizable. The Photoshop (PSD) file is user friendly and can edit with little time and effort, even for beginners.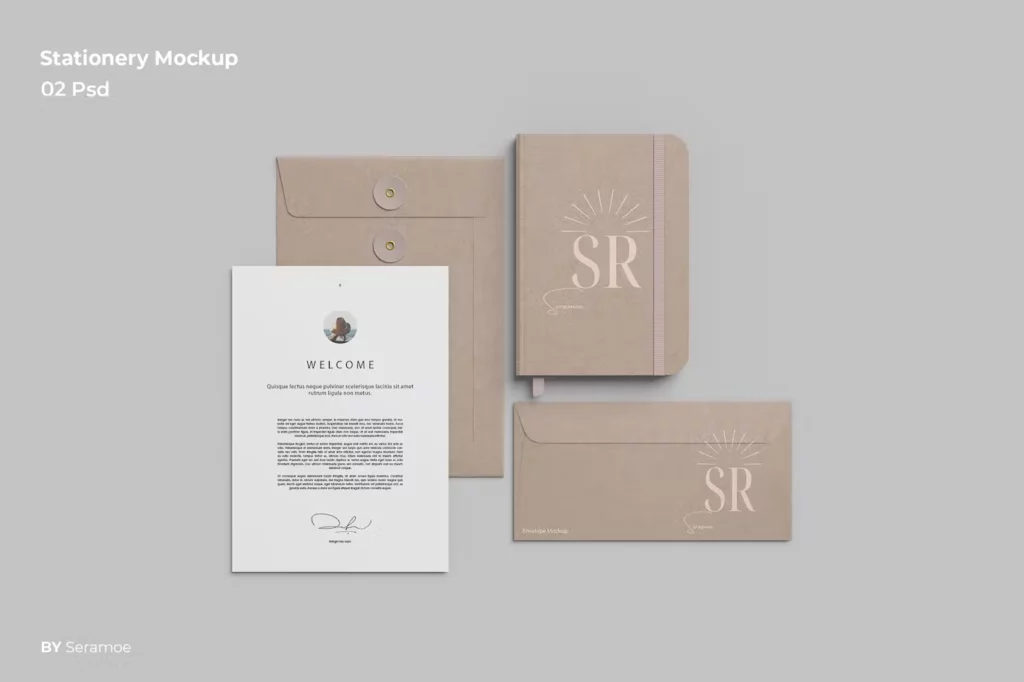 Stationery Mockup is suitable to showcase your design application. Made with detailed objects and make your design more beautiful and realistic.
Present your branding design in this PSD mockup for realistic preview. This is Photoshop file, layered, smart objects features to help you change sample image with your design. Available A4 paper mockup, folder mockup, envelope of A4, business card mockups, phone mockup, pencil, and USB drive.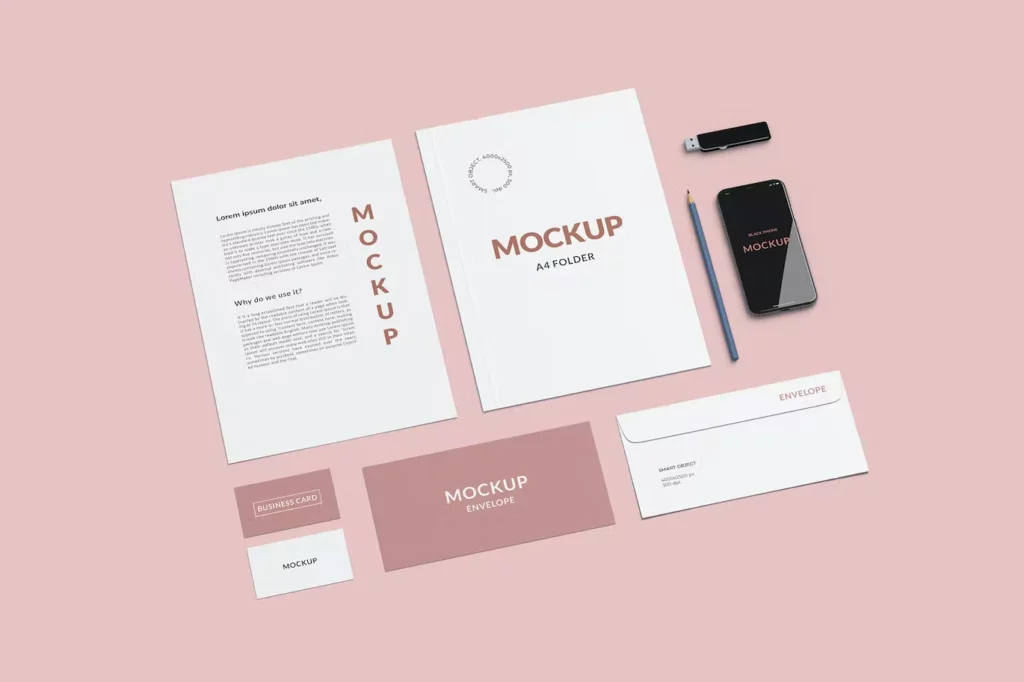 Stationery Mockups for your Website and Graphic presentations that requires Adobe Photoshop CS5+.
Elegant Stationery Mockup is very good to showcase your design in realistic appearances. These mock-up files use the smart-object feature which helps you change the design just in seconds.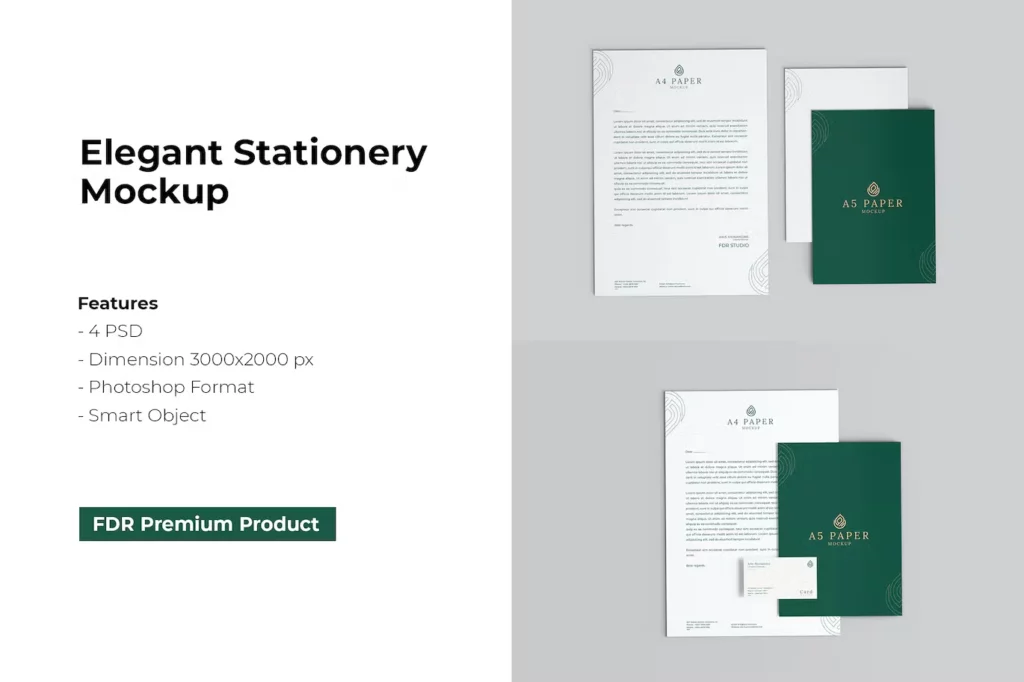 Clean, modern and simple design ideal for any purposes. Very easy to adapt and customize.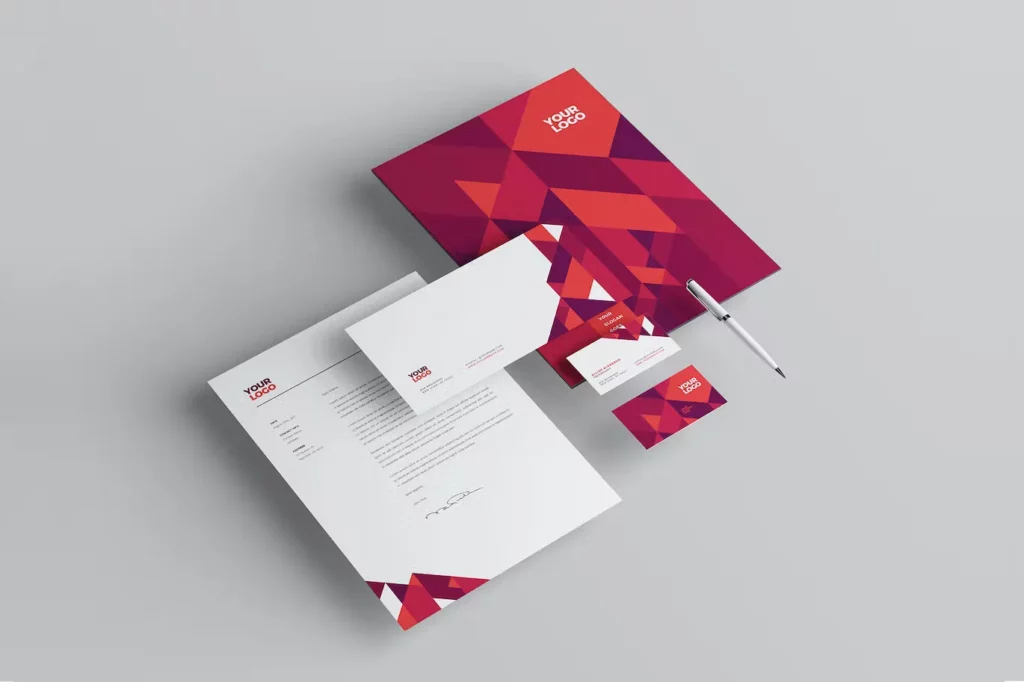 This Branding Stationery Mockup allows you to create professional stationery mockups in just a few clicks. It presents a number of stationery items that you can easily personalize including A4 papers, business cards, pencils, clips, pin, erasers, notebooks, and stamps. High-quality is no stranger to this tool since it comes in 4500×3000 pixels resolution to guarantee proper presentations for your viewers. Edit the PSD mockup, place your graphics in a realistic setting using the smart object layers.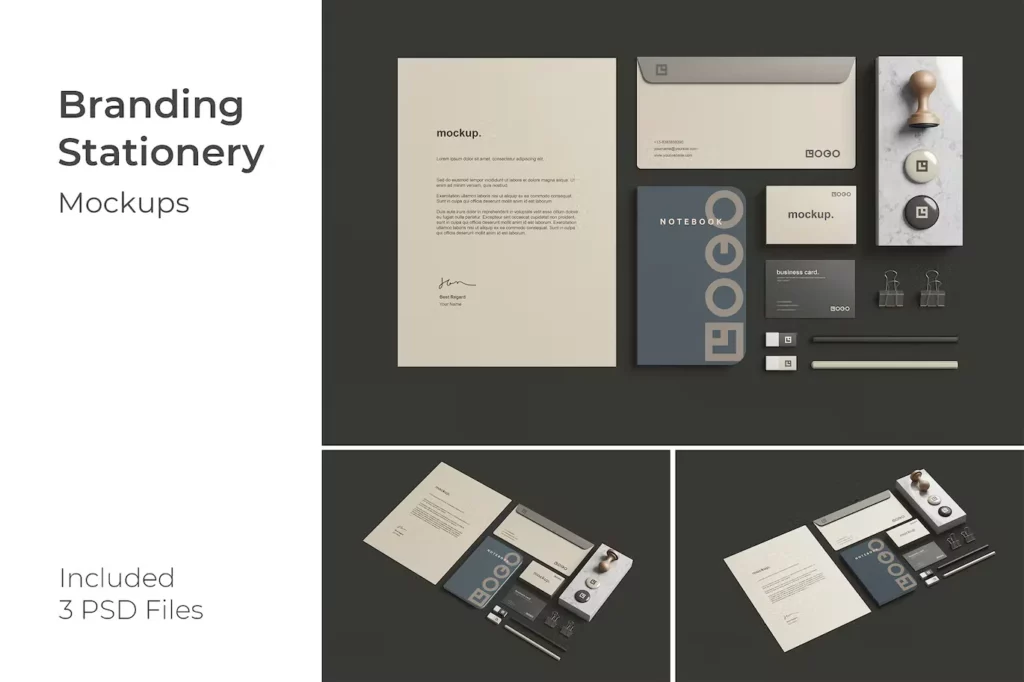 Stationary / Branding Mockups with quality textures. Inside you will find objects. All objects and shadows are fully separated, for print design, portfolio, showcase, ads, banner, website and more.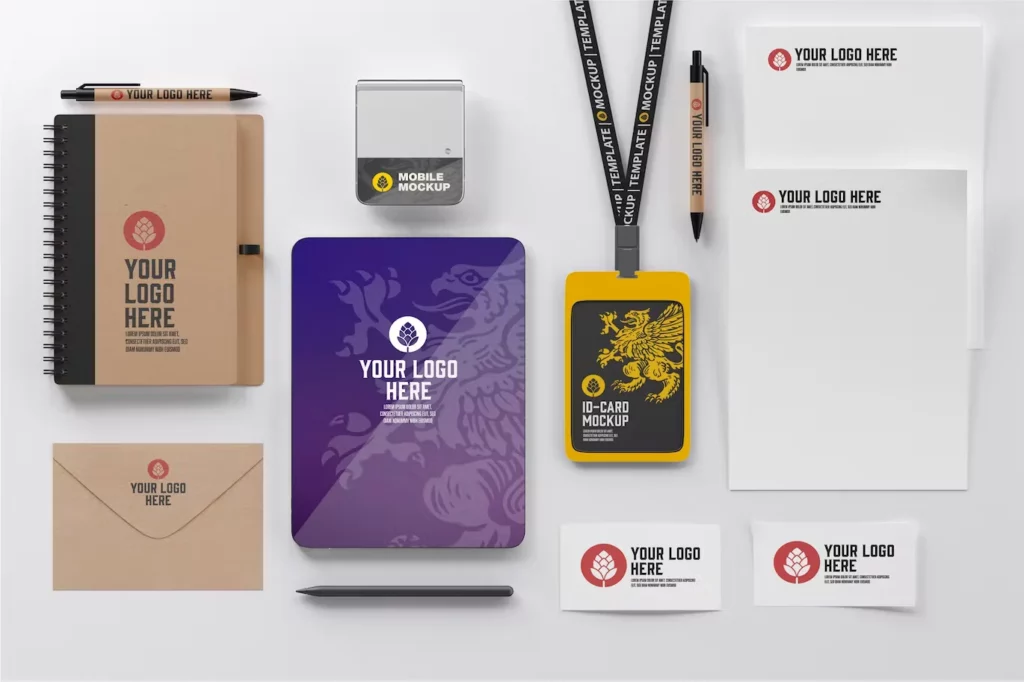 This item consists of a photorealistic branding / stationery Photoshop mockups to present your design professionally. The stationery elements are movable so you can arrange your own scene. Available in PSD Photoshop format with smart-object features to help you replace the current design with your own within seconds.
Clean and simple mock up that is great for presenting your logo designs. It is easy to place your designs with Smart Objects as well as change background color to fit your designs.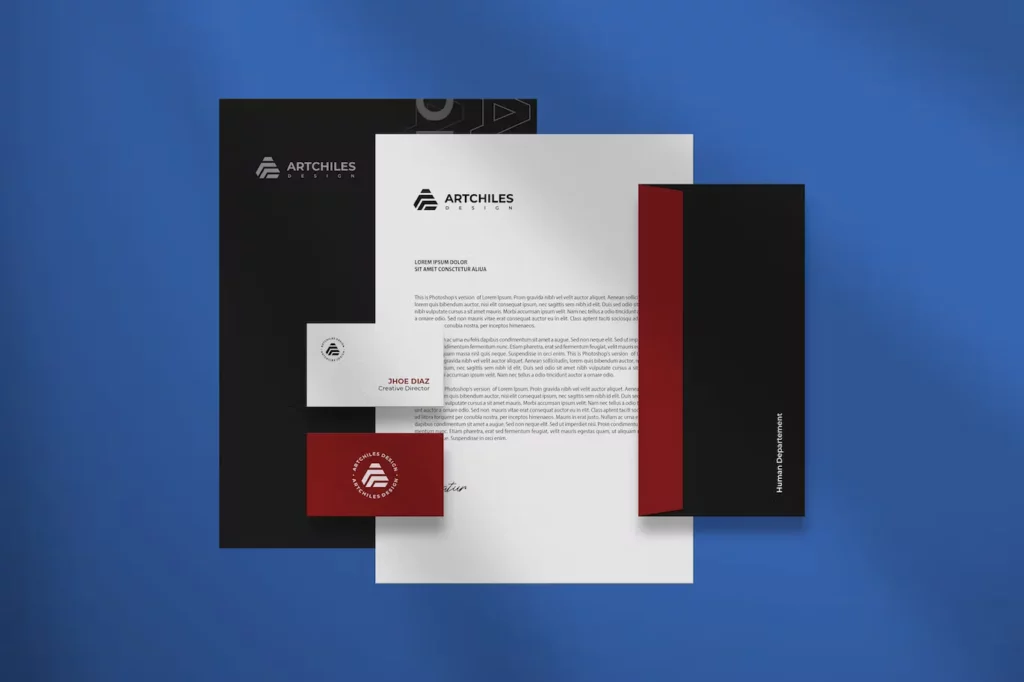 There is a Smart Object on the mockup to help you to adjust your design. Just drag and drop it. It's incredibly simple to use. Easy to recolor by using solid color layers.
This item is suitable to showcase your designs professionally in a realistic 3D display. Available in PSD Photoshop format with smart-object features to help you replace the current designs with your own within seconds. Use this mockup Template to showcase your branding designs for your online portfolio, to present to clients, digital products, Behance, Dribbble or for social media posts.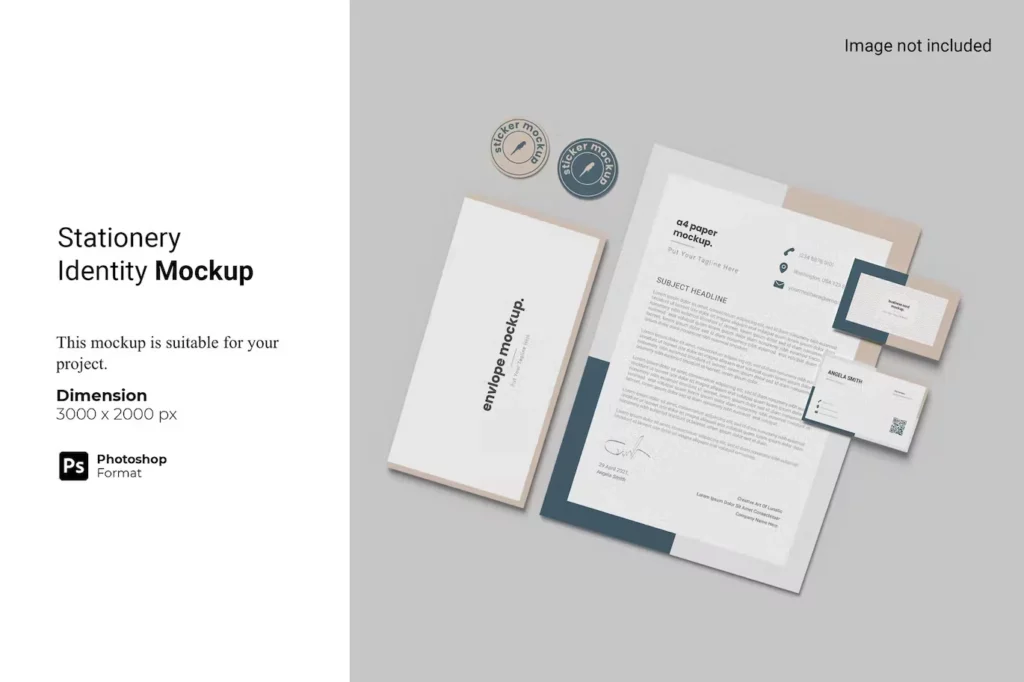 Branding Identity & Stationery Pack. This Morden Brand Identity will help you to promote your business.
In this package you will get 4 essential items which is easy to edit, modify and customize.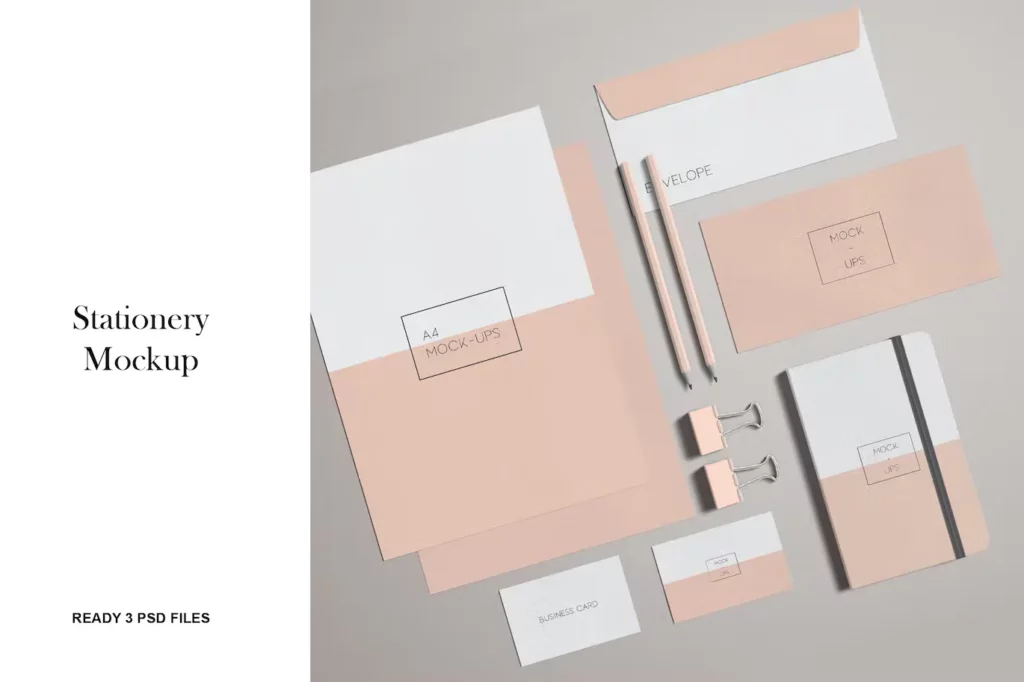 Clean, modern and simple design ideal for any purposes. Very easy to adapt and customize.
Conclusion
In conclusion, our collection of 25 professional stationery mockup templates for Photoshop, both free and premium, provides a comprehensive toolset for your branding needs. These templates offer a realistic view of your designs, aiding in effective visual presentation and making your branding process smoother and more efficient.
Related Posts
25+ Free Photoshop Brushes High-Resolution
20 Best Free Script Fonts For Designers in 2023
25 Best Google Slides Templates For 2023
Frequently Asked Question
What are mockup templates?
Mockup templates are digital tools used to display your design on various products in a realistic way. They help you see how your designs would look in real life.
How do I use these stationery mockup templates?
You can use these templates by downloading them and then editing in Photoshop. You can easily insert your designs into the templates to see how they look.
Can I use these mockup templates for my business?
Yes, these mockup templates are designed for both personal and commercial use. They're great for showcasing your business logo or branding designs. Please check the license of each product carefully.
Are all the mockup templates free?
The collection includes both free and premium mockup templates. You can choose based on your needs and budget.
What types of mockup templates are included in the collection?
The collection includes 25 mockup templates for various items like business cards, letterheads, envelopes, and more. Some even come with themed items for specific industries.